Sonny Ramadhin's recent death reminded us that more than once MCC tinkered with the rules. The changes may have helped England in 1957 but they certainly haven't really helped them do all that well in the Caribbean at any time.
Their last away series win in the 20th Century came in 1968. A very generous Garry Sobers declaration at 92 for 2 in Trinidad allowed Colin Cowdrey's side to walk away with a 1-0 Test series victory.
Thirty-six years later in 2004, Brian Lara reclaimed his record from Australia's Matthew Hayden. But it was Michael Vaughan's tourists who beat the West Indians at home, claiming a one-sided 3-0 triumph.
I remind Bobby, my early morning exercise partner, of all that. Bobby grew up reading everything he could about English football. And watching Star Soccer. So he knows much more about John Barnes than about John Campbell. About Stanley Matthews than about Hayley Matthews.
Three of those things, I go on to tell him, we're sure won't happen in 2022: there'll be no Sobers declaration; there'll be no reclaiming of the record by Lara; there'll be no England 1-0 series win.

However, possibility number four, I insist, is not off the table.
"Can't be!" I tell him, as we make our way to the Eddie Hart Savannah in the fo'day morning half-light. "With that side we have there?"
In a single word, I hear more contempt for contemporary Caribbean cricketers than in an entire Colin Graves sentence or a Mark Nicholas throwaway line.
Bobby: "We?"
Me: "Yes. WI. West Indies. We!"
Bobby: "Oh, you mean WI? Leave me out of dat, bro!
Me: "England just get the cut arse ah deh life down in Australia. One wicket away from a whitewash!"
Bobby: "So? West Indies is not Australia!"
Me: "Darm right! WI is not Australia. And England know that. They drop Jimmy Anderson and Stuart Broad. And six others who were a part of that totally forgettable Ashes experience. Six!
"Broad and Anderson have over 300 Tests and more than 1,170 Test wickets between them. They have taken more wickets than anybody else in the last two years: 63 wickets at an average in the low twenties for Anderson and 61 for Broad at even less, just over 20.
"And England dumped them both. Whoosh! Just so!"
I stab a finger into his chest. "Ask yourself why?"
Bobby: "I don't care one fart!"
Me: "Well, I care. And I already asked the question and got an answer from Vaughan. He calls it a 'cultural reboot'. He says future success demands that England replace that losing mindset with a much more positive outlook.
"[Joe] Root knows his neck is on the line. He's batting at three! I didn't watch any of the warm-up match but I saw the scorecard. And the reports are saying that the mood in the camp is different already."
Bobby: "Brother, yuh have any money? I have a bridge to sell yuh."
We laugh heartily.
Bobby: "What do you expect them to say? You really expect them to tell you that they took one look at West Indies and they know they can beat them—beat allyuh—with one hand tie behind deh back?"
He chuckles.
Bobby: "Bro, it's disrespect! That is what it is. To-tal disrespect!"
"And…" He stops dead in his tracks. Whatever it is he has to say is too important to say while moving.
"… who can blame them?"
Me: "I mean, Jermaine Blackwood as a serious middle-order batsman? That is a joke, right?"
We are on the move again.
Me: "Kraigg Brathwaite and [Nkrumah] Bonner might get a few on their day. I would have preferred Roston Chase to [Shamarh] Brooks but I suppose it's not much of a muchness.
"But the serious bowling options—I don't count the crisis bowlers, the three B's and Campbell—have about 160 Tests between them. Of those, Jason Holder and Kemar Roach account for at least 120."
Bobby: "Three-quarters? How many Tests has Jayden Seales played?"
Me: "Four or five."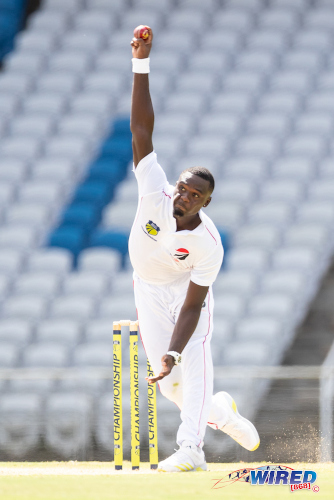 Bobby: "And Alzarri [Joseph]?"
Me: "17? 18? Less than 20 for sure."
Bobby: "Those two are good. Promising. The rest?"
He tries to stick his tongue out of his mouth to pour scorn on the others but his mask gets in the way.
"Let me tell you something." He crosses himself. He turned his back on the Catholic Church many years ago but old habits die hard.
Bobby: "Every West Indian fan, including you, should get down on allyuh knees and pray that England does not win the toss."
Me: "Oh really? Why?"
Bobby: "Because, bro, if Joe Root gets to bat first in any one of the three matches, Brian Lara's record could be in trouble."
I thought he was joking. I checked. His eyes said he wasn't.
"You will remember I told you so!"
Wired868 has provided readers with solid, independent journalism since 2012.  If you appreciate our work, please contribute to our efforts. 
Support Independent Journalism