Trinidad and Tobago Women's National Under-20 Team head coach Jason Spence suggested that his players are hoping to 'redeem themselves' this evening, after their calamitous defeats to El Salvador and St Kitts and Nevis in their opening Concacaf 2022 Women's Under-20 Championship encounters.
The nod towards the players' shortcomings was the only introspection offered by Spence, who is also head coach of the Women's National Under-17 Team, in an audio recording with  TTFA Media today.
The interview was done too late to be of much assistance to local media houses preparing for the junior Women Soca Warriors' final group match against Canada today.
Trinidad and Tobago and Canada square off from 7pm in San Cristóbal, Dominican Republic. The two-island republic was hammered 3-0 by El Salvador last Friday and then 7-2 by St Kitts and Nevis on Sunday afternoon.
To put the mauling by St Kitts and Nevis into context, the Sugar Girlz had never scored more than two goals in a Concacaf match before. And, when the two nations met in 2020, Trinidad and Tobago won 6-0.

Spence's team had no international warm-up matches and the full squad only got together 48 hours before their opening match. However, the head coach offered no mitigating facts on behalf of his players.
"The girls are very upbeat," Spence told the TTFA Media. "We had a beautiful session yesterday, very energetic; and we really do look forward to the game today so that they can redeem themselves from the two performances before. 
"They intend to go out there and give a very good showing."
Spence offered neither  apology nor explanation for their results. But he urged Trinidad and Tobago football fans to continue supporting the team, who will put everything into their final fixture.
"The results have not gone the way we would have liked but most definitely we continue to stay upbeat and ready for the game that is ahead of us today," he said. "We know it is going to be a lot more challenging today as we come up against the Canadians, who are the powerhouses… 
"[…] All that we are asking is you continue to be that 12th man for us while they go out and play their hearts out."
At present, Canada top Group G of the Women's Under-20 Championship with a maximum six points from their two matches played and a goal difference of +11. El Salvador and St Kitts have three points each with goal difference of -1 and -2 respectively.
And Trinidad and Tobago bring up the rear with zero points and a goal difference of -8.
The top three teams advance to the next round. Spence's troops have no realistic chance of progress, as they would need a high-scoring win over Canada to have any chance of so doing.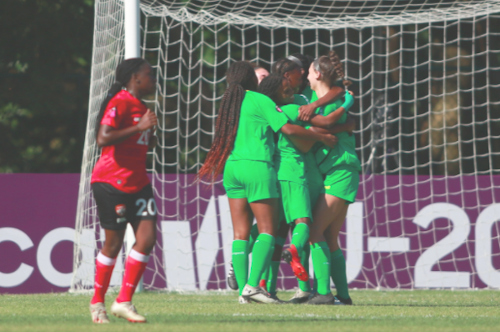 (Trinidad and Tobago Women's National Under-20 Team)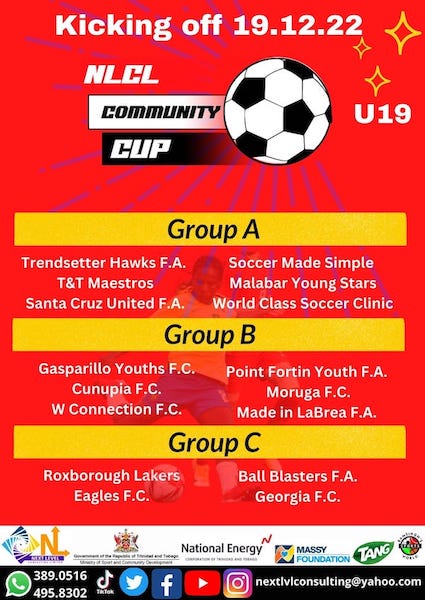 Goalkeepers: Chelsea Ramnauth (Police FC), Aaliyah Alexander (Jewels FC), Akyla Walcott (Essex County College—USA);
Defenders: Ashante Wilson-Campbell, Derisha Bristol (both Jewels FC), Moenesa Mejias (Trincity Nationals), Latifha Pascall (Navaro College—USA), Chrissy Mitchell (Southwestern Christian University—USA);
Midfielders: Sarah De Gannes (Brewton-Parker College—USA), Marley Walker (Charleston Soccer Club—USA), Aaliyah Trim (FC Ginga), Darrianne Henry (Jewels FC), Charlize Hood (Police FC);
Attackers: Celine Loraine (Jewels FC), Lellian Selvon (Trincity Nationals), Tori Paul (University of Maryland—USA), Maria-Frances Serrant (Corban University—USA), Ternia St Clair (UTT Patriots), Shurelia Mendez, Jhelysse Anthony (both unattached).
Staff: Jason Spence (head coach), Trevor Nottingham (goalkeeper coach), Desiree Sarjeant (assistant coach), Vernetta Flanders (manager), Donna-Marie Wickham (therapist), Ashley Alonso (trainer), Natalie Harper (equipment manager), Kristin Fung (team doctor).