The lights at the Hasely Crawford Stadium in Port-of-Spain are not the reason football fans must get to the venue by 3pm to see Thursday's Trinidad and Tobago Women's National Senior Team kick off their 2022 Concacaf W Championship qualifying campaign against Nicaragua.
Sports Company CEO Jason Williams confirmed that the lights at the venue are in good shape. However, the Trinidad and Tobago Football Association (TTFA) did not wait to get that information before selecting the start time for the important fixture.
Williams said the State-owned enterprise did a walk-through of the facility with the relevant TTFA officials earlier this month. The facility manager was asked about the lighting but could not give an immediate answer.
"We hadn't used the lights for quite a while because of the Covid shutdown," Williams told Wired868. "So we didn't want to commit our lights before we could do a test run because then we might have had a bigger issue."
Within days, Williams said, an electrician tested the lighting at the Hasely Crawford Stadium and gave the facility the green light. However, by then, the TTFA, currently run by a Fifa-appointed normalisation committee, chaired by Robert Hadad, said it was too late for them to make a change.

"We did reach out to them a couple of days after to say that the lights are fully functional and to give them the option of playing there at night," said Williams. "And they said they had to commit to Concacaf so they couldn't wait for the electrician to do an inspection."
The 2022 W Championship serves as the qualifying tournament for the Australia/New Zealand 2023 Fifa Women's World Cup and the 2024 Paris Olympic Games.
Concacaf confirmed the fixtures for the W Championship on 8 October 2021. Wired868 asked normalisation committee chairman Hadad and TTFA acting general secretary Amiel Mohammed, via text why the local football body waited four months—until barely two weeks before kick-off—to check on the match venue.
Neither had responded by the time of original publication.
It is the second time the Hadad-led body has failed to carry out their duties promptly, to the possible detriment of the national footballers. Last year, it was the turn of the Men's Senior National Team which played all of their Qatar 2022 World Cup qualifiers away from home after the TTFA delivered a tardy and inadequate proposal to play in Trinidad.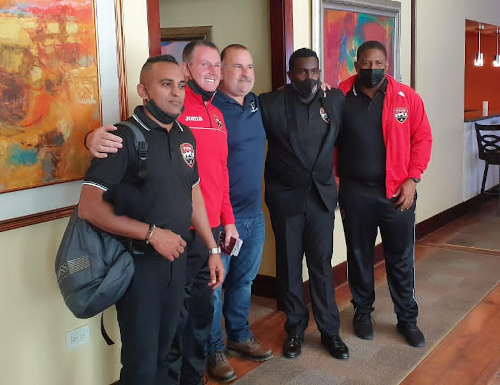 Those football fans who are able to get to the venue in time on Thursday will be able to enjoy their first live international football game in two years. 
The Women Soca Warriors played two friendlies against Panama last October with access to the venue restricted to media and football officials. However, the Ministry of Health will allow spectators for Thursday's outing.
The TTFA announced there is no cover charge on Thursday either. Patrons are asked to sit only in the uncovered stands.
But, again, this luxury is available only to vaccinated persons. All 'Covid safe zone protocols' apply for the W Championship qualifier, with spectators asked to bring along their vaccination cards.
'Only fully vaccinated persons will be allowed to enter the venue and occupy seating in the uncovered section of the stadium,' stated a TTFA release. 'No parking is allowed at the stadium.'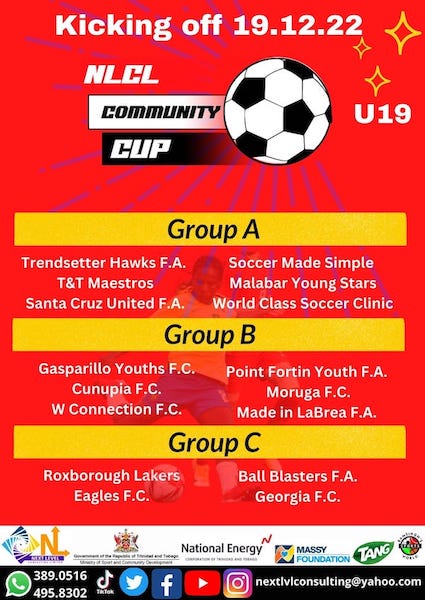 The TTFA thanked the Ministry of Health and the Ministry of Sport and Community Development for 'facilitating and granting this approval on Tuesday'.
Trinidad and Tobago Women's National Senior Team head coach Kenwyne Jones makes his competitive debut at the helm of a football team tomorrow. The former 2006 World Cup player served as assistant to Stern John during the 2019 Concacaf Men's Under-17 Championship.
Thus far, the Women Soca Warriors have three draws and one defeat from four friendly outings under Jones, have scored three goals scored and conceded four.
At present, the Trinidad and Tobago women are camped at the TTFA Home of Football in Balmain,  Couva, while the Nicaragua players and staff are based at the Trinidad Hilton in Port-of-Spain.
(Trinidad and Tobago Women's National Senior Team)
Goalkeepers: 1.Kimika Forbes (Unattached), 21.Tenesha Palmer (Police FC), 22.Klil Keshwar (St Francis College—USA);
Defenders: 2.Abishai Guy (Point Fortin), 4.Rhea Belgrave (Police FC), 5.Shaunalee Govia (Unattached), 8.Victoria Swift (Club Leon—Mexico), 19.Meyah Romeo (Detroit City—USA), 20.Lauryn Hutchinson (Unattached);
Midfielders: 3.Shani Nakhid-Schuster, 7.Liana Hinds (Unattached), 14.Karyn Forbes (Police FC), 6.Kaydeen Jack (Grambling State University—USA), 9.Amaya Ellis (Johns Hopkins University—USA), 10.Asha James (West Texas A&M University—USA), 12.Chelcy Ralph (Ball State University—USA), 15.Kedie Johnson (Florida International University—USA), 18.Maria-Frances Serrant (Corban University—USA),
Forwards: 11.Raenah Campbell (Avantes Chalkida WFC—USA), 13.Dennecia Prince (Point Fortin), 16.Cayla McFarlane (Harvard University—USA), 17.Maya Matouk (Police FC).