Shimron Hetmyer was one of the most talked about West Indies cricketers this year, without actually playing for the West Indies—owing, according to the Cricket West Indies (CWI) selectors—to his fitness issues.
Today, the talented 25-year-old stole the show again despite facing just one ball from Leeward Islands Hurricanes pacer Jeremiah Louis in the West Indies Championship clash at the Queen's Park Oval in Port-of-Spain.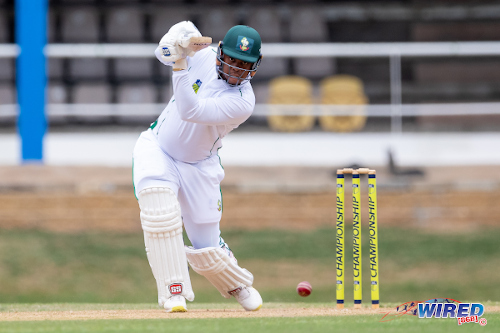 Hetmyer, batting at number 3 for the Guyana Harpy Eagles, touched the cherry twice, once with his bat  in an attempted forward defensive prod, the second time with his glove as he spun around to slap away the devilish sphere that was bearing down on his wicket.
In between 'Hetty's' two motions, the ball struck the pitch and, mischievously, darted in the opposite direction to the one logic would seem to suggest.
Guyana cricket fans have not been shy about their displeasure with CWI selectors, West Indies captain Kieron Pollard and anyone remotely involved in Hetmyer's non-selection. It will probably be open season on physics next.

According to the law on 'obstructing the field', a batsman cannot wilfully strike the ball with 'a hand not holding the bat, unless this is in order to avoid injury'. But the whole incident was bizarre enough to prompt an immediate powwow between the two umpires.
A search on ESPNcricinfo suggested that Hetmyer is the first person to be dismissed for obstructing the field through a handled ball in the regional game. It was not clear if there was any precedent in first-class cricket but it has happened at international level.
It was neither the start nor the end of the day's problems for the Eagles, who had been hoping to build on an exciting one-wicket weekend win over the Windward Islands Volcanoes.
Hetmyer's dismissal left Guyana on 16 for 2. By the 21st over, they had slumped to 87 for 6 and, in the end, they managed to reach 116 before being dismissed in the 35th over.
Nearly half their total came from a sixth-wicket partnership between eventual top-scorer Anthony Bramble 38 (39b, 5 x 4, 2 x 6) and Keemo Paul, which was worth exactly 50 runs.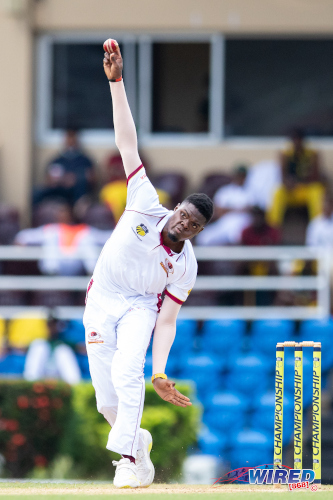 Pacer Colin Archibald and spinner Daniel Doram took three wickets apiece for the Hurricanes while returning West Indies fast bowler Alzarri Joseph claimed 2 for 26 from 11 overs including three maidens.
At stumps, the Leeward Islands, beaten by four wickets by  Barbados Pride on Saturday, already led by 10 runs, with openers Kieran Powell (55 off 114, 7 x 4) and Montcin Hodge (51 off 168, 5 x 4) still unbeaten.
At Kensington Oval in Bridgetown, defending champions Barbados Pride spent the day in the field after Jamaica Scorpions captain John Campbell won the toss and opted to bat. And Campbell put on a clinic too, still there at the close with 123* (205b, 12 x 4, 1 x 6) to his name and the Scorpions on 299 for 3.
Campbell featured in a 71-run partnership with fellow opener Leroy Lugg (39 off 41, 4 x 4, 3 x 6), a 91-run third wicket partnership with Nkrumah Bonner (49 off 117, 6 x 4, 1 x 6) and, most impressively, an unbroken 131-run fourth-wicket partnership with Paul Palmer (76* off 106, 9 x 4, 2 x 6).
West Indies vice-captain Jermaine Blackwood's  contribution to the Jamaican total off his 24 balls was just one run. His early dismissal was a rare high note today for Barbados, led by West Indies captain Kraigg Brathwaite.
At the Brian Lara Cricket Academy in Tarouba, Trinidad and Tobago Red Force opener Jeremy Solozano made the most of his return to the crease with 66 runs (191b, 8 x 4) and featured in a 112-run partnership for the fourth wicket with Yannic Cariah (72 off 174,  5x 4) that steered the hosts away from a spot of bother at 22 for 3.
In his maiden West Indies outing against Sri Lanka last November, Solozano was concussedwhile fielding and never got to bat while a finger injury kept him out of the Red Force's opening win over the Jamaica Scorpions last week.
Today, though, he gave notice of his return to fitness to the CWI selection panel, having replaced the struggling Jyd Goolie in the Red Force XI. There was also a change in the bowling department, Terrance Hinds coming in for injured West Indies pacer Shannon Gabriel.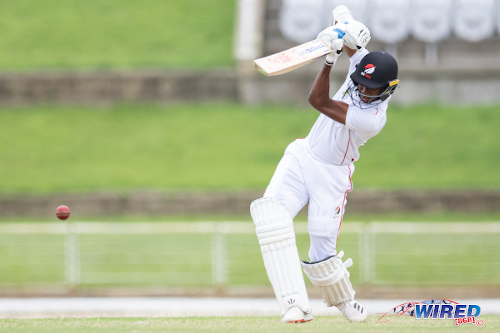 According to coach Dave Furlonge, Gabriel had a sore hamstring. Captain Imran Khan suffered from cramp today and retired hurt but is expected to be fine to bat tomorrow–if needed!
At the close of play, the Red Force were 217 for 5 with Joshua Da Silva (52* off 91, 7 x 4) and Hinds (5 off 19) still at the crease.
In the first innings against Jamaica last week, Da Silva added just five to his overnight score of 32. He will be hoping for a much more successful restart tomorrow.
Twenty-six-year old Grenada pacer Shermon Lewis, who took three wickets for 24 runs from his 15 overs today, might have something to say about that.
Match summaries
(At Brian Lara Cricket Academy, Tarouba, Trinidad)
Trinidad and Tobago Red Force: 208 for 5 (Yannic Cariah 72, Jeremy Solozano 66, Joshua Da Silva 44*; Shermon Lewis 3/24)
Windwards won the toss
(At Queen's Park Oval, Port-of-Spain, Trinidad)
Guyana Harpy Eagles: 116 all out (34.3 overs) (Anthony Bramble 38, Keemo Paul 20; Daniel Doram 3/16, Colin Archibald 3/29, Alzarri Joseph 2/26)
Leeward Islands Hurricanes: 126 without loss (Kieran Powell 54*, Montcin Hodge 51*; Keemo Paul 0/11, Clinton Pestano 0/17)
Guyana won the toss; Leewards lead by 10 runs
(At Kensington Oval, Bridgetown, Barbados)
Jamaica Scorpions: 299 for 3 (John Campbell 123*, Paul Palmer 76*, Nkrumah Bonner 49; Jonathan Carter 1/7, Shamar Springer 1/44, Jomel Warrican 1/57)
Jamaica won the toss
Wired868 has provided readers with solid, independent journalism since 2012.  If you appreciate our work, please contribute to our efforts. 
Support Independent Journalism