It is not for nothing that, on Day 3 of their four-day West Indies Championship contest against the Jamaica Scorpions, Trinidad and Tobago Red Force head coach Dave Furlonge and his match analyst, Amit Jadoo, were already peeking at what the next opponents, the Windward Islands Volcanoes, were up to.
Fierce regional rivals, Jamaican teams have often proven to be a spicy pepper pot for the two-island republic. The Scorpions, though, were as straightforward as rice and peas.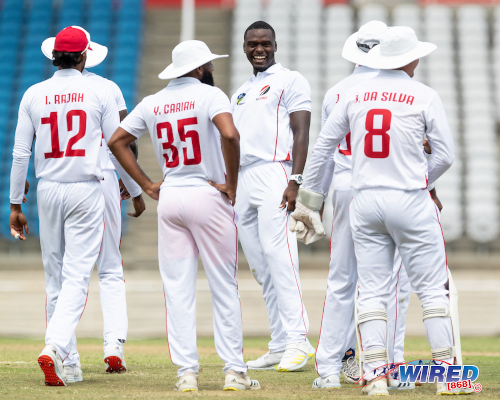 After three days of cricket at the Brian Lara Cricket in Academy, Jamaica had batted for just under 114 overs for a combined 353 runs. It left the Red Force a target of just 81 runs to win and, tomorrow to wrap things up, they need only 59 more.
If the batsmen hold their nerve, the host team might be back at the Metro Hotel in time to see defending champions Manchester City face Norwich City at 1.30pm.
Furlonge said the Red Force did their homework and the tourists did not surprise.

"We went over their team with our analysis guy (Jadoo), and we were well prepared," Furlonge told Wired868. "For instance, we knew that [Marquino] Mindley likes to bowl full to the bat. And we knew that if we got [John] Campbell and [Jermaine] Blackwood early, it would be a matter of time before the rest followed."
Mindley, mind you, still helped himself to a five-wicket haul in Trinidad and Tobago's first innings—three of those scalps came today. But the Jamaica batting line-up did not do enough to support their captain, Campbell.
Isaiah Rajah added just seven runs to his overnight score, the left-handed top-order batsman failing to build on his first regional half-century in five years. However, Anderson Phillip chipped in with 21 (28b, 1 x 4) as the Red Force got to 273 and a 132-run lead.
Jamaica improved on their first innings total of 141 but their eventual total of 212 was, almost certainly, not challenging enough. Campbell and Blackwood, as predicted, again produced the visitors' most productive partnership with 41 runs for the second wicket.
On Wednesday, the two experienced batsmen were dismissed by off-spinner Bryan Charles—en route to a six-wicket haul. Today, Phillip was responsible for the demise of the pair and the pacer ended with 5/82 from his 15 overs.
"He is a wicket-taking bowler," said Furlonge. "The last time we played before the pandemic, he got three five-wicket hauls in the last three innings so he is continuing from where he left off. 
"He is very fit so he can bowl long spells. He bowled for 10 straight overs when he took his first three wickets today."
In the space of four overs, Phillip bowled Blackwood (16 off 17, 3 x 4) and Paul Palmer (0 off 5) and had Campbell (45 off 66, 5 x 4, 2 x 6) caught behind by Joshua Da Silva to have the Scorpions reeling at 80 for 4.
Batting at number 7, Jamaican pacer Derval Green (41 off 48, 4 x 4, 1 x 6) made a nuisance of himself. But he ran out of partners, as skipper Imran Khan and Charles took three and two wickets respectively before Phillip returned to complete his fiver.
Charles took eight scalps across the two innings and Furlonge suggested that the 26-year-old former West Indies youth cricketer had used the pandemic-enforced break wisely.
"Bryan has improved tremendously in the last six months," said Furlonge. "He got 16 wickets in three innings in the trial matches and carried on from that against Jamaica.
"[…] He is bowling at the correct speed on this wicket […] and I am hoping he goes on to bigger and better things from here."
If the Red Force are to be serious contenders for their first regional title since 2006, though, their coach suggested that they must improve their performance with the bat as well. Rajah, who got into the team owing to a finger injury to 26-year-old opener Jeremy Solozano, scored 65 in the first innings and will want to continue building his case for the selectors tomorrow.
Solozano, after all, is fit to face the Windward Islands next Wednesday.
"It is up to selectors whether we make changes," said Furlonge. "But Solozano is fit again and we know he is a West Indies player so it is something we will have to look at. I suppose the chairman of the selectors (Rajendra Mangalie) will call a meeting tomorrow or Sunday to discuss that.
"[…] I told Rajah before the match that he is stopping too often in his 40s. He got his half-century this match but it is time for him to go on and get those big hundreds… We need our batsmen to be more consistent."
Furlonge's biggest headache, though, remains in the field.
"A soft spot for the Red Force over the years has been our dropped catches," he said. "Last season, we were up to 27 dropped catches before the league stopped and we already had three or four in this match. It is something we have to put in some more work on."
The Red Force will certainly expect to keep both hands on this contest tomorrow. However, Mindley and pace partner Nicholson Gordon may have something to say about that.
Match summaries
(At Brian Lara Cricket Academy, Tarouba, Trinidad)
Jamaica Scorpions: 141 all out (Jermaine Blackwood 44, John Campbell 25; Bryan Charles 6/48, Jayden Seales 2/17) & 212 all out (John Campbell 45, Derval Green 41*; Anderson Phillip 5/82, Imran Khan 3/46, Bryan Charles 2/49)
Trinidad and Tobago Red Force: 273 (Yannic Cariah 72, Isaiah Rajah 65; Marquino Mindley 5/70, Nicholson Gordon 4/65) & 22 for 0 (Keagan Simmons 11*, Isaiah Rajah 8*; Marquino Mindley 0/2, Nicholson Gordon 0/19)
Red Force need 59 runs to win with all wickets in hand.

(At Kensington Oval, Bridgetown, Barbados)
Leeward Islands Hurricanes: 172 for 9 dec. (Devon Thomas 58, Kieran Powell 43; Keon Harding 4/42, Jonathan Carter 2/9)  & 294 for 7 (Devon Thomas 112, Keacy Carty 55, Jahmar Hamilton 40*; Keon Harding 2/50, Kraigg Brathwaite 2/7)
Barbados Pride: 324 all out (Shamar Springer 91, Shane Dowrich 86; Rahkeem Cornwall 4/99, Colin Archibald 3/47)
Leewards lead by 142 runs
(At Queen's Park Oval, Port-of-Spain, Trinidad)
Windward Islands Volcanoes: 339 all out (Preston McSween 86, Alick Athanaze 68, Devon Smith 52; Gudakesh Motie 4/62, Keemo Paul 3/84, Veerasammy Permaul 3/88) & 157 for 7 (Alick Athanaze 58, Larry Edwards 29*; Clinton Pestano 2/25, Keemo Paul 2/30, Veerasammy Permaul 2/41)
Guyana: 327 all out (Vishaul Singh 93, Keemo Paul 73; Shermon Lewis 4/59, Kenneth Dember 4/36, Preston McSween 2/78)
Windwards lead by 169 runs.
Wired868 has provided readers with solid, independent journalism since 2012.  If you appreciate our work, please contribute to our efforts. 
Support Independent Journalism