The Brian Lara Cricket Academy in Tarouba, named after iconic West Indies and Trinidad and Tobago batsman Brian Charles Lara, belonged to 26-year-old off-spinner Bryan Charles today.
Confused? So were the Jamaica Scorpions, as Charles finished with 6/48 with the visitors skittled out for 141.
Scorpions stars Jermaine Blackwood and captain John Campbell put on 64 runs for the second wicket but there was little else to cheer about for the men from 'Jamrock'. And Charles accounted for both wickets.
Jamaica were 74 for two after Charles had Campbell (25 off 61, 3 x 4) caught by opposing captain Imran Khan. And the visitors added just eight more runs over the next four overs before the spinner returned to also claim Blackwood,  caught by Keagan Simmons for 44  (72b, 3 x 4).
Wickets fell regularly after that, as talented 20-year-old pacer Jayden Seales—who had earlier removed opener Leroy Lugg in the fourth over of the match—returned to dismiss Derval Green for a golden duck. And Khan had Paul Palmer caught and bowled for 24 off 78 balls.

Charles, a former West Indies Under-19 player, accounted for virtually everyone else, though, wrapping up Jamaica's innings by bowling feisty lower-order batsman Marquino Mindley (22 off 46, 2 x 4, 1 x 6) before leading his teammates into the pavilion.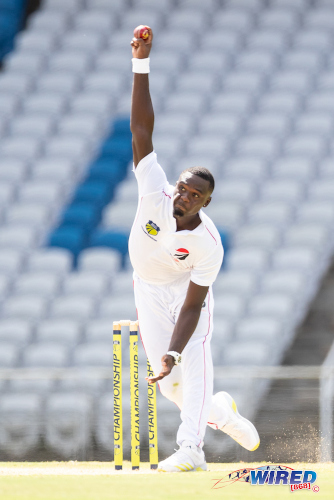 "They said the tournament was coming up about three times [in the last year]," Charles told the T&T Newsday last week, "so it is really mentally draining to be preparing hard for it and then they [keep] calling it off."
When Cricket West Indies (CWI) finally got the regional four-day competition going, Charles was ready, though.
The Red Force did not have it all their way as Scorpions pacer Nicholas Gordon removed both openers, Khan and Simmons, while the hosts were 58 for 3 when Mindley sent back Jason Mohammed (22 off 29, 4 x 4).
However, 23-year-old West Indies wicketkeeper Joshua Da Silva (32 off 80, 3 x 4), who batted at number 3, and Yannic Cariah (11 off 47) were still there at the close of play, with their fourth-wicket partnership already worth 40 runs.
The Scorpions will need to rattle them early tomorrow if they are to regain control of this affair.
In Port-of-Spain, the Windward Islands Volcanoes were the only team to bat through the day as they closed on 278 for 9, with number 10 batsman Preston McSween making a proper nuisance of himself.
The Volcanoes, who won the toss, were 190 for 3 at one stage with 23-year-old Dominican Alick Athanaze and 30-year-old Grenadian Denis Smith at the crease.
However, once left-arm spinner Veerasammy Permaul had Athanaze trapped lbw for 68 (134b, 5 x 4), the Guyana Harpy Eagles spinners took control as the Windward Islands lost six wickets for just 25 runs.
Permaul and Gudakesh Motie took three wickets apiece while in that period pacer Keemo Paul added one to go with his two earlier scalps.
It was 213 for 8 when McSween walked to the middle. But, unfortunately for Guyana captain Leon Johnson, the lower-order batsman was no pushover.
By the close of play, McSween had 46 (53b, 4 x 4, 2 x 6) and there was little for the Harpy Eagles to be happy about, as the tail-enders walked off with an unbeaten partnership worth 73.
The Leeward Islands Hurricanes were not as well served by their lower order . A half-century by Antigua and Barbuda middle-order batsman Devon Thomas (58 off 77, 6 x 4, 3 x 6) and 44 from opener Kieran Powell (43 off 76, 8 x 4) should have set the stage for a bigger total from the visitors at Kensington Oval in Bridgetown.
Instead, the Hurricanes lost five wickets for 11 runs to finish on 172 for 9, with Terance Ward on 6* but Jeremiah Louis unable to bat.
Barbados Pride, the defending champions, were unbeaten on 27 at the close of play with openers Kraigg Brathwaite (11 off 77, 1 x 4) and Shayne Moseley (8 off 59, 1 x 4) yet to be separated.
Hurricanes captain Jahmar Hamilton will hope to offer some more challenging opposition tomorrow.
Match summaries
(At Brian Lara Cricket Academy, Tarouba)
Jamaica Scorpions: 141 all out (Jermaine Blackwood 44, John Campbell 25; Bryan Charles 6/48, Jayden Seales 2/17)
Trinidad and Tobago Red Force: 98 for 3 (Joshua Da Silva 32*, Jason Mohammed 22; Nicholson Gordon 2/23, Marquino Mindley 1/33)
Red Force trail Jamaica by 43 runs with seven wickets in hand.
(At Kensington Oval, Bridgetown)
Leeward Islands Hurricanes: 172 for 9 (Devon Thomas 58, Kieran Powell 43; Keon Harding 4/42, Jonathan Carter 2/9)
Barbados Pride: 27 without loss (Kraigg Brathwaite 11*, Shayne Moseley 8*; Devon Thomas 0/2, Rahkeem Cornwall 0/4)
Barbados trail Leewards by 145 runs.
(At Queen's Park Oval, Port-of-Spain)
Windward Islands Volcanoes: 278 for 9 (Alick Athanaze 68, Devon Smith 52, Preston McSween 46*; Keemo Paul 3/64, Gudakesh Motie 3/61, Veerasammy Permaul 3/75).