Sick! Toxic!
CWI president Ricky Skerritt has not actually uttered those words in public. Not yet. But two recent references to 'mischief-makers' tell us that this quiet, even-tempered Kittitian gentleman has had it up to here with what goes on behind closed doors in CWI. And in plain sight in the region as a whole.
And he is within a kn of letting it all hang out.
One of the perhaps unconscious consequences of that is what we can style 'introselection'.
Let me explain.

Remember the name Miles Bascombe? The number two man on the selection panel led by Roger Harper has got none of the blame for the well-off-the-mark World Cup 2022 squad selection. It is Harper's name that has been mud. Head coach Phil Simmons and captain Kieron Pollard have also come in for some stick, one television commentator claiming that 'Polly got the team he wanted'.
Bascombe's name should have come up, though. Like Tonto comes up after Lone Ranger. Like Robin after Batman. Or, more odiously for us in the Caribbean, like Lothar after Mandrake.
In the Caribbean, you see, we don't look past the man in front. We train our guns on him. Dr Kishore Shallow lurks in the background; the bullseye is on Skerritt's chest.
In early 2019, in keeping with one of the ten pledges in his 'Cricket First Plan', Skerritt set up a task force to consult widely about selection best practices and produce a final report with recommendations by September.
Chaired by CWI's Vincentian vice-president Dr Kishore Shallow, the Task Force comprised two other CWI officials in Jamaica's Jimmy Adams and Antigua's Enoch Lewis along with three former West Indies cricketers, including Philo Wallace of Barbados and Ramnaresh Sarwan of Guyana.
Bascombe, also of St Vincent and the Grenadines, was the third cricketer. And the second member on the Harper-led first selection panel spawned by the committee's work.
When, in January 2022, CWI said goodbye to Harper/Bascombe, Adams was named convenor of the interim panel which selected the white ball squads to face Ireland in three ODIs and England in five T20s.
That same month, Desmond Haynes was appointed to lead the second selection panel spawned by the committee's work. Sarwan was named as his number two.
Three selection panels, Task Force members involved in all three. So look for 'introselection' in the list of new words entering the lexicon in 2022.
We note the phenomenon but we know precious little about the work of Shallow's committee. We know they spent almost four months studying selection models but precisely which ones did they look at to come up with their blueprint?
We do know that the finished product that gave us Harper/Bascombe and now Haynes/Sarwan is close to the New Zealand model. Two ex-players, the coach and the non-voting captain comprise the West Indies panel.
Since mid-2009, the New Zealand selection system has also had two ex-Test players, the coach and the captain, Mark Greatbatch, Glenn Turner, Daniel Vettori (captain) and Andy Moles (coach) being the original foursome.
Is it mere coincidence that, reporting half-a-year after Shallow and co, the Don Wehby Governance Task Force would strongly recommend the New Zealand governance model, '…because of the similarities between cricket there and here and because the reform there has in seven years led to dramatic improvements in the performance of New Zealand teams internationally'?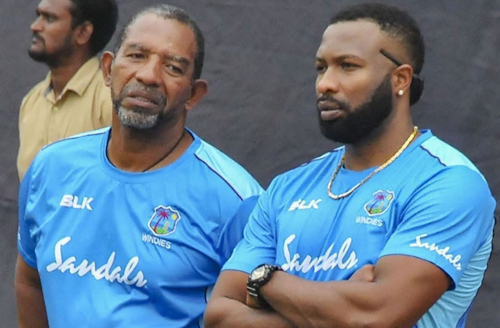 Perhaps. Skerritt, it seems, is unfazed by Harper/Bascombe's failures. And his public presentation of Haynes/Sarwan suggests that he has little concern about the model now in use.
He described Haynes' cricket experience and knowledge as 'second to none' and lauded him as 'the right man for the right job at the right time'. And, said he, the Board expects great things from Sarwan.
Even if, in hindsight, we might have ended up with the wrong selectors at the first time of asking, the model, he seems certain, is not flawed.
Misplaced confidence? In David Rudder's 'divided world that don't need islands no more', might we not have been better served giving the second-to-none Haynes a supremo's free hand?
Research suggests no. The England model which had worked so well with Ed Smith as supremo sputtered and stalled spectacularly with Chris Silverwood as tsar. Silverwood resigned last week.
But even before the Ashes debacle, both Mark Nicholas and flamboyant former England captain David Gower had publicly declared it a mistake to make Silverwood the sole selector.
Smith, his ESPNcricinfo profile says, had 'written a book on baseball', was 'a voracious reader and writer' and had 'picked up a double-first in history despite devoting much of his time at Cambridge University to cricket'.
Ultra-careful selection of the people at the centre of a selection system is essential to its success.
Second-to-none cricket experience and knowledge might be a necessary condition for sole selectorship. But they're not a sufficient one.
Into the mix in my head went one-time WICB CEO Dr Ernest Hilaire's curious 2012 'star team' statement that the selectors' task was to pick 'not the 11 best but the best XI'.
It had helped broaden immeasurably my understanding of what the selector's job is. Selection is not about mere arithmetic, the '11 best'; without a grasp of algebra, you are unlikely to consistently get the 'best XI' right.
Of the six criteria Shallow's Task Force has given us on which to base all player selection, four, fitness, form and performance, mental capacity and technical ability, are measurable, arithmetic, the other two, commitment and team balance, are intangible, algebraic.
So we know that Harper/Bascombe's pitiful attempt at selecting a World Cup squad was a spectacular failure.
Commitment and Jason Holder's omitted? Fitness and Chris Gayle gets an exemption? Form and performance and Darren Bravo makes a November 2021 cut? Team balance and all your eggs are in the six-hitting basket?
Dessie Haynes' career stats leave little room for serious doubt about his arithmetic. If you've seen him bat, you can have no doubt about his mastery of geometry.
His algebra? Long careers as captain yielded ample evidence on that metric where Garry Sobers and Clive Lloyd are concerned. For Haynes', we so far have only what we have seen of the only two squads Haynes/Sarwan has produced.
After India, we'll know more.
But why, despite having full confidence in his candidate's credentials, has president Skerritt stopped short of offering Haynes to us as a sole selector?
Exhibit One: this 15 January extract from the pen of Tony McWatt and 'Reds' Perreira,
'The T20 series against England should also provide the Sir Desmond Haynes-Ramnaresh Sarwan selection panel with decisive answers to the more immediate question as to whether it should indeed be Kieron Pollard who remains at the helm for the WI's attempts to qualify for and eventually participate in this year's T20 World Cup…'
On 30 January, Pollard's troops beat Moeen Ali's England by 17 runs to win the five-match series 3-2.
In the 5 February column, there is not even a passing reference to Pollard's captaincy.
Exhibit Two: this completely unjustifiable sentence in the pair's 30 January column: '[…] The optics that have been created by the shared Barbadian nationality between Haynes and the ageing Roach are not at all good either…'
So, sole selector?
Which responsible leader would be sanguine about overexposing individuals in a Caribbean culture where 'people like to take people down'?
Wired868 has provided readers with solid, independent journalism since 2012.  If you appreciate our work, please contribute to our efforts. 
Support Independent Journalism