Trinidad and Tobago Men's National Senior Team head coach Angus Eve and his potential Concacaf rivals will have to wait until 4 April to discover their groups for the 2022-23 Concacaf Nations League tournament. By then, there will be no Fifa international match window left for teams to rehearse by scheduling practice games meant to simulate the styles of their upcoming opponents.
The Nations League tournament serves as a qualifier for the 2023 Concacaf Gold Cup, while points gained in competitive fixtures carry more weight than friendly results—and the confederation uses Fifa ranking to seed nations for World Cup qualifying competitions.
Concacaf president Victor Montagliani described the maiden season of the Nations League as a 'huge success', as it allows more meaningful games for the confederation's minnows. Administratively, though, the Concacaf executive looks out of step with the rest of the globe when it comes to finalising the logistics for its competition.
Fifa will hold its draw for the Qatar 2022 World Cup on 1 April, seven months before the tournament kicks off on 21 November. The African Cup of Nations draw was held on 17 August 2021, five months before the tournament started on 9 January 2022.
However, despite knowing the nations in League A, B, and C, since 19 November 2019, Montagliani said teams must wait another two months for the draw that will allow them to better prepare for the upcoming challenge.

A Concacaf spokesman told Wired868 that the issue of the delayed Nations League draw is due to uncertainty regarding which team will be involved in the Fifa Intercontinental Playoff for the Qatar tournament.
"The Fifa calendar was shifted because of Covid and the Fifa Intercontinental Playoff will now take place in June 2022 (same window as the Concacaf Nations League)," stated the Concacaf official. "Until we know which of our Concacaf region teams will take part in that Fifa playoff (it will be the 4th place finisher in the Octagonal), we can't go ahead and organise the CNL. The Octagonal will finish in late March, so we won't know until then.
"On background, we would rather have done it a little earlier if we could. But until we know the identity of that 4th place finisher who gets into the Fifa Playoff, we can't move forward."
Ironically, Fifa's draw for the 2022 World Cup takes place two months before the Intercontinental Playoff decides its final two nations. Fifa found a way to work around the delayed playoffs; Concacaf did not.
Trinidad and Tobago are in the second tier of the Nations League, or League B, after being demoted under former head coach Dennis Lawrence in 2019. Eve will hope to get the Soca Warriors back among Concacaf's top 12 nations at the first attempt. 
To return to League A, Trinidad and Tobago must top their group. If they finish bottom, they will be relegated to League C, the Confederation's lowest rung. There are 16 teams in League B and 13 in League C.
The League B teams for the 2022-23 competition are Haiti, Trinidad and Tobago, Bermuda, and Cuba (all relegated from League A), Guatemala, Barbados, Guadeloupe and The Bahamas (all promoted from League C), along with Antigua and Barbuda, Nicaragua, Dominican Republic, Belize, Saint Vincent and the Grenadines, Guyana, Montserrat, and French Guiana.
Concacaf confirmed today that the 16 nations will be divided into four pots for the draw, based on Fifa ranking. This means Trinidad and Tobago cannot be drawn with Haiti, Guatemala or Antigua and Barbuda for the upcoming competition.
The four pots in League B are as follows: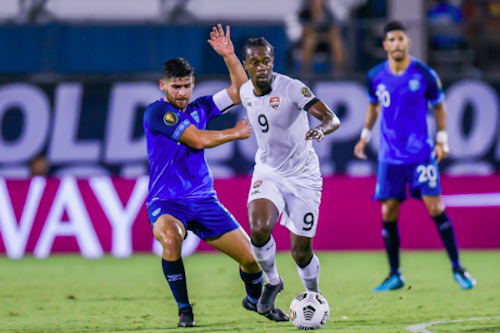 (Pot one) Haiti, Trinidad and Tobago, Guatemala, Antigua and Barbuda;
(Pot two) Nicaragua, Dominican Republic, Barbados, Bermuda;
(Pot three) Belize, Saint Vincent and the Grenadines, Guyana, Montserrat,
(Pot four) Bahamas, Cuba, French Guiana, Guadeloupe.
A best case scenario for Eve, arguably, might be to find himself in a group that includes Nicaragua, Montserrat, and The Bahamas—although Bahamas eliminated Trinidad and Tobago, then coached by Eve's immediate predecessor, Terry Fenwick, from the 2022 World Cup campaign with a goalless draw last year.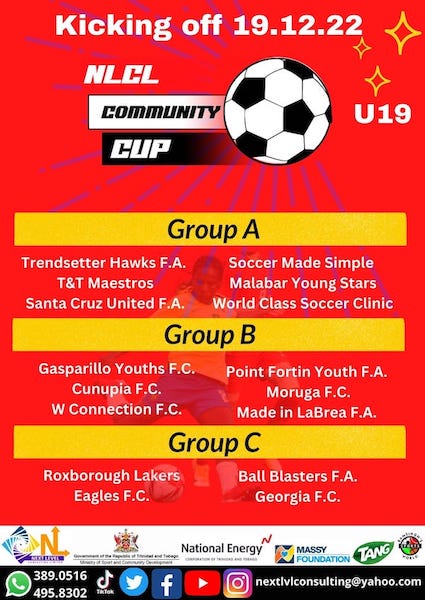 A worst case scenario might be a group that includes Bermuda, Guyana and Guadeloupe, who have competitive rosters.
Trinidad and Tobago have had three match windows since Eve took charge and could have arranged two friendlies in each. They have not used a single one.
In a Fifa match window under former TTFA president William Wallace, the Soca Warriors had two confirmed friendlies away to Canada before Covid-19 and then a Fifa normalisation committee intervened.
Under normalisation committee chairman Robert Hadad, the Men's National Senior Team has played two friendlies in two years: one against the United States and the other against Bolivia. In each case, the Warriors accepted an invitation to play outside the Fifa match window and lost heavily by an aggregate of 12-0.
Eve will hope for a chance to get his full squad together in the next window, between 21 and 30 March, before the Nations League kicks off in June.
At present, Trinidad and Tobago are ranked 100th in the world by Fifa and 11th among Concacaf's 35 full member nations. They were 103rd and 11th respectively when Eve succeeded Fenwick in June 2021.