October, which sees the start of the 2021 T20 Cricket World Cup, is also Calypso History Month.
So it makes sense to me, if we are going to be clear about what this is all about, to allow David Rudder to tell us. In his 'Rally', he has found just the right words:
This is not just not cricket; this thing goes beyond the boundary.
It's up to you and me, my friend, to make sure that they fail.
Soon we must take a side or be lost in the rubble
In a divided world that don't need islands no more.
Are we doomed forever to be at somebody's mercy?
Little cays can open up mighty doors…
I think West Indies T20 vice-captain Nicholas Pooran was echoing that message in his media conference last Tuesday. There was no anger, no loss of temper, not even irritation. Just clear-sighted focus on the fact that it makes no sense, to quote another calypsonian, 'to reach the River Jordan and then tun back'.
Pooran refused to be drawn into any discussion about the composition of the squad, pointing out it was not the players' job to pick anyone. So he would entertain no talk about who should and who should not have been selected.
His concern—and the entire team's concern—was on playing 'smart cricket' at the World Cup and they were bidding to improve their strike rotation ahead of the tournament.
But, he gave the assurance, they would not forget—or allow anyone to forget—that their primary strength is hitting sixes.
"Yes, singles are a part of the game, but our focus is not too much on singles. We won two World Cups with the same problem, to be honest. We're not getting singles but yet still we won two World Cups.
"I don't think the emphasis is on getting singles. It's more about intent—and playing smart cricket!"
It put me in mind of a Harsha Bogle comment made during the opening partnership that essentially won Wednesday's IPL 'semi-final' for the Kolkata Knight Riders.
"Smart cricket that," he commented, as Venkatesh Iyer tucked a shortish ball off his legs and he and Shubman Gill, his opening partner, scampered a single, "Just pushing the ball for a single after a six."
It is a comment that Pooran needs to hear. And to heed.
Ditto Shimron Hetmyer.
In Wednesday's game, he was given a reprieve when he was on two and his attempt to clear the boundary ended up in long-on's hands. It was only because the third umpire determined that the last millimetre of the bowler's heel was on rather than behind the line that he was allowed to continue batting.
In the very next over, he successfully clouted two loud sixes off the very sharp Lockie Ferguson. Arguably in six-hitting mode, he was found well short of his ground when his partner then called him through for a quick single.
"I don't think," his vice-captain tells the world nonchalantly, "the emphasis is on getting singles."
A self-evident truth, if ever there was one.
And, although he never quite said so in words, Pooran is clearly completely untroubled by that.
I think he should be bothered.
He isn't bothered either about the form of Chris Gayle. In discussing him, he focused on his 14,000 T20 runs and his vast experience and called him a 'special human being'.
"So was Mother Teresa," I wanted to tell him. "Should Harper's panel have picked her as well?"
But I refrained.
I refrained too from bringing up Andre Russell, rarely far from the next breakdown. He sat out Monday's Eliminator. He sat out Wednesday's all-important Qualifier. Would he be content to sit out the final?
In the event, he did.
I wanted to ask, oh how I wanted to ask, about Jason Holder. In the CPL, carrying the weight of captaincy on his inadequate shoulders, he had been pretty anonymous. But in the IPL, bereft of the burden of being the boss, he had acquitted himself fairly well with ball (O 27.5—M 0—R 217—W 13) if not with bat (81 runs off 67 balls in six innings).
Was Pooran convinced that Roger Harper and co had made the right choice in omitting him? What, I wanted to ask him, did his gut say?
I wanted too to ask about Sunil Narine's fitness. Had he, for reasons of finance, feigned unfitness? Had he deliberately fought shy of filing the requisite fitness forms because he was afraid of the fallout from the exposure that five World Cup matches with ICC elite panel eyes—and more than a few cameras—fixed on him?
So many questions requiring full responses. But the vice-captain's stance was clear: you are barking up the wrong tree with all these questions about selection and fitness and form.
Focus, father, focus!
All you media people have to worry about is making sure you encourage all hands to come on deck. Just suspend disbelief and tell yourself that we, this 11 or 15 or 19, have the ability to make it three titles for West Indies.
And give that message to all your readers and your listeners and your viewers. From now all the way until the start of the World Cup next week and until we win it in the middle of November.
"United we stand, divided we fall," I imagined him sermonising me.
And closing with a ringing rhetorical question: "Yuh know de kaiso? If West Indies ever needed you is now!"
And I thought about it. And what offered itself to me was something from 30 years ago.
It happened in the run-up to the disappointing November 19, 1989 game against the USA which Trinidad and Tobago lost 1-0 to be eliminated from World Cup participation.
I remembered fulminating against Peter O'Çonnor as Gally's hugely popular Strike Squad sought manfully to earn a place in Rome.
The then TTFA president felt it necessary to tell me what the media's attitude to the campaign had to be.
"It is the responsibility of the press to support the national team…"
Can't argue with that, can you? But O'Connor did not stop there.
"…no matter what," he added.
I baulked. Hold your horses, bro! This is where I get off.
No matter what? Not I!
That is why, in the dark Dave Cameron days, when no-damn-dog-barkness was the order of the day, I deliberately turned my back on West Indies cricket.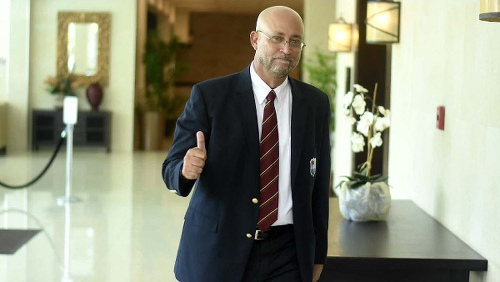 But since Ricky Skerritt and Kishore Shallow did the deed, I am all in.
That is why I want to suggest, no, I want to stress today that we should all be all in. Not only for the World Cup.
All of us. Even those who are not yet 100% believers in Rudder's 'Rally' affirmation and who only hope rather than expect that "in the end, we shall prevail."