Trinidad and Tobago Men's National Senior Team head coach Angus Eve restarted training today at the Diego Martin Sporting Complex with 28 players, who should provide the base for his squad for the next international match window between 4 and 13 October 2021.
Neither Eve nor the Trinidad and Tobago Football Association (TTFA) confirmed whether they have agreed any warm-up matches for that period and whom they hope to play. However, the coach said his charges were 'enthusiastic' today.
"This squad has a good blend of some of the experienced players who played in the Gold Cup, then we have a lot of new kids who come on board," Eve told the TTFA Media. "We are giving them this opportunity to show themselves."
The Soca Warriors head coach said the goal is to play in both match windows remaining in 2021. He hopes to have one game with his current team next month and two with his 'full squad' in the second window between 8 and 16 November.
Trinidad and Tobago are preparing for the 2022 Concacaf Nations League, which kicks off next June.

The current training squad includes seven Gold Cup players, who are Marvin Phillip, Adrian Foncette, Alvin Jones, Curtis Gonzales, Duane Muckette, Hashim Arcia and Reon Moore.
Eve has also recalled Defence Force goalkeeper Aaron Enill, Club Sando defender Darnell Hospedales, Defence Force midfielders Kevon Goddard and Aaron Lester and attacking midfielder John-Paul Rochford.
Former National Under-17 players Nigel Carraby and Jaheim McFee, both teenagers, were also invited along with veteran defenders Jameel Neptune, Weslie John and Robert Primus.
Notably, there were no Terminix La Horquetta Rangers players in the training squad. The Pro League club employs two Gold Cup players, Ross Russell Jr and Isaiah Lee, along with capped national players like Keron 'Ball Pest' Cummings, Aikim Andrews, Ataulla Guerra and Tyrone Charles.
Eve also summoned two other Rangers players, midfielder Jamal Creighton and versatile defender Keston George, to his training squad before the July Gold Cup.
The Soca Warriors head coach initially named seven Rangers players on his shortlist to resume training, but the approach was rebuffed by club director Richard Ferguson.
"We didn't feel it was prudent to let them train while there is a state of emergency going on," Ferguson told Wired868.
Defenders Radanfah Abu Bakr, Justin Garcia and Jesse Williams, and midfielder Michel Poon-Angeron were the four local-based Gold Cup players who were not included in the current training squad. Eve said Williams and Poon-Angeron are abroad while Abu Bakr is due to travel soon for an overseas opportunity. Garcia is unavailable due to speciality training within the Defence Force, as is midfielder Justin Sadoo.
Police FC midfielder Jabari Mitchell also missed the current match window due to ongoing training as a TTPS recruit, while goalkeeper Denzil Smith and the teenaged duo of midfielder Molik Khan and attacker Nathaniel James are also pursuing opportunities abroad.
Eve also spoke to the TTFA Media about his work as Men's National Under-20 Team head coach. He has already started compiling a list of potential invitees for the youth team by reaching out to various clubs and coaches for referrals—since the absence of competitive football and Covid-19 restrictions make it impossible to scout or properly screen players.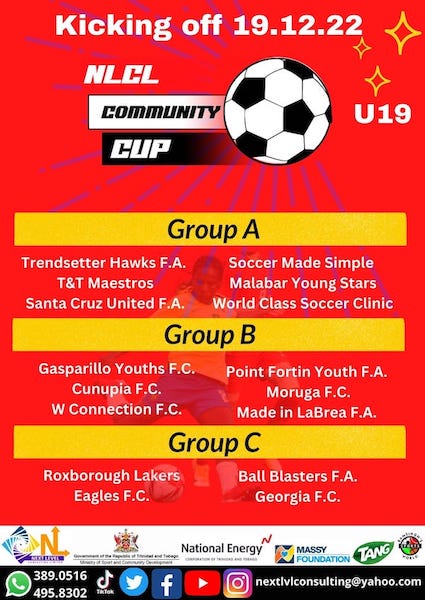 He noted that, through the Unified Football Coaches of Trinidad and Tobago (UFCTT), he was put in touch with a North American group involving Sean Powder—he did not refer to the group's formal name as the Talent Identification Programme (TIPP), which was created under former technical committee chairman Keith Look Loy—to identify players there.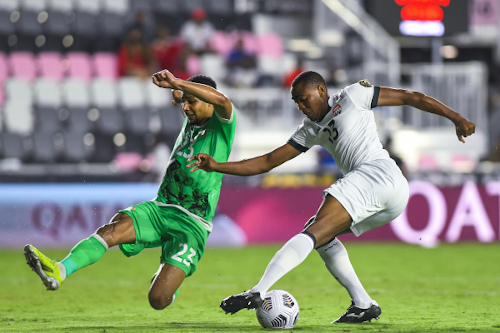 Eve said he has already been informed of two 'good prospects' in North America, who are both goalkeepers and are stationed at New England and Toronto FC respectively.
The full training list of the current Men's National Senior Team is as follows:
Goalkeepers: Aaron Enill (Defence Force), Adrian Foncette (Police FC), Marvin Phillip (Unattached);
Defenders: Alvin Jones (Unattached), Trevin Latapy, Curtis Gonzales (both Defence Force), Darnell Hospedales (Club Sando), Jameel Neptune (Unattached), Joshua Alexander (Mvt Caledonia AIA), Keshawn Hutchinson (Police FC), Nigel Carraby (Unattached), Robert Primus (Unattached), Weslie John (Unattached);
Midfielders: Aaron Lester, Kevon Goddard, Dylon King, Hashim Arcia (all Defence Force), Duane Muckette (Unattached), J'deem Parris (Police FC), Micah Lansiquot (Unattached);
Attackers: John-Paul Rochford (Unattached), Christian Thomas (Police FC), Reon Moore, Brent Sam (both Defence Force), Isaiah Hudson (Unattached), Jaheim McFee (Unattached), Sean Bonval (Unattached), Tyrese Bailey (Unattached).