Trinidad and Tobago Olympic Committee (TTOC) president Brian Lewis has hailed the 'awesome' effort of the Team TTO athletes, despite their failure to medal at the Tokyo Olympics.
Trinidad and Tobago have not failed to climb the podium since the 1992 Barcelona Games—almost two decades ago—while, according to a TTOC release, the twin island republic medalled at 11 from the 19 Summer Olympic Games that it participated in.
The TTOC sent 33 athletes to Tokyo, which is the biggest local contingent ever sent to the Olympic Games. Lewis, who is also president of the Caribbean Association of National Olympic Associations (CANOC), said 18 of those athletes made their debut at this level and suggested that augured well for the country's future sporting ambitions.
"We had 18 athletes making their debut here in the rescheduled Tokyo 2020 Games, under immense and incredible adversity, obstacles and difficulties," Lewis told the TTOC media. "It is no secret the challenges all athletes around the world face; but in particular, our athletes, our team TTO athletes, would have had to endure and undergo during the past 18 months. 
"So, for them to persevere and triumph over adversity, to actually get to Tokyo 2020 and to participate and fight the way they fought to get in finals, to give their best effort, to do personal best marks, and to break national records. Awesome!" 

Prior to the Tokyo and Barcelona Games, Trinidad and Tobago also failed to medal in 1956 (Melbourne, Australia), 1968 (Mexico City, Mexico), 1972 (Munich, Germany), 1980 (Moscow, Russia), 1984 (Los Angeles, USA) and 1988 (Seoul, South Korea).
The returns brought mixed responses from the Trinidad and Tobago public and Lewis lashed out at 'toxic and negative Trinis' on his Twitter account.
"Thank you to those of you who are supporting and have Team TTO back," Lewis stated yesterday, on Twitter. "Those athletes across the board don't deserve what some of their fellow citizens doing them. It's a level of viciousness that is unnecessary."
Lewis' term at the helm of the TTOC ends soon after this Games. In today's release, the outgoing president said he has 'no regret establishing the aspirational goal of 10 or more golds by year 2024, [the] introduction of medal bonuses, the establishment of the Athletes Welfare and Preparation Fund and Future is Female initiatives [and] is also fond of the Replace Guns with Medals initiative'.
Lewis' target of 10 or more golds by 2024, which he launched in December 2014, immediately raised eyebrows. 
At that point, Trinidad and Tobago had managed two gold medals in their previous 17 Games, from 100m sprinter Hasely Crawford (1976) and javelin thrower Keshorn Walcott (2012)—the 4×100 metre team of Keston Bledman, Marc Burns, Emmanuel Callender, Richard Thompson and Aaron Armstrong was retroactively awarded gold for the Beijing 2008 edition, after the Jamaican victors were disqualified due to a doping infringement.
In the two Games since then, Team TTO mustered a solitary bronze medal from Walcott at the 2016 Rio Olympics.
Trinidad and Tobago's most decorated athlete Ato Boldon, who has one silver and three bronze Olympic medals, told the Burdie and Barney podcast that Lewis' target was unrealistic—since, he felt, there were no accompanying high-level programmes to create gold medals.
The identity of the body, or bodies, responsible for delivering Olympic silverware has been a topic of conversation of late. Lewis, on Twitter, spelt out the TTOC's mandate.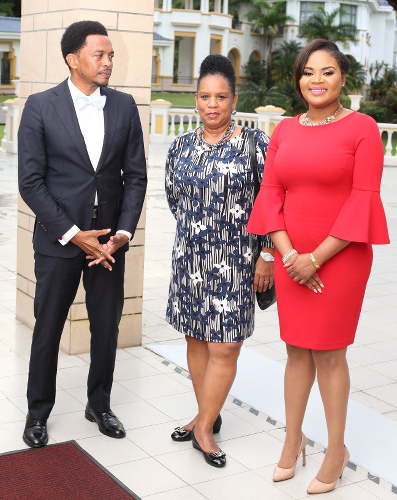 "The [TTOC] is a non-profit non governmental organisation doing our best to assist Team TTO athletes," he stated. "Our focus is raising funds via diverse ways to assist athletes in the pursuit of their Olympic aspirations. #10golds24…"
Lewis noted too that the TTOC was criticised for sending the then 18-year-old Boldon to the 1992 Barcelona Games, only for the sprinter to subsequently medal at the 1996 and 2000 editions. Crawford also left the 1972 Munich Games without any hardware before striking gold in Montreal 1976.
"That [Boldon] era built up and inspired and contributed a lot to our successes and so the same thing will happen again," said Lewis. "Out of failure and adversity is when greatness, victory and success is achieved, especially in sport. So, for my mind, it is all positive. It is all about learning, growing, and bouncing back better.
"[…] So, for the TTOC, I can't congratulate enough and express enough appreciation to the 33 athletes, each and every one of them that made it to Tokyo 2020."
Lewis will not be at the helm to see it but he assured sport fans that Trinidad and Tobago would be better poised for success at the 2024 Paris Olympic Games.
"It is only positives and benefits that will come from the learning and the experience they will get [at the Tokyo Games]," said Lewis, who thanked the contribution of the TTOC coaches, technical officials, medical staff, chef de mission Lovie Santana and Covid-19 liaison officer Rheeza Grant. "[…] It will all pan out in the end. The TTOC is proud and happy to continue supporting our youth and young people who provide inspiration and motivation for the youth and young people in T&T.
"[…] They are taking on the globe, the world and they are punching and fighting to be among the best in the world and that is something that the TTOC is incredibly proud of our athletes for."