The Next Level Consulting Limited (NLCL) U-19 Community Invitational Tournament 2021 has vowed to launch its second season on 18 December, pending approvals from the Ministry of Health, chief medical officer Dr Rosham Parasram, the Ministry of Sport and Community Development and the Trinidad and Tobago Football Association (TTFA), which is run by a Fifa-appointed normalisation committee at present.
The inaugural Next Level competition was run in 2019 but the Covid-19 pandemic led to a cancellation of domestic football last year. However, tournament chairman Brian K Jordan said they have already registered a host of teams for the 2021 edition—despite their current lack of approvals.
"We have already registered most of our teams in Trinidad and are working to register the top Tobago teams for our exciting new season," stated Jordan, via a press release. "[…] With recreational Covid-19 restrictions still in place, our tournament committee expects to continue working with the CMO's office to ensure the safety protocols we implement are more than adequate. Safety of all parties, especially our young talent, comes first for us. 
"Once the key stakeholders such as the teams, coaches, players, match officials, police, venues, as well as, the normalisation committee of the TTFA continue to see value in our efforts, the tournament is scheduled to run from December 2021 to March 2022, with teams from each of the various zones vying for a challenge trophy, as well as other awards and prizes."
The competition, which was won by MaGuaya United in its first edition, strives to 'provide a strong platform for our young adults to play more organised football following the scheduled completion of the Secondary Schools Football League (SSFL)'. 

"We are so pleased to be able to continue to provide this opportunity where Trinidad and Tobago's top under-19 footballers will have a chance to showcase their skills outside of the Secondary Schools Football League," stated Next Level Consulting co-owner and tournament PRO Germaine Jordan. "This tournament hopes to continue to build upon the great work of the SSFL. More football equals more opportunities."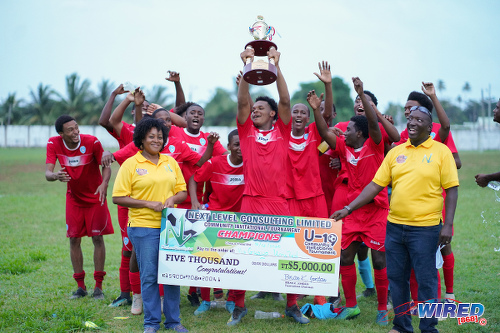 Interested teams have until 22 December to register for the tournament. Next Level Consulting is also inviting stakeholders and corporate entities to 'join in making a positive investment in our youth after a long Covid layoff'.
The NLCL tournament committee comprises Sandra Pompey, Don Griffith and Mr and Mrs Jordan. 
Jordan also thanked the National Lotteries Control Board (NLCB), National Energy Corporation, Comfort Keepers Assisted Living Facility and other supporters for 'their generous and kind sponsorship and partial underwriting of tournament costs'.
Teams interested in registering to participate can contact Ms Sandra Pompey, team co-ordinator, at (868) 495-8302 or Sandra.Pompey@hotmail.com.
Companies or individuals interested in sponsorship opportunities can contact Mr Brian K Jordan, chairman, at (868) 389-0516 or Nextlvlconsulting@yahoo.com.