Trinidad and Tobago Men's National Senior Team head coach Terry Fenwick will have just four days to prepare his outfit for their next Qatar 2022 World Cup qualifying fixture, after the Fifa-appointed normalisation committee rejected his request for an eight-day overseas camp.
The Soca Warriors face the Bahamas in Nassau on 5 June before they tackle St Kitts and Nevis on 8 June—the latter fixture is likely to be played in the Dominican Republic. 
Both are must win games for Trinidad and Tobago, who trail St Kitts and Nevis by two points in Group F with two games remaining. Only the winner advances to the next phase of qualifying.
Fenwick, according to a well-placed source, asked the Robert Hadad-led normalisation committee to allow his team to assemble abroad from 26 May. The request was denied.
From Trinidad and Tobago's 23-man squad that faced Puerto Rico on 28 March, at least 12 players are unattached or inactive while another three players are in their post-season.

The unattached/inactive players are: Andre Boucaud, Michel Poon-Angeron, Duane Muckette, Willis Plaza, Jabari Mitchell, Marvin Phillip, Adrian Foncette, Radanfah Abu Bakr, Brent Sam, Marcus Joseph, Justin Garcia, and Judah Garcia. The players whose seasons have ended are: Levi Garcia, Daniel Phillips, and Robert Primus.
All 15 players should have been available for an early meet-up, along with the returning Alvin Jones and potential new England-bred and based call-ups, John Bostock, Ryan Inniss, Kurtis Cumberbatch, and Tristan Abrahams.
However, the normalisation committee insisted on the standard time frame of five days prior to kick off and have apparently scheduled the Warriors' departure for 30 May instead. Wired868 understands that the administrator's counter-argument was that Fenwick would still be without several North America and Europe-based players, and, as such, his proposed get-together was not cost-effective.
The local-based National Senior Team players have not trained since last Friday for fear that one infected person could contaminate the entire pool, with the mandatory 14-day quarantine period effectively ruling out any player or staff member who contracts the virus now.
Still, Fenwick is expected to select his final squad this weekend and hopes to have his picks tested and placed in a live-in 'bubble' as early as possible.
The intention is to start a local camp from Monday 24 May, although the timeline might not be realistic as the Ministry of Health is struggling to provide prompt test results at present—due to the ongoing Covid-19 spike.
There is believed to be some excitement within the staff at the potential return of Bostock. The former England national youth team player joined the Warriors in March 2016 for World Cup qualifiers against St Vincent and the Grenadines, but an administrative error by the Trinidad and Tobago Football Association (TTFA) meant he was not properly registered in time.
Bostock has not returned to Trinidad since. However, Fenwick expects to finally have the midfielder's services after a lengthy wooing period, spearheaded by assistant coach and former World Cup 2006 goalkeeper Kelvin Jack.
Bostock made 18 appearances for England League One outfit Doncaster Rovers this season, which is in the third tier of the English game. His last start was on 20 April, while he last featured as a late substitute on 1 May in a 2-1 away win against Rochdale AFC.
The tall, left-footer can play as a midfield anchor, the position currently occupied by Poon-Angeron, or take up one of the box-to-box assignments handled by captain Khaleem Hyland and Watford FC reserve player Daniel Phillips at present.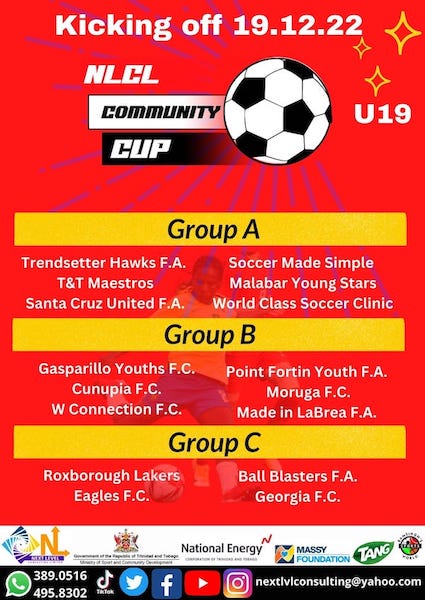 While the only thing that kept Bostock out of the squad was his own wavering commitment, the situation is different for Inniss, Abrahams, Cumberbatch, and Scotland-based attacker Rory McKenzie, who all need passports.
Inniss, a 25-year-old central defender and regular for League One team Charlton Athletic, and the 27-year-old McKenzie, who plays for struggling Scotland Premier League club Kilmarnock FC, were both in Fenwick's squad to play Canada in aborted friendlies on 27 and 30 March 2020.
Remarkably, 15 months later, they still do not have the necessary paperwork to represent Trinidad and Tobago.
Abrahams, a 22-year-old forward, represents mid-table League Two club Leyton Orient in the English fourth division. He made 14 appearances for Leyton Orient this season without scoring.
Cumberbatch, a 25-year-old midfielder, plays for Dover Athletic in the National League, which is a fifth tier semi-professional competition. 
England has cancelled its non-professional leagues due to the Covid-19 pandemic and Cumberbatch's last competitive fixture appears to have been a 2-0 FA Cup defeat to Woking on 19 December 2020.
Fenwick was already dealt a blow when Columbus Crew midfielder Kevin Molino was ruled out of the upcoming qualifiers due to injury. Should the English coach stick with his squad from the last match window—although several players are currently inactive—or freshen up his roster with players he has barely seen in the flesh?
Wired868 understands that the United States-based quartet of Andre Fortune Jr, Ajani Fortune, Matthew Woo Ling and Shannon Gomez are in Fenwick's provisional squad, along with Keston Julien.
Julien, a buccaneering left back, plays in the Moldova top flight with FC Sheriff Tiraspol while Gomez, a right back, and the Fortune brothers, both midfielders, play in the United States' second tier. 
Woo Ling plays in USA's sixth tier, a semi-professional rung, with Miami United.
Woo Ling and the Fortunes represented Trinidad and Tobago in their 7-0 friendly loss to the United States on 31 January 2021, while Gomez was part of the Warriors training squad in the lead-up to that match.
Of course, the challenge of choosing from a pool that includes players either in their off-season, pre-season, or mid-season is a rite of passage for a Trinidad and Tobago Men's National Senior Team head coach. It was no different under former coach Stephen Hart.
And Fenwick's predecessor, Dennis Lawrence, also had the complication of not having an active local league in the build-up to the 2019 Concacaf Gold Cup.
Now, it is Fenwick's turn to find a solution. He might argue, though, that the normalisation committee has not made his job any easier.
Wired868 has provided readers with solid, independent journalism since 2012.  If you appreciate our work, please contribute to our efforts. 
Support Independent Journalism