'My prime minister,' writes Wired868 columnist Dennise Demming, 'is talking to me about not jackassing the thing.'
I couldn't disagree more. 
Now I am not suggesting that Dr Keith Rowley's choice of language has always been appropriate. In the instant case, however, Demming is barking up the wrong tree.
Dr Rowley, to give some context, was speaking during last Saturday's media conference on the Covid-19 pandemic. Just over one week earlier, he had announced a tightening of the measures designed to flatten the Covid curve. 
Those initial measures appeared to have had little or no impact on the swelling numbers. The daily deaths, frighteningly, had hit double figures. People were still congregating and freely transmitting the virus. 
People? Who were these people? Hard to say for sure. But I think it's a safe bet that among them is the age group that gives life and impetus to the latest slang, whatever it might be. 
Any chance that Demming was as well? Me eh swearing fuh nobody buh ah doubt it.
Anyway, on Saturday afternoon, the PM returned to further tighten the screws: a state of emergency complete with a 9pm to 5am curfew.
For his throwaway lines, Dr Rowley borrowed from two calypsonians, Mudada and Devon Seale. And to speak directly to the recalcitrant faction that continues to play the fool with their own and other people's lives, who better than the calypsonian?
Adapting your language to suit your audience is a fundamental tenet of communication theory. You'd expect someone with 'more than 30 years' experience as a communication strategist' to know that. 
So 'my prime minister […] talking to me'? Like many of us, Demming heard him. But was he, in any real sense, talking to her? And even if he were, is there really something wrong with that? 
Numbers 22:28 says this: 'And the Lord opened the mouth of the ass, and she said unto Balaam, What have I done unto thee that thou hast smitten me these three times?'
And Peter 2:16 tells us that Balaam […] was rebuked for his iniquity: the dumb ass speaking with man's voice forbad the madness of the prophet.
Profanity? Please! And you might argue that 'ass' and 'jackass' are not one and the same. Or that 'ass' as noun is acceptable but 'jackass' as verb is inappropriate. I would counter that the Miriam Webster definition of 'profanity' provided by the author talks about 'a socially offensive use of language…' with no distinction made between the various parts of speech.
Demming further points out that 'language evolves and I am old…' Is she old enough, I wonder, to remember how Dr Eric Williams had allegedly dismissed Chalkdust's criticisms on the calypso stage? 
As far as I am aware, there is no recording, audio or video, of the erstwhile PM speaking the four words, 'Let the jackass bray'.  But I wonder if Demming's mother, whom she mentions she 'never heard […] use profanity', disapproved? Did she suggest that Dr Williams was being disrespectful? Or disrespected? 
Interestingly, the Devon Seale kaiso from which the prime minister took his Parthian shot ends thus: 'And dem who want to sabotage the vaccine/Allyuh, please, please, please…'
If Demming's concern is really with disrespect, she might have raised a serious objection a couple weeks ago. Dr Roodal Moonilal, the UNC's deputy political leader, clearly disrespected us all by declaring that government was using citizens as guinea pigs.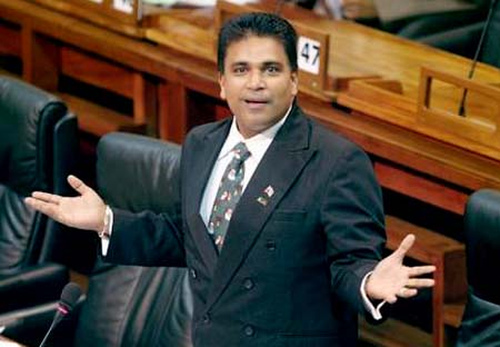 Why? By proposing to use the Sinopharm vaccine which, like the AstraZeneca—already then in use in the country—had been duly approved for emergency use by the WHO. 
If Demming took umbrage on that occasion, she contrived not to share it with her regular Wired868 audience. 
Even after two medical doctors, who both served as UNC ministers of health, tried taking shame outta Moonilal face by telling people to do what de govament say and take whatever vaccine deh could get, once deh know it approve.
Finally, Demming reports that her search for 'world leaders using similar exhortations' had proven fruitless. Surprise! Without checking, I can point to Donald Trump's 'shithole countries', which the whole world heard. 
But was the American president really talking to the whole world? 
Donald Trump's name, by the way, came up in a most interesting context the other day. 
I know the DOJ is dealing with the sexual predators, Donald Trump, and Ghislaine Maxwell. 
Boy, what an important Oxford comma!
So, Mr Editor, please doh leave out mine and jackass de scene!
Wired868 has provided readers with solid, independent journalism since 2012.  If you appreciate our work, please contribute to our efforts. 
Support Independent Journalism