The Trinidad and Tobago Men's National Senior Team received their final 2021 Concacaf Gold Cup schedule today, as Concacaf president Victor Montagliani confirmed playoff fixture dates for the competition.
The Soca Warriors will play Montserrat from 9.30pm on Friday 2 July at the Drv Pnk Stadium in Ft Lauderdale, which is the current headquarters of United States Major League Soccer (MLS) team Inter Miami CF.
Warriors flanker Joevin Jones plays left back for the Inter Miami team, which is part-owned by ex-England and Manchester United star David Beckham and coached by his former teammate Phil Neville.
If Trinidad and Tobago triumph against Montserrat, they will advance to a second playoff round at the same venue on Tuesday 6 July against the winner between Cuba and French Guiana. 
Another win would see the Warriors qualify for Group A of the Gold Cup preliminary stage, which already includes Mexico, Curaçao, and El Salvador.

Trinidad and Tobago, should they get to the group stage, would open their campaign against Mexico at the AT&T Stadium in Dallas from 10pm on Saturday 10 July.
If the Warriors qualify for the Gold Cup, head coach Terry Fenwick is guaranteed a two-year contract renewal due to one of the more controversial clauses of his deal with the Trinidad and Tobago Football Association (TTFA).
In December 2019, the TTFA Board offered Fenwick a two-year deal at US$17,500 per month with an automatic renewal and pay rise to US$20,000 per month once the Warriors qualified for the Gold Cup quarterfinals.
However, Fenwick had then president William Wallace and general secretary Ramesh Ramdhan agree to alter the terms, without the apparent knowledge or permission of the board.
Before the July playoffs, the Warriors have a World Cup campaign to save—as they travel to the Bahamas on 5 June before hosting St Kitts and Nevis on 8 June. The former game will be played in Nassau while the latter looks set to be staged at the Estadio Panamericano in San Cristóbal, Dominican Republic.
The Robert Hadad-led normalisation committee is yet to confirm the venue for Trinidad and Tobago's vital home qualifier against St Kitts and Nevis, which is unlikely to be held in Trinidad due to existing Covid-19 protocols.
The Warriors need two wins from their upcoming qualifiers to guarantee progress to the next round of Qatar 2022 World Cup qualifying, which is a two-legged playoff against the winners of Group A on 12 and 15 June. Triumph in the latter contest would put Trinidad and Tobago into Concacaf's final qualifying round for the showcase Fifa tournament.
And it would take six wins on the trot to also secure a Gold Cup spot and another two years under Fenwick.
(T&T's upcoming fixtures)
Bahamas v Trinidad and Tobago, Group F, WCQ, 5pm, Nassau, 5 June;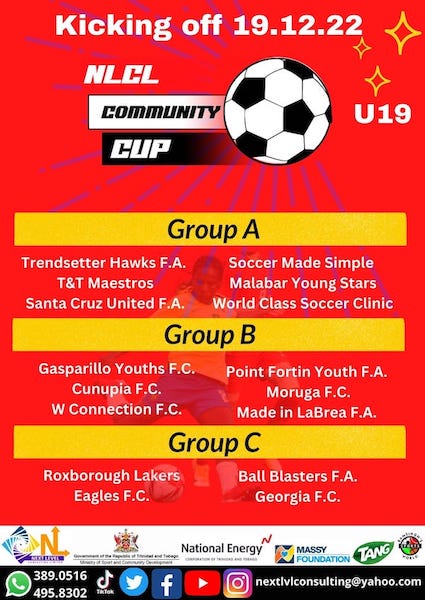 Trinidad and Tobago v St Kitts and Nevis, Group F, WCQ, 6pm, TBD, 8 June.
Group F winners v Group A winners, WCQ, TBD, 12 June;
Group A winners v Group F winners, WCQ, TBD, 15 June;
Trinidad and Tobago v Montserrat, GCQ, 9.30pm, Drv Pnk Stadium, Ft Lauderdale, 2 July.
T&T/Montserrat v Cuba/Fr Guiana, GCQ, 4.30pm, Drv Pnk Stadium, Ft Lauderdale, 6 July.
T&T/Mont/Cuba/Fr Guiana v Mexico, GC, 10pm, AT&T Stadium, Dallas, 10 July.
Wired868 has provided readers with solid, independent journalism since 2012.  If you appreciate our work, please contribute to our efforts. 
Support Independent Journalism