Leave the egos at the door and instead bring bags and bags of patience. Fixing our football will require much more time than it took to drive it down to its current position.
For too long, we have attempted to hold conversations in which each leader tried to look like the smartest in the room. Let's try a new approach where we help each other get smarter for the benefit of Trinidad and Tobago's football.
The positive results that we hope to see from these actions may take six or seven years, before our under-16 and under-17 teams show a significant improvement in performance and results. The wait for an impact on our senior teams may take longer, but we must stay the course.
Naturally, we must raise the coaching standard. I'd suggest fact-finding missions involving discussions with Concacaf's coaching education arms to determine the coaching methodology that suits us best.
We are fortunate to have in our midst Anton Corneal who is not only a Fifa technical development officer but also leads Concacaf's mission to have a homogenous coaching license for the confederation—in the same way that the Uefa badge is standard across Europe. His knowledge on creating a coaching road map has to be tapped into.

Additionally, I believe the creation of an entry level 'community/grassroots' badge is necessary. I envision this badge being below our 'D' license with content that leans more towards creating awareness of age-specific field sizes and best practices in arranging mini-games for our 6-8 age group.
At this age, they just need to have fun and games with the ball. Structured coaching, if any, is at a minimum.
It is crucial that we improve the standard of those coaches working at the grassroots and community levels, who are the persons charged with instigating the love affair of our youngest players with the game.
At the older age groups and in adult football, we must encourage a culture where coaches are always looking to further their education and hone their craft. Gone should be the days when a good playing CV is enough to put a young player's development in a coach's hands.
As great a player as Zinedine Zidane was, he had to have his badges before he started coaching. So why do we feel we are above those requirements?
Once we have decided how to teach, we should then decide what to teach. This is where we address playing style.
A task force made up of the top local minds in the game should be created. I envision that group including—but not being limited to—persons like Anton Corneal, Hayden Martin, Keith Look Loy, Clayton Morris, Kendall Walkes, Everald 'Gally' Cummings, Lincoln Phillips, and Hannibal Najjar. The technical director of the TTFA also has to be a part of this team.
This task force should lead discussions to layout a framework comprising technical headings that then have to be filled in with details, which will come from town hall-styled meetings in each of the zones.
We can have two meetings per zone: one open to all the registered coaches from grassroots  to professional level; the other for the interested public, who are the ones we will ask to come out and spend their money to support the teams.
In both cases, views will be canvassed along the lines of the technical headings agreed on by the task force.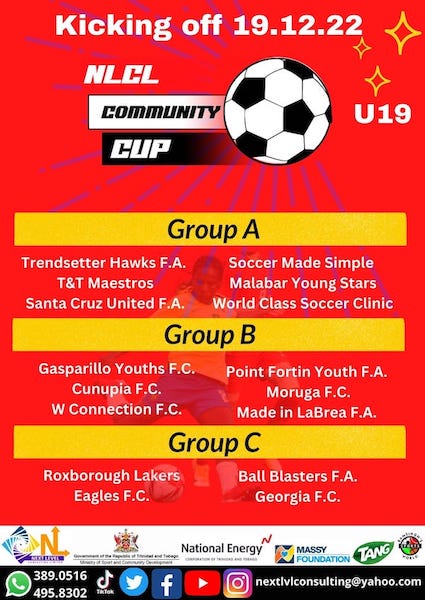 It may take as long as a year for the task force to gather and sift through the information from these meetings and discern the elements that all the parties generally agree on.
Next, we look at countries whose playing styles have many of the elements identified by those meetings and engage them for guidance on coaching and encouraging it. By doing this, we are looking for any trick we may not already have in our armoury.
It may be that we have nothing new to learn but it is better to confirm this than to miss a new element or approach. Make sure, the adage goes, is better than cocksure.
At the end of the process, we should have a draft defining Trinidad and Tobago's philosophy or style of play, which should then be sent to the zones and the public for comment and approval.
We will never get 100% buy-in, nor should we expect to. The Belgian FA underwent a similar process in 1999 and signed off on their revamped approach with 95% or above approval on 13 of the 17 key points. The remaining four with lower approval rates were left out.
With an understanding of the style of play we want, we can create a curriculum which defines the football actions for each position in such a manner that, by age 16, a national youth player should have mastered all of these actions.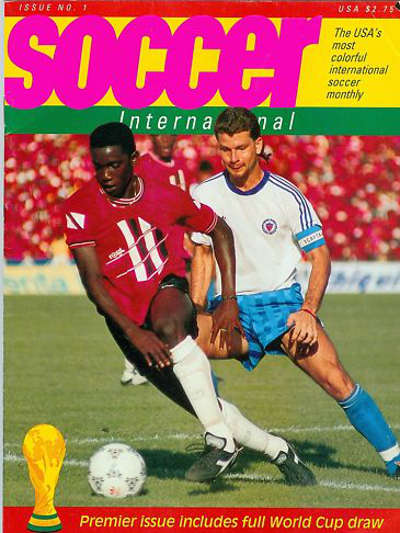 For example, we may agree that all central defenders should be able to switch the point of attack via lofted passes to the weak-side (far side) winger. That would be an example of a defined football action.
Our system should ensure that every right back, from Carenage to Roxborough, can carry out the actions defined for that position with a high success rate. Their individual flair and natural ability will be what ultimately differentiates them.
I think visual exploration or scanning has to be included. Scanning is the players' use of time out of possession—or even when the ball is heading to them—to look away from the ball and gather information about what is happening around him or her, so they can have the appropriate body shape and make a quick, informed decision when the ball reaches.
The net effect of this is a team that plays at a higher tempo.
Michael Bunel, during his presentation at the 2019 International Coaching Symposium in Florida, explained how he did such drills with the likes of France and Manchester United midfielder Paul Pogba from the age of 12, three times per week for 18 minutes.
The main component of this technique runs counter to what coaches have told players up until this point, which is to look at the ball almost all the time. Now, we are encouraging them to look away from it to gather information.
There will be hesitancy on their part to do so at first; and if, in the beginning, the player finds he is no longer able to control the ball consistently because of bad bounces and rolls from the surface, he or she may abandon it altogether through a lack of confidence.
As such, academies need proper playing surfaces to teach this.
Trinidad and Tobago, as SporTT director Hayden Mitchell explained, has the highest number of recreational grounds per capita in the Pan American region. The majority of these grounds are positioned in communities.
With proper planning and budgeting, many of these recreational grounds can have an artificial pitch laid, in addition to the natural grass that exists, for as low as TT$1.75 per square foot (from an American company called ReTURF).
The Queen's Park Savannah can host more than one of these artificial surfaces fenced in with portable bleachers and changing room facilities, especially for our female players.
Once players master scanning, they can return to a less than perfect surface and simply adjust the point where they visually reacquire sight of the ball on its journey to them—for example, from five yards away as opposed to two yards.
So far we have addressed the number of qualified coaches, taught them how to better structure their sessions to encourage learning, and created an age-appropriate curriculum based on our desired style of play.
Next, we need to widen our pool of players. Football is competing with other sports to attract children and it is important to capture them by the age of six, so as to have enough opportunity to improve them before the competitive phase starts at 17.
Their improvement will come with training but they will only continue to train if they know they will get the opportunity to play.
The Secondary Schools Football League (SSFL) and clubs can help by creating multiple teams for each age group while national youth teams should have a 'shadow' or 'futures' for players that are unable to break into the first team at the time.
Think here of a player who might demonstrate obvious talent but is too small at that time, or who has the misfortune of competing with a Dwight Yorke or Russell Latapy for the 'number 10' position.
The shadow national team allows the players to continue developing at the hands of national coaches, while keeping them motivated. If an invitation is extended for an international team to challenge a Trinidad and Tobago youth side, it should be with the understanding that they must also play the shadow team.
The Belgium FA employs that approach and players who benefited include Real Madrid goalkeeper Thibaut Courtois, Manchester City playmaker Kevin De Bruyne and Atlético Madrid midfielder Yannick Carrasco.
Pro League clubs should also be encouraged to create an under-21 league while the TTFA should also have a national under-21 league at zonal level. Again, the thinking is to keep players in the game as long as possible.
If countries like Uruguay, Belgium and the Netherlands, whose populations are substantially larger than ours, are at pains to lose players, then why are we comfortable seeing boys and girls walk away from the game?
Many talented Trinidad and Tobago players have gone overseas on scholarships and we need to do more to keep tabs on them.
Former Presentation College (San Fernando) standout midfielder Kareem 'Enzo' Riley is an example of a quality player who is now in the US collegiate system. To lose him to the game, as we have lost the likes of Carlos Lee, Sherwyn Besson and Ivan Sampson, would be an unspeakable sin.
(Lee, Besson and Sampson were national youth players up to under-19 level. None represented Trinidad and Tobago again after taking up the opportunity to further their education.)
Our current calendar of non-stop youth football, as mentioned already, is not feasible and should be amended, in consultation with our leading minds in the sports performance and injury prevention fields. Dr Oba Gulston and Gregory Seale are two leading persons in this area of expertise, while Dexter Thomas and Trey Hart should also be included.
(I am sure there are others who are just as talented in the field but I am just mentioning those I interacted with.)
It is important that a periodisation schedule is done for our domestic competitions, which takes our Concacaf and CFU dates into consideration to ensure players peak at the right time.
Clubs and academies will have to choose which competitions they enter, with the less subscribed tournaments possibly facilitating players who cannot yet break into their respective first teams.
So we will have defined rest, preparation and competition periods.
Our rest period should be for at least six weeks, so as to allow players to recover physically and mentally from their previous exertions. Players will be asked to take a break from football altogether, or maybe play another sport at a recreational level.
The preparation period, which should be from the third week in January until the end of May, should involve correcting issues noted in the previous competition period, preferably with video from those games to demonstrate what needs work as well as to reinforce the good things they did.
The good things can be shown via team group sessions while negatives can be discussed on an individual basis, so as to maintain the player's morale.
The preparation period involves continued work on the four coachable components of the game and the football actions that each player needs to master, specific to their position. The players' cognitive ability and decision-making will also be enhanced through sessions that challenge them to solve real game scenarios.
This is also a good time for strength work and sport psychology to increase the player's performance. There can be games twice per month.
Training for children 12-years-and-older should be competitive. All players in a particular age group train together but should be constantly assessed and moved up and down between the 'A' and 'B' teams, based on their training performances—so as to ramp up their competitive edge.
At 75 training sessions for 90 minutes each between January and May, youth players should spend 135 hours working on their craft each year during the preparation period.
The competitive season will validate or invalidate the work done on their technique, decision-making and physical and psychological preparedness. Coaches will still have the five sessions between games to correct any issues and reinforce lessons, as well as to recover physically.
Youth teams up to under-21 level should not play more than one game per week.
The competition period for age groups between under-6 and under-13 should entail football festivals held on two weekends in every month—rather than a league—on age-appropriate fields.
The dimensions of the youth fields should range from 20×12 for the under-6s who play 2v2 (1v1 + goalkeepers); 35×25 for the under-8s who play 3v3 (2v2 + goalkeepers); 60×40 for the under-11s who play 8v8  (7v7 + goalkeepers); and 100×60 for the under-12s who play 9v9  (8v8 + goalkeepers). The under-13 to under-15 groups play 11v11 on a 100×60 field.
This age-appropriate approach to pitch and team sizes should offer more touches on the ball to the young players and encourage more children to pick up goalkeeping, by making the goal areas realistic in dimension for those who must occupy and defend it.
It should be noted one of the main reasons for 1v1 at the under-6 age is to encourage ball manipulation/dribbling, which appears to have dried up because of the overly structured academy approach.
From u-13 to u-15, games should be planned and spaced weekly during the 'competition' period and played in quarters, with the 11 players rotating each quarter. Although the results of the games can be noted, there are no points awarded or tables posted.
Competition involving trophies and medals should start at under-17 level and not, as explained earlier, at the younger age groups. However, games for the younger age groups should still be conducted with proper match officials, dressing rooms, etc.
The only thing absent would be the weight of three points or a trophy hinging on the outcome, as the goal is technique, decision-making and physical and psychological development.
At the end of the competitive season, an assessment report should be done by coaches on the strengths and weaknesses of their players and the team's performance on a whole. This report would form the base from which the development plan for the next preseason will be crafted.
All academies should be encouraged to invest in video recording for training, while all youth games should be recorded and made available to the TTFA's Wyscout account.
This would allow the TTFA to create a database on players in each age group. A consistent body of work collected on each player allows the selection process for zonal and national training to be much fairer than what currently occurs.
The SSFL should also get its own Wyscout account, which would assist boys and girls in getting scholarships and overseas trials overseas by making their video clips available for a fee.
I believe the SSFL should revert to zones, so as to allow two rounds of games to be played with one game per week, without having the competition end later than it does at present. This is just one option and better minds can come up with other ideas.
I feel the SSFL should also revert from under-20 to under-18, to better serve the development of its players.
The SSFL is our most prominent youth league and, although I accept that its mandate is not necessarily youth development, I think it can play a big role there.
Even if the schools league insists on catering for the participation of all students, it should create an under-18 division all the same as the gap from under-16 to under-20 is too wide and does more harm than good.
This concludes my series on proposed changes for the youth game. I can only hope that it is a step in the right direction.