Trinidad and Tobago Men's National Senior Team players have accused Fifa-appointed normalisation committee chairman Robert Hadad of betrayal, as roughly 40 percent of the local-based players skipped practice today.
The training sessions are usually attended by roughly 28 players, but only 16 showed up today. And, according to a source, the absentees told head coach Terry Fenwick that quotes attributed to Hadad in the Trinidad Guardian newspaper were the reason for their non-appearance.
Hadad, according to the newspaper, said the normalisation committee would not pay training stipends to the Soca Warriors.
"We are not obligated to pay anybody a stipend, number one," Hadad told the Guardian. "Number two, there are a few players who have come to us and we have said to them that we're not obligated to pay a stipend. 
"We have presented our budget to Fifa for the year and it does not include anything called a stipend… I am not going to make promises to them that I cannot keep."

The article prompted a furious response from players, who accused the businessman of dishonesty and betrayal. Not only, they claim, did the normalisation committee chairman promise them stipends but they were told to expect payment before Christmas 2020.
"Hadad came and spoke to us on more than one occasion because we have players who are coming from as far as Cedros and Point Fortin on a daily basis," said one player, who spoke on condition of anonymity. "It came out from his mouth that they were working on stipends for us—and that was since last year. They said they would pay it before Christmas and a lot of the younger players were looking forward to it.
"Then time passed and we were not hearing anything, so we asked our manager Adrian Romain. Every time we asked, he would say 'they are working on it, they are working on it'. Now we see this story.
"For the players, this is like a betrayal."
Hadad's Guardian interview attempted to rationalise his position by suggesting that the players would usually be paid by their clubs and would not need stipends. So he did not want to set a precedent.
It was curious logic in unprecedented times, particularly as Fifa gave all member associations a grant of US$1.5 m (TT$10 m) in 2020 as 'Covid-19 relief'. Fenwick has asked his local-based players to turn up for duty up to five days a week, precisely because their clubs are inactive and they are unemployed.
If the normalisation committee offered TT$100 per session to players to offset their costs for transportation and a light meal, it would not compensate for what they might earn elsewhere. But at least, the player noted, it would mean they are not losing money to train, which they usually get from family members or well-wishers.
At TT$100 per session with 30 players training five days per week, the normalisation committee would fork out TT$60,000 per month. If Fenwick kept the squad training for 10 months in the year, the cost would be TT$600,000—roughly 17 percent of the sum that Fifa offered member associations to help mitigate the effect of the pandemic.
Wired868 asked Hadad, the co-CEO of HadCo Group, why he did not think the players worth that investment, and had not factored such an allowance into the Trinidad and Tobago Football Association's (TTFA) budget. He did not respond.
The HadCo Group includes: Apadoca's, Caribbean Battery Recycling Ltd, Caribbean LED Lighting, Creamery Novelties, Ecoimpact, Fresh, Hadco Ltd, Happy Time, Haagen-Dazs, Hexcorp, JRJ Bonded Warehouse, Kelec Electrical, Land Ice & Fish, Lighthouse Ltd, Little Woods Foods, Mousie's Ice Cream, New Age Recycling, Nova Lighting, One-Ocean Cargo, Peppercorns, and Sampson's Transport Company.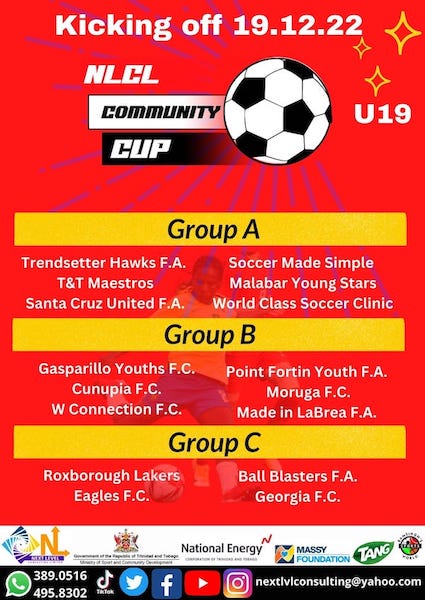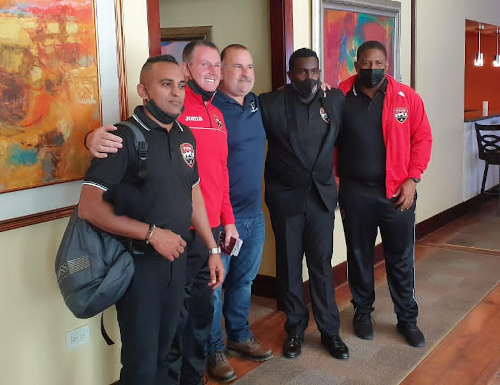 "It is becoming increasingly difficult for players to be asked to continuously 'sacrifice for the country', especially considering the prevailing circumstances which is the pandemic, no form of income for local pros, etc," said a second player, who also spoke anonymously. "Guys aren't asking for a salary, just something to offset daily expenses. It is baffling that he wouldn't even submit it in the proposed budget to Fifa, since it is something that has been brought to his attention multiple times."
Notably, Hadad is believed to receive US$6,500 (TT$44,000) per month from Fifa for his duties as chairman, while the other committee members collect US$4,000 (TT$27,000) each.
The other members of the normalisation committee are Judy Daniel, Nigel L Romano, and Trevor Nicholas Gomez. Daniel lives in Atlanta, USA and is not thought to have set foot in the twin island republic since accepting the post.
Hadad, Daniel, Romano and Gomez might be the only persons in local football who are being paid well and punctually. Despite the chairman's claim to the contrary, national youth and senior coaches say they have not been paid since April 2020—and even that came eight months late.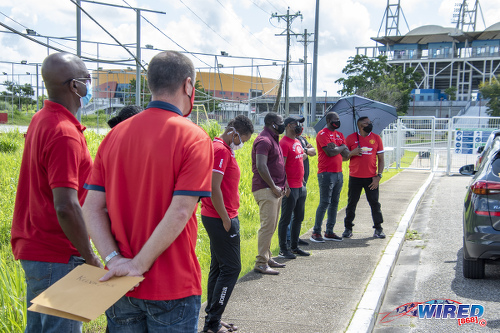 One member of Fenwick's technical staff turned up to training today with an eviction notice.
"Hadad has not even responded to the head coach since we came back [from Puerto Rico], or replied to his emails or text messages," said a team official, who also spoke anonymously for fear of victimisation. "[…] This cannot continue. They are getting money from Fifa, so what are they doing with it?
"[…] At least come out and say 'well we can't pay you this month but we can pay x amount by next month'. Tell us something. The worst thing about it is the disrespect."
Fenwick's staff have spoken to the interim executive of the National Football Coaches of Trinidad and Tobago (NFCTT)—several of whom were national youth coaches last year and are also owed money. The latter body is expected to release a statement today.
The Soca Warriors do not have their own representatives, 15 years after the 2006 World Cup players started the now-defunct Football Players Association of Trinidad and Tobago.
"There is nobody representing the players," said the first national player. "So we talk about our issues in-house and try to find a solution amongst ourselves. We have spoken to [team captain] Khaleem [Hyland] but nothing has happened. It seems that they get the same response that we get—that they are working on it—although obviously the foreign-based players won't feel it as much as us, because they are still earning a living from their clubs."
There is little goodwill left between players and administrators, with Hadad further eroding the trust that was in steep decline under former president David John-Williams.
"Under John-Williams, it used to be promises," said the player. "He would say we would be paid outstanding match fees next week, and next week would come and you would hear something else. And eventually when we kick up, we would be paid.
"Since the normalisation committee came on board, we sent them something in writing and they replied and asked to be granted 60 days to pay us match fees, which we agreed to. But then the first payment for the USA game was made after those 60 days, and we are still waiting to see how long it would take for us to be paid for our World Cup qualifiers last month. 
"[…] We realise now that we didn't put in writing any penalty for late payment, so it is as if we didn't give them a reason to want to pay within the agreed time. So we will have to look at that in the future."
Life as a Trinidad and Tobago footballer, he said, means fighting for even the most basic things to do your job.
"There are plenty issues right now such as our equipment and uniforms seem to be whatever the staff can scrape up," he said. "The medical supplies are lacking. The nutrition is really badly lacking. The police commissioner helps us out and we normally would get lunch in the Barracks after we finish training; but today had none.
"But finances is the biggest problem, especially with no football going on for two years straight. People are out of contract so men are training for free for over a year.
"Sometimes some players may get a 'shut down' work on the rigs down south and they will take it if they get it. Some get some hardware work in-between, which again would be their only sources of income."
The players hoped that 'back-pay' was coming, based on alleged promises of a retroactive stipend by Hadad. His subsequent comments in the Guardian totally deflated them.
"Players took it to heart," said the player. "You're promising us one thing with your own mouth, and have players giving up whatever hustle they could be doing to come and train, with nothing in return.
"[…] It was a betrayal. It is something we asked about, they agreed on, they said they were working on it. And now this…"
Editor's Note: Click HERE to read the concerns about the leadership of the Fifa-appointed normalisation committee, raised today by National Football Coaches of Trinidad and Tobago (NFCTT).