"The way I am looking at this, it's a point away from home against a very good side," said Trinidad and Tobago Men's National Senior Team head coach Terry Fenwick, when a Puerto Rican reporter asked how he felt about a draw in Mayaguez yesterday evening—a result that meant the Soca Warriors slipped two points behind group leaders St Kitts and Nevis.
Puerto Rico, incidentally, are ranked 179th in the world—75 places behind Trinidad and Tobago—and 25th from Concacaf's 35 member nations. They have never defeated Trinidad and Tobago and their biggest achievement as a football nation was qualifying for the group stage of the 1993 Caribbean Cup. 
More to the point, Puerto Rico hired their head coach for the Qatar 2022 World Cup qualifying campaign, wily veteran Dave Sarachan, four weeks before their first game, and were still holding screening sessions in the middle of March.
It would generally be considered inadequate preparation for even the Secondary Schools Football League (SSFL).
"We always knew this would be a difficult game here in Puerto Rico, and Dave Saragosa (sic) did a terrific job with his young team," he said. "Very well organised, well structured… Several top players playing very well together, stretching us on numerous occasions…"

Puerto Rico left back Raúl Gonzáles III is employed with United States second division team, Memphis 901, while 17-year-old midfielder Wilfredo Rivera just signed for MLS team Orlando City but has only played in the US third tier to date.
The remainder of the Puerto Rico team compete in the US third tier, in semi-professional leagues in places like Gibraltar or Bolivia; or, like captain Sidney Rivera and goalkeeper Cody Laurendi, are unemployed.
Fenwick tried to identify Puerto Rico's most eye-catching talent but couldn't quite manage it.
"I am trying to think of the young man's name, seven," he said. "[He had] very good movement coming in off the line, behind the big striker…"
Perhaps it was a fitting tribute to the spritely Wilfredo, since he had given Trinidad and Tobago's defenders the slip whole evening.
Another reporter asked Fenwick how he felt about trailing St Kitts and Nevis at the midway point, with only one team able to advance from the group. (The 'Sugar Boyz' are ranked 140th in the world and 14th in Concacaf, while T&T are 103rd and 11th respectively.)
"Recognise we are in a transition in Trinidad and Tobago," he said. "We've had the oldest squad in world football and we're slowly but surely bringing young guys in, better quality players. And between now and the next window, we are hoping to have more better quality players joining us from the UK and the US."
Fenwick has repeatedly criticised his predecessor, Dennis Lawrence, for having 'the oldest squad in world football' without any pushback. And the facts?
In Lawrence's last game in charge, a 4-0 loss to Honduras on 17 November, the players who ended the match were: Marvin Phillip (35), Aikim Andrews (23), Aubrey David (29), Sheldon Bateau (28), Daneil Cyrus (29), Aaron Lester (26), Kevon Goddard (23), Jomoul Francois (24), Ataulla Guerra (32), Ryan Telfer (25), Marcus Joseph (28).
The average age of Lawrence's team was 27.45.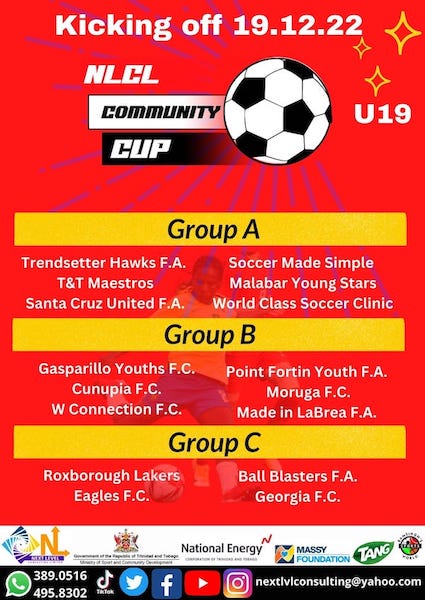 Yesterday evening, the players who ended the game for Trinidad and Tobago were: Nicklas Frenderup (28), Neveal Hackshaw (25), Sheldon Bateau (30), Aubrey David (30), Robert Primus (30), Michel Poon-Angeron (19), Andre Boucaud (36), Duane Muckette (25), Levi Garcia (23), Willis Plaza (33), Jabari Mitchell (23).
The average age of Fenwick's team was 27.54.
Does that mean Fenwick has replaced Lawrence as coach of 'the oldest squad in world football'? Does the Englishman wilfully misrepresent data to suit his own agenda? Or does he just operate based on 'vaps' and guesswork?
"Thanks to the normalisation committee, we've got Wyscout," Fenwick told the TTFA Media, after T&T's 3-0 win over Guyana on Thursday. "So we will be watching [Puerto Rico] tomorrow and will prepare for them properly."
Did Fenwick use the snazzy scouting technology to give the Trinidad and Tobago players any video analysis of their Puerto Rico opponents before kick off? Did any technical staff member watch Puerto Rico play against St Kitts and Nevis in Santo Domingo on 4 March? Was there even a review of the comprehensive yet scrappy 3-0 win over Guyana?
Word from the camp suggest otherwise and the media lacks necessary access to the technical staff to enquire about the preparation work and philosophy behind the football team.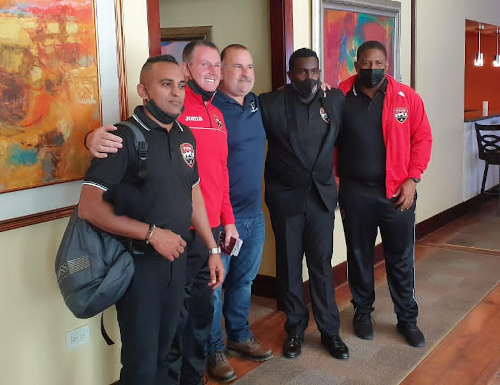 Mind you, Fenwick is actually more media friendly than normalisation committee chairman Robert Hadad—head-butt or not—so he is unlikely to face any internal pressure to subject himself to questioning.
After two weeks in charge, Sarachan had Puerto Rico players zipping the ball around the park and implementing neat triangles everywhere. The Spanish-speaking islanders lacked quality but not structure.
In contrast, after nine months' training, Fenwick's team still looked disjointed, stretched and unsure about how and where to start play or regain possession.
On Sunday evening, one of the two teams in Mayaguez had six players competing in the top tier of the United States, Belgium, Greece, Norway, Costa Rica and Canada domestic leagues. But if you were a casual observer looking on, would you have been able to guess which one?
"I thought it was a game where once we got a lead we would go from strength to strength," said Fenwick. "To be fair to Puerto Rico, I thought they dug in deep, played very well and in the end a draw was a fair result.
"[…] We've got our next game at home which is a very big game against St Kitts in Port of Spain, Trinidad, so that's what we will be focusing on."
A draw was a fair result. And Fenwick wasn't stretching the truth either when he said Trinidad and Tobago had the opportunity to extend their lead too.
The Englishman was probably correct too when he suggested that a few more imports could assure Trinidad and Tobago of qualification for the next round. But has he done enough with what he inherited?
Fenwick's appointment was supposed to mean a more competitive team, complemented by young, local talent and armed with a clear philosophy. He has not delivered; not yet anyway.
Still, Trinidad and Tobago are alive in the competition and capable of getting to the next phase; and that is something.
Whether Fenwick has done enough to retain the nation's unswerving trust when it comes to the business of advancing Trinidad and Tobago's football team—not Fifa's!—is another matter entirely. Trust is earned, after all; and only con-men are afraid of questions.
If you're a football stakeholder, now would be the time to evaluate the progress of your driver. It is best to know as early as possible whether the bright light up ahead is actually an oncoming bus!