'[…] In this latest video, plainclothes police officers are seen dumping one body in the back of the marked police SUV, and then dragging the other body and unceremoniously dumping that body on top of the other. How in heavens name can any wounded suspect survive a journey to the nearest medical institution in that scenario? …
'[…] where are the body cameras that all law enforcement officers around the world have been wearing since king hatchet was a hammer? Why are our officers so afraid to wear them? Is it because they lie about encounters and would be found wanting? …'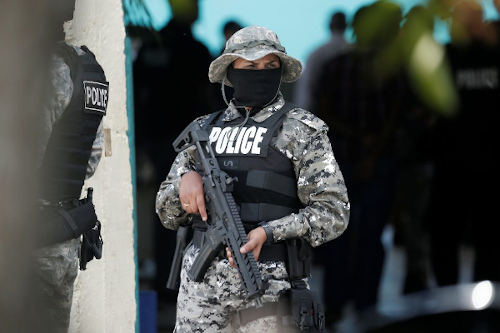 The following Letter to the Editor by anonymous writer 'John Doe' comments on a video circulating on social media of Trinidad and Tobago police officers placing what appears to be two unconscious men in the back of a marked TTPS vehicle:
Here we go again. The same TTPS script is sent to the press and public about an alleged shootout. Our unfortunate—but extremely lucky—police officers always seem to come under fire each time they are about to conduct a search on premises belonging to a 'cockroach' or serve a warrant.
The latest news comes from two suicidal young men who crashed into an unmarked police vehicle and proceeded to rain hellfire on its occupants.
The funny thing is, at no point during so-called shootouts in the past and now are the police pinned down by gunfire coming their way. They always seem to dodge these rounds of ammunition to return fire. When the smoke clears, the perpetrators always end up dead or are rushed to the nearest hospital by the caring officers who they just shot at, in attempts to save their lives.
The latest video making the rounds on social media of the aftermath of the latest 'shootout' in Longdenville begs so many questions of Police Commissioner Gary 'my police officers can do no wrong' Griffith. What are our police officers taught at the Academy during training? Which training model are they using and from which country?
Are police officers trained paramedics as well? Is preserving and protecting a crime scene, especially after a shootout, part of that training? Is dumping 'cockroaches' in the back of a police SUV part of that training as well?
Do they actually practise that manoeuvre? They seem to do it so well. 'You hold the feet I hold the hands, drag the body to the SUV, then after a count of three, swing the body/bodies inside, close the tailgate and rush to hospital.'
It is quite common to see police officers pack a suspect or two in the back of SUVs after an arrest or shooting. But this, in any part of the world, is a no-no. First, it is a very unsafe practice for anyone to sit in the tailgate of an SUV, as there are no seatbelts. This is even legally perilous for a suspect who should be innocent until proven guilty.
If there were an accident and the SUV flips, it is hardly likely the person/persons in that area of the vehicle will survive. Likewise, if a motorist rear-ends the SUV, the result would be likely be fatal.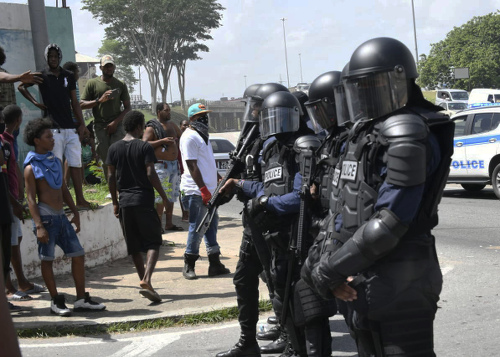 Strangely enough, during a recent vigil/protest by our citizens, which took place opposite the Parliament, two people were arrested. One of them belonged to the 1% class and the other from the 'cockroach' class. The one-percenter, though handcuffed, was carefully placed to sit in the back seat of the police SUV while the 'cockroach' was shoved—you guessed it—in the tailgate of another SUV.
Commissioner of Police Gary Griffith from time to time, when speaking about best practice in policing, loves to draw examples from the LAPD or the NYPD. I know it sounds good and probably feels good rolling off his tongue. The big question: is Gary Griffith aware that none of the best practice he quotes applies to our police service?
For instance, where are the body cameras that all law enforcement officers around the world have been wearing since king hatchet was a hammer? Why are our officers so afraid to wear them? Is it because they lie about encounters and would be found wanting?
Has the commissioner ever seen any police officer in the UK, US or Canada drag a civilian they have shot and throw them in the back or inside any police vehicle? Hasn't the commissioner noticed that it's the EMTs that are tasked with that job? Even George Floyd was attended by EMTs upon his unfortunate and cruel demise under the knee of a Minneapolis police officer.
Are our police officers trained to stabilise, insert an IV if necessary and communicate with the medical staff at the hospital while rendering first aid on someone who they are rushing to said hospital?
In this latest video, plainclothes police officers are seen dumping one body in the back of the marked police SUV, and then dragging the other body and unceremoniously dumping that body on top of the other. How in heavens name can any wounded suspect survive a journey to the nearest medical institution in that scenario? These officers look more and more like garbage men than men who took an oath to protect and serve with pride!
One observant journalist recently compared policing today to the days of big crime-fighting jefe Randolph Burroughs. If that journalist is correct, it is safe to say that the only things that have changed with our policing are the cars, uniform and a slight upgrade in equipment.
It's like putting new wine in the same old stink bottles. The mindset remains the same: kill them all and come back alone! The style back then was big, bad, ugly, and if we are to believe Mr Shak's account, illiterate as well. Those were the requirements to become a police officer.
The world of policing has changed drastically, leaving T&T police way behind in the dust. While police in T&T are still taking reports in a station diary, police around the world are logging reports on computers. Police cars around the world are equipped with computers, our police still have none.
Remember, Commissioner, extrajudicial killings have always been a thing. The difference now is that illegal acts are being filmed. Remember, Commissioner, when these recordings hit social media, it is seen around the world and worse yet, by your counterparts of equal rank.
If you are invited to a world conference of police commissioners, what does your police service have to boast about? Are you willing to stand in front of your foreign counterparts and boast that crime went down under your watch?
Are you willing to boast that you have a very professional police service, which by the way was changed from 'Force' to 'Service' because that is what was expected of them?
Are they serving? Self-serving? Or using force to make us believe this? You will not dare boast, as they (your foreign counterparts) would have already seen via social media, a new and updated version of the police from back in the day that is yet to catch up with 21st century policing.
Points to note, Commissioner, most foreign commissioners are judged by crime rate, their performance, mental stability and of course the performance of their divisional commanders. Which can you or your police service boast about, Commissioner?
I rest my case.