After contrasting claims about the harmony—or lack thereof—within the Trinidad and Tobago Men's National Senior Team, head coach Terry Fenwick tried to put his worries behind him, at least temporarily, with an emphatic 8-0 win over a handpicked posse of Tobagonian players, branded the Orange XI, in a friendly encounter at the St James Police Barracks yesterday.
Fenwick described his opposition as 'competitive' and said a couple of the Tobago players caught his eye, although he didn't go as far as to single any out.
"They are part of Trinidad and Tobago and they have come across here with a very competitive side," said Fenwick. "They did some good things in the game. I'm delighted for them and we need to reciprocate and give back and go back over there.
"I thought there were two or three of their younger players who started the game that did very well. And again, if we had more time and engaged with them; whether it be here in Trinidad or over in Tobago, yes of course we'd like to have several of their players training with us to see what they've got."
Fenwick was more generous in his assessment of the Orange XI than his namesake and Tobagonian coach, Terry Williams.

"They kept giving the ball away and playing like children," Williams told Wired868, "but when you haven't played football for a little while and you haven't had time to train this could happen to you."
The Soca Warriors team included seven players who featured against the United States in January while their core team trained with Fenwick for the past nine months. The Orange XI players, in contrast, met each other last Wednesday and had a total of three training sessions before Saturday's game.
"After a year and two months or so, these boys just wanted to play some football," said Williams. "We were anxious to play. We called a screening session [on Wednesday] and the Tobago players who were available came out."
Practice match for yuh money!
The Tobago team provided some resistance for the first 12 or 15 minutes or so before capitulating. To describe yesterday's exercise as a 'friendly' would be an understatement.
The boys from the Sister Isle gifted two penalty kicks to the Warriors and lacked the technical ability or poise to trouble their hosts. When they tried to play out from the back, they lost the ball in dangerous areas to the Warriors' press, while their attempts at the route one approach were meat and drink for the Trinidad and Tobago defence, marshalled by towering United States-based stopper Leland Archer.
The most notable player within the Orange XI setup was Mickaeel Jem Gordon, who plied his trade with TT Pro League clubs Central FC and W Connection, while former San Juan Jabloteh winger Andell Noray and former Signal Hill defender Jokiah Leacock were also in the Tobagonian line-up.
Gordon, a useful utility player, operated on the left wing yesterday, with Noray on the opposite flank. Both players showed spurts of individual ability; but neither did much to trouble custodians Marvin Phillip and Adrian Foncette, who shared the goalkeeping responsibility for Fenwick's charges.
"Nah man," shouted Noray, as Warriors midfielder Duane Muckette neatly tucked away the Warriors' third goal in the 38th minute—after an unnecessary turnover by the Tobago defence. "That too easy man! That can't be so easy."
One turnover, two cut-eyes and four minutes later, Hashim Arcia put the Warriors four up after a dreadful clearance on the edge of the area by a Tobago defender.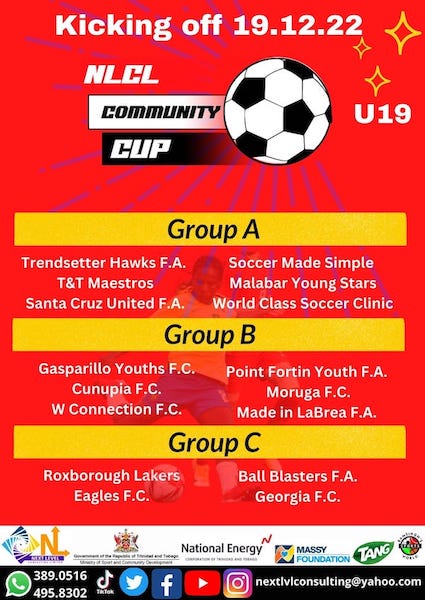 The Tobago team could have—and should have—gotten a consolation item before the end of the first half, but striker Jahiem Harry meekly gave the ball away to the lone retreating defender, Alvin Jones, when Gordon and Noray were in acres of space down either flank.
"Is a three on one you now had dey?!" muttered a disgusted Tobago defender.
"Yeah boy, I don't know what happen dey nah," said Harry, with his hands flailing as though asking the heavens for an intervention.
By then, it was already difficult to see what Fenwick could take away from the game. Maybe it was day two of the team bonding exercise which started at Commissioner's House on Friday.
Once more, incidentally, Fifa-appointed normalisation committee chairman Robert Hadad was nowhere to be seen—even as Minister of Sport and Community Development Shamfa Cudjoe was in attendance.
The game itself lacked intrigue and Phillip and Foncette barely had a save to make and could have easily stood on the sidelines next to Fenwick, as he barked orders.
The back four of, from right to left, Alvin Jones, Archer, Jelani Peters and Jamal Jack were only slightly busier. Jones even helped himself to a first half goal with a free kick that he curled into the bottom corner from about 25 yards out.
Michel Poon-Angeron sat deeper than fellow midfielders Arcia and Muckette, with Shackiel Henry upfront, Marcus 'Lobo' Joseph on the right flank and Sean Bonval on the left, in a 4-3-3 formation.
The Warriors tried to build through a short sequence of passes from Arcia and Muckette, who then sprayed the ball out to flanks. Henry was a willing runner into the channels, Jones' overlaps were a constant threat and Lobo often cut inside off the right flank to show off his venomous left foot.
The Warriors' tempo picked up in the second half, when they became more direct.
"They're tired. Come on. Get at them!" shouted Fenwick from the touchline.
The tidy Muckette retained his place for the second half, while the busy Justin Sadoo slotted in for Poon-Angeron in the deep-lying midfield role and promising teenager Jesse Molik Khan replaced Arcia. 
It was all change up top, with the speedy Reon Moore deployed on the right, Brent Sam through the middle and Gary Griffith III on the left.
Griffith III was a bag of tricks and flicks and had as many step-overs as minutes on the pitch, with a few no-look passes thrown in for good measure. On at least one occasion, his cameo exasperated his own teammates.
"Eh, somebody tell he pass the ball nah!" shouted Moore, as Griffith III lost possession in central midfield after one of his tricks went awry.
Griffith III eventually gave way to Bonval in the 85th minute and gingerly walked off, as though nursing a knock.
On the other hand, Sadoo was efficient in possession and snappy in the tackle too. Muckette also displayed excellent chemistry with the young Khan, and the duo combined for the goal of the game.
Khan showed off his vision with a lovely chipped ball over the defence to Muckette, who squared for a simple Moore tap-in.
The towering Sam also helped himself to a second half hat-trick, including a thunderous penalty that almost burst the net and could easily have ended up in Courts Furniture Store on Long Circular Road.
With Qatar 2022 World Cup qualifiers on the horizon against Guyana (March 25) and Puerto Rico (March 28), it remains uncertain whether the normalisation committee will afford Fenwick tougher warm-up competition.
"We've got a World Cup qualifier coming up on the 25th [and] this is our preparation leading into it," Fenwick said. "We'd like other games absolutely. We're speaking to the normalisation committee on a regular basis. 
"They have got our schedule with games and teams confirmed and we're awaiting feedback from them."
On the cricket pitch, Kieron Pollard's Red Force were too much for Guyana's 'Golden Jaguars' in the just concluded Regional Super50 tournament. Fenwick's Warriors must keep the run going and prove that chicken curry is no match for curried chicken.
(Team)
Trinidad and Tobago (4-3-3): 1.Marvin Phillip (GK); 16.Alvin Jones, 5.Leland Archer, 15.Jelani Peters, 12.Jamal Jack; 13.Michel Poon-Angeron, 10.Duane Muckette, 8.Hashim Arcia; 11.Marcus Joseph, 9.Shackiel Henry, 17.Sean Bonval. 
Substitutes: 21.Adrian Foncette (GK), 22.Denzil Smith (GK), 2.Jesse Williams, 6.Justin Sadoo, 7.Gary Griffith III, 14.Joshua Alexander, 18.Reon Moore, 19.Brent Sam, 20.Jesse Molik Khan. 
Coach: Terry Fenwick