Club Sando FC head coach and former Soca Warriors stand-out Angus Eve has accused Trinidad and Tobago Men's National Senior Team head coach Terry Fenwick of misleading local football fans on several issues—not least regarding the Warriors' supposed 5-0 win over Sando, earlier this month.
On 23 January, Fenwick posted on Facebook that his outfit had just crushed a Club Sando Select team 5-0 with a 'resolute team performance'.
Eve and Sando managing director Eddie Dean swore that never happened.
"We never played the national team any game," Eve told Wired868. "Some of the Club Sando players may have been involved in a pick-up game [against the national team], but to say we played them is something very different.
"[…] WIN TV ran a story based on Fenwick's post that he beat Club Sando, but we never played them." 

Fenwick did not respond to Wired868's request for comment. The Warriors did beat an outfit 5-0 on that day. But the suggestion that the Englishman is uncertain about which team he came up against, might be indicative of the value of those practice games.
Eve said Fenwick's social media posts, which cooed about how his national team was getting on, created a false narrative for football fans. Fenwick even refereed the matches himself and passed instructions on to his players while doing so.
"I went to watch two of their scrimmages and when I saw the coach in the middle of the field refereeing the games—it didn't sit well with me," said Eve, who is a former National Under-23 and and Under-17 Team head coach. "It was misleading to the public of Trinidad and Tobago to be equating pick-up games with teams that were not training with real games, so as to make people feel they were playing proper teams. 
"All that was happening is these coaches were giving their players the chance to be seen by the national coach and trying to help the national team's programme. So they took games they knew they were not ready for, and then the national coach used them for his own devices."
Arguably, Fenwick learned a thing or two about taking a game he was not ready for on Sunday, as a fresh-faced, local-based United States team battered his players in much the same way that they treated makeshift local opposition. The end result was a 7-0 loss, which tied a national record set 21 years ago against Mexico at the Azteca Stadium in Mexico City.
Fenwick blamed the lopsided scoreline primarily on the difference between the developmental programmes of the two nations, as well as the supposed failure of newly assimilated North America-based players to grasp and implement his tactics.
Eve said he was confused by the national coach's statements.
"If as national team coach he has 20-something people in training, is it that he is saying he doesn't think those players are of national quality and the ones he brought from the US are national quality?" asked Eve. "But then he turned around and contradicted himself by apologising for not using the local players. So now is he saying the American system that produced the players he used for the game is also shit?"
Ironically, Eve got his first top level coaching job as assistant to Fenwick at San Juan Jabloteh—roughly 13 years ago—before he went on to work as head coach at St Ann's Rangers, North East Stars and Club Sando. He also regularly scoops up titles in the Secondary Schools Football League (SSFL) as Naparima College head coach.
Eve still holds the mark as Trinidad and Tobago's most capped player of all-time in Fifa-recognised fixtures, despite spending almost his entire career playing locally. He criticised 'the last three coaches' for 'not recognising the local players'.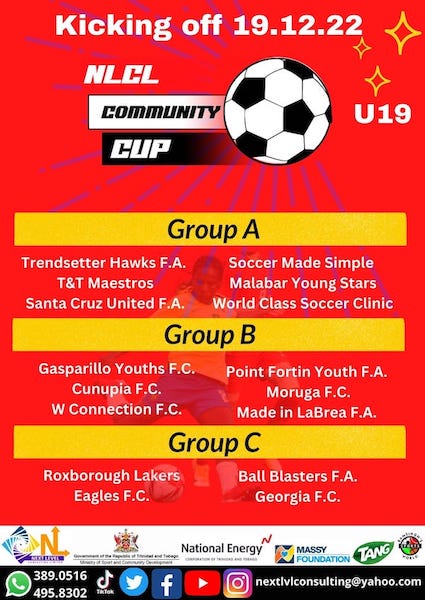 "I remember [then San Juan Jabloteh winger] Nathan Lewis was a player who everyone was saying should be on the national team and it wasn't happening," said Eve. "Then Nathan signed with one of the USL teams, and within a week he was called up to the national team [by then head coach Dennis Lawrence]. 
"I think a lot of coaches disrespect the work done by the local coaches in the colleges league and beyond […] but when a local player gets a sporting scholarship from one of those universities in America, doesn't that mean those schools believe the player is developed well enough that they can come in and help their programme?
"The likes of Kevin Molino and so on left in their 20s to become professional players, which means their development was done right here in Trinidad. Not so? 
"Yes, we know the local leagues and clubs are not perfect, because we are working with limited resources. But at the same time, local coaches don't get the respect they deserve."
(Editor's Note: Nathan Lewis had two international caps under Stephen Hart and 11 under Dennis Lawrence before he moved abroad to play professionally.)
Trinidad and Tobago's embarrassing scoreline against the United States, according to Eve, owed more to Fenwick's approach than our issues in developing players. First, he said, the former England 1986 World Cup defender employed questionable tactics for the match.
Why on earth did Fenwick choose to use a high press against the Concacaf powerhouse?
"If your team is presumably not as fit as the other team then tactical fitness has to come into play, which is reserving the amount of running your team has to do as opposed to the other team," said Eve. "When you play a team like Liverpool or Manchester City, you know you won't have much of the ball, which means your team will have to run more. So you play with a low block, which will suit unfit players better anyhow. 
"Also America did one thing all day, which was put the ball down and get it down the flank where the winger would run inside with his full back going outside of him. We never addressed that all day…"
Eve brushed aside Fenwick's explanations regarding the difference in preparation between the two nations. He suggested that the Warriors coach made a rod for his own back.
"The American professional league broke in November and [the US players] were in camp from the 9th of January, whereas we were training for five or six months," said Eve. "So we had more time with our players than the American coach did; and the American team had a lot of debutants too. The only difference is [Gregg Berhalter] had his players in camp, so he could see what they could do—unlike looking at a player on YouTube, where people post only the good bits. 
"It would have given the coach a lot more credibility if he used the players he had seen and assessed over the last five months. You can't coach players for four months and not get what you want [from them]."
Again, Eve bemoaned the perceived 'disrespect' shown to local players.
"If a group is with me for four odd months, I would not keep a player for that long unless I think he is of a particular standard," he said. "So now I need to assess them after four months of training in a friendly against opponents other than ourselves—and those games he was taking in Trinidad were not valid games. 
"Based on the sacrifice those players were making for four or five months, in coming to training every other day and not getting a salary or a stipend, they should have gotten the opportunity to play that game. 
"And you saw the four of five players who were training [locally], when they came on there was finally some semblance of play."
Eve pleaded with supporters to give 24-year-old defender Josiah Trimmingham a second chance, after his performance—and waistline—came in for biting commentary on Sunday.
Trimmingham plays in the United States' third tier and is a former Club Sando and national youth team player.
"I know Josiah well and he is normally a reliable, solid player, but what hampered him in the game is his physical condition," said Eve. "He was [Fenwick's] captain and I know that baffled a lot of people; but the coach has his decision to make and each one of us as coaches has to live and die by his decisions. 
"In my opinion, I would not have put him as captain because there were more experienced players on the park. When I looked at the team huddles, the most vocal player was Alvin [Jones]. 
"But the coach would know why he chose Josiah over the more recognisable players. He is working with them and I am not; I am just commenting on what I saw."
Trinidad and Tobago hope to have two more warm-up matches against Dominica and the St Vincent and the Grenadines, later this month, before the Qatar 2022 World Cup campaign starts in March.
The Warriors are due to host Guyana in their opening qualifier on 25 March. Eve would hope that Fenwick steadies his ship by then, to give Trinidad and Tobago the best chance of progression.