The Soca Warriors' friendly international match against the United States tomorrow—on Sunday 31 January—will be broadcast live on WESN, within Trinidad and Tobago's borders, in a welcome fillip for local football fans.
Warriors supporters were routinely unable to catch sight of their team during the David John-Williams-led administration as no feed was secured for the twin island republic while they played across the globe.
However, the Trinidad and Tobago Football Association (TTFA), now run by a Fifa-appointed normalisation committee, offered welcome news today that host broadcaster Fox Soccer agreed to share a feed. The game kicks off at 8.25pm on the Exploria Stadium in Orlando and WESN will start its pre-match build-up from 6.30pm.
The match is available on channels 110 (Flow), 21 (Digicel), 118 (Amplia), 107 (bMobile), 7 (Green Dot), or 17 (Air Link). It will also be streamed on wesncc.com.
The TTFA, through its media office, vowed to make a habit of getting access to feeds for its teams' international games in the immediate future.

"This is fantastic news for all the fans of Trinidad and Tobago football back home," said Warriors head coach Terry Fenwick. "We know the fans are starved for football action when it comes to local football and the national teams, and I think the efforts to not only secure this game by the TTFA but to be able to negotiate a television deal is a step in the right direction as well. 
"It's really a good kickstart for the game in our country. To top it off, the officials of US Soccer have been very accommodating here as well and we're all hoping for a good, competitive exercise tomorrow when the both teams get onto the pitch."
Trinidad and Tobago have prepared at the Omni Championsgate training pitch for the past two days and Fenwick said the United States Soccer Federation (USSF) has been a charming host.
"It's been absolutely first class," said Fenwick. "They have helped us everywhere they can. Their staff members have reached out [and asked] what do you need what can we do for you. 
"It has been quite wonderful; the camaraderie between Trinidad and Tobago and the United States players and their staff members."
It is unlikely that the United States' hospitality will continue after kick off tomorrow. 
The Warriors are without 22-year-old DC United defender Michael DeShields, who was withdrawn by his club. The former Wake Forest University player has lost a year of football due to injury and, apparently, his new employers are not keen to risk him.
Otherwise, Fenwick has the services of his 23 selected players, who all tested negative for Covid-19.
"It's a fusion of players who haven't even met [or] seen each other before," said Fenwick. "The preparation is not really long enough, of course not—because we are playing against the United States of America who have had five or seven years of development programmes. 
"[…] But these kids don't get experience unless you give them opportunities and that's what this is. It's a big opportunity on a big stage […] to come and do good for themselves."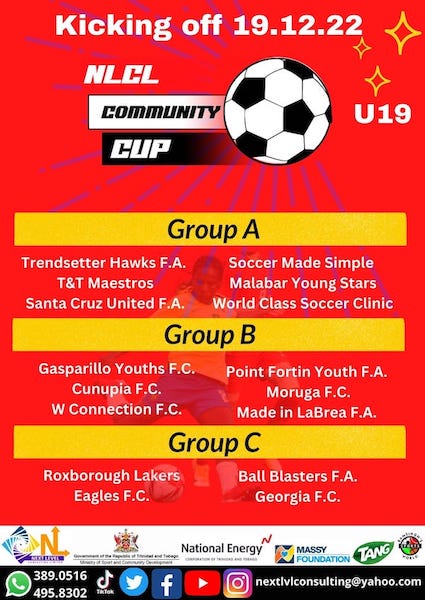 The Warriors are expected to line up in a 4-3-3 formation, in which their full backs provide width, the front three play narrow, and the middle is manned by two bustling workmanlike midfielders ahead of a deep-lying playmaker.
It is a similar approach, on paper, to that of England Premier League defending champions, Liverpool.
Twelve of Fenwick's 21 outfield picks are currently employed in North America or had recent stints there. But only full back Noah Powder (Real Salt Lake—USA), utility player Federico Pena (Valour FC—Canada) and forward Ryan Telfer (York United FC—Canada) are top flight players, while the others compete(d) in the lower divisions.
Eleven members of the current team are capped at senior international level although, apart from Pena, RGV Toros utility player Jonathan Jimenez and Argentina-based midfielder Michel Poon-Angeron, everyone else represented Trinidad and Tobago at youth level.
Powder, Telfer, Pena as well as the USL trio of Leland Archer, Neveal Hackshaw, and Andre Fortune Jr are expected to play from the start tomorrow. Archer, Hackshaw and Fortune Jr were Trinidad and Tobago National Under-20 teammates in 2015.
Fenwick noted that the United States are clear favourites but said he wants to see his players' response to the pressure of a formidable opponent.
"We could have played Caribbean sides, we could have gone to a smaller team," said Fenwick, a former England World Cup defender. "I want big focus because [this game puts] mental pressure [on] our players. I want them to have that experience [and] that knowledge that they have been in front of a crowd."
There can be no doubting Fenwick's ambition. But it also an early opportunity for supporters to gauge what the coach has done with his team, since he began training last July. 
(Trinidad and Tobago team)
Goalkeepers: Marvin Phillip (Neroca—India; 36; 80/0), Adrian Foncette (Police FC; 32; 15/0);
Defenders: Alvin Jones (Unattached; 26; 25/1), Jesse Williams (Coleraine FC—Northern Ireland; 18; 0/0), Justin Garcia (Defence Force; 25; 1/0), Jamal Jack (Sacachispas—Guatemala; 33; 2/0), Leland Archer (Charleston Battery—US; 25; 0/0), Josiah Trimmingham (Forward Madison—US; 24; 1/0), Noah Powder (Real Salt Lake—US; 0/0), Federico Pena (Valour FC—Canada; 21; 0/0);
Midfielders: Michel Poon-Angeron (Club Banfield—Argentina; 19; 0/0), Matthew Woo Ling (AC Port of Spain; 24; 2/0), Duane Muckette (Memphis 901 FC—US; 5/0), Jabari Mitchell (Police FC; 23; 0/0), Neveal Hackshaw (Indy Eleven—US; 14/0), Ajani Fortune Jr (Atlanta United Academy—USA; 0/0), Andre Fortune Jr (North Carolina FC—USA; 2/0);
Attackers: Hashim Arcia (Defence Force; 32; 13/1), Gary Griffith III (Coleraine FC—Northern Ireland; 18; 0/0), Sean Bonval (Central FC; 24; 0/0), Brent Sam (Defence Force; 24; 0/0), Ryan Telfer (York United FC; 26; 6/3), Jonathan Jimenez (RGV Toros—USA; 23; 0/0).