The following article, written by Lasana Liburd, was first published in the Trinidad Express Sport Magazine on Thursday 15 December 2005:
Dwight Yorke is a genius.
No, really. He should hold an honorary diploma from the University of the West Indies (UWI). He should speak to the underprivileged and the differently abled. He should donate his brain to science.
This thought occurred to me at roughly 6.30am on Monday before breakfast or my morning shower.
At the time, I was watching Australian football team Sydney FC play Costa Rican outfit Deportivo Saprissa in the Fifa World Club Championship.

There was still some cold in my eye, granted, but I could see Yorke buzzing in Sydney's midfield. He was a blur of movement. Collect, pass, change angle; collect again, spin, thread the ball.
And then, the light dawned…
Yorke had done it again. He was confounding his critics. He had successfully recreated himself.
From dazzling dribbler to attacking space invader to midfield anchor, Yorke has been reinvented as often as the Deluxe cinema/ Kaiso House/ Zen night club with at least as much success.
It takes a remarkable player to transform his game in mid-career.
An athlete trains repeatedly for years until he is able to perform his necessary tasks as though by instinct.
It takes no small amount of talent, intelligence and discipline to master a new position at the highest level and at an advanced age. But that is exactly what Yorke did when, at 28 years of age, he joined England's most powerful club, Manchester United.
At Aston Villa, Yorke carved open opposing defences with pace and trickery. Once at United, though, he sized up his playing staff and cleverly adjusted his game accordingly, to complement the astute passing of midfielder David Beckham and the speed of strike partner Andy Cole.
United manager Sir Alex Ferguson—at the time, just plain Alex Ferguson—intended for Yorke to replace Cole. Yorke knew better.
Within months, United won every major domestic and European trophy with Yorke as their most valuable player and leading scorer. The mazy dribbler everyone loved was now ghosting into spaces that few mortals could spot, with precise split second timing. Even the likes of Brazil legend, Zico, hailed the Tobagonian as a new global star.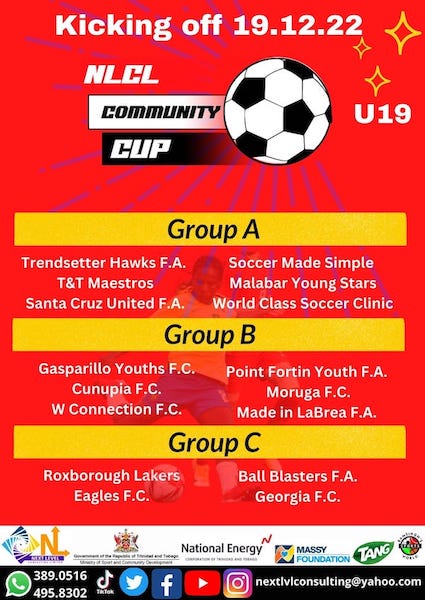 Fast forward to 2005; as Trinidad and Tobago prepared to face Guatemala in a crucial 2006 World Cup qualifier.
In the previous match, away to the United States , Yorke asked national coach Leo Beenhakker to play in a deeper midfield role, so as to help stabilise the team. In no uncertain terms, Beenhakker told him that his best position was closer to the opposing goal. Surely, everyone knew that.
The expulsion of Dennis Lawrence, in the first half, forced the Dutch coach to grant Yorke his wish against the United States. Trinidad and Tobago won their next qualifier against Guatemala 3-2, with Yorke in midfield, and never looked back.
There have been other important factors, of course.
Enigmatic Falkirk playmaker Russell Latapy rejoined the national team—on Yorke's request—to score and create the winner for Stern John against Guatemala.
CL Financial San Juan Jabloteh Aurtis Whitley also stepped out of the closet with a string of superb performances at the death, as the Soca Warriors tallied three victories in a four match unbeaten sequence to snatch a World Cup place.
The Trinidad and Tobago midfield area has never looked so potent.
Carlos Edwards is regularly confusing opponents with his hypnotic shuffles, Whitley possesses the surging runs, Chris Birchall has the shot and Latapy is blessed with a magical final pass. But Yorke is the glue that keeps it together. He is the pulse of the squad; the steering wheel.
In the heat of battle, fans are most excited by the finishers or the ball carriers. These are the players who win games.
At the other end, we thank God for an agile goalkeeper and capable defenders. These players save games.
On Monday morning, I appreciated a player who ran and ran and passed and passed and spun, checked his angles, then passed some more. Yorke, at 34, dictated the ebb and flow of the game. He is Trinidad and Tobago's answer to Spanish maestro Xavi or Italian Andrea Pirlo.
God help me if he has not assimilated himself into another role.
Next June, Yorke will test his progress against the best in the business. He would try to beat Beckham at his own game.
English midfield Steven Gerard is quicker than Yorke, Frank Lampard packs a more formidable shot, Joe Cole is trickier in possession and Beckham has a more impressive passing range.
But I will not bet against Yorke holding his own. The converted winger-cum-striker-cum-central midfielder might even teach the young bucks a trick or two in the midfield trade that the English quartet practiced for their entire professional careers.
After all, the man is a genius.