A cricket match, a very wise man once wrote, is played in the minds of the opposing captains. The leader's performance between the two sets of stumps may well contribute to the eventual outcome of any given match. But if he fails to perform consistently between the ears, his team and he are destined ultimately to fail.
The performance of Jason Holder's West Indies in the recently completed Test series in New Zealand has left at least two fast-bowling legends manifestly unhappy about the skipper's performance between the ears. As was the case during their playing days, neither Andy Roberts nor Curtly Ambrose held anything back.
Diplomatically, however, multiple world record holder Brian Lara has so far kept his views to himself. despite having lots of skin in the game. Surely he too senses that, should the current captain remain in place, he will soon break a prized West Indies record. Not, unfortunately, by claiming it for himself. 
No. When someday soon, some opposing batsman goes past the 400 not out Lara posted against England in Antigua in 2004, it will most likely be on Day Two or Day Three of a Test against the Holder-led WI.
That thought does not seem to worry Jeffrey Dujon, who has now added his voice to Clive Lloyd's. Perhaps in response to the scathing criticism of the two Antiguan quickies, the pair dare ask if not Holder, who? 

Of course, coming from the former successful WI captain, that seems a self-defensive question; was it not he who, as convenor of the selection panel in 2014, first imposed the 6'7" Barbadian all-rounder on us as ODI captain, with the promise of great things to come? 
Lloyd, I wrote here on Wired868 at the time, is clearly confident that, […] Holder will acquit himself with distinction. Has he not said repeatedly that the young man 'has a good cricketing brain', is one of 'the good young players who we believe will form part of the long-term future of West Indies cricket' and whom (sic) he and his panel expect 'will be around for a very long time'?
Holder, who turned 29 in early November, will complete his eighth year as a West Indies senior team player next month. He currently ranks second on the ICC list of all-rounders, the only West Indian in the top ten.
Among the bowlers, he is the top West Indian at #11, with Kemar Roach (16) and Shannon Gabriel (19) also in the top 20. On the batting list, he ranks 40th, seven places below Jermaine Blackwood, the best-placed West Indian. 
So he has arguably acquitted himself with distinction. But not as captain.
The New Zealand series, in which WI lost both Tests by an innings in four days, was Holder's 16th series, of which he has won four. His 37 Tests have yielded 11 victories, 21 defeats and 5 draws. Six of the wins have come at home (including a memorable 2-0 2018 whipping of England) and both Zimbabwe and Afghanistan have been defeated away. 
So although Holder does not have much to write home about, he compares favourably with his tenured predecessors. Denesh Ramdin, whom Holder replaced as Test captain, lasted just over one year in the position and posted a P-13, W-4, L-7, D-2 record. Darren Sammy's achievements as captain read P-30, W-8, L-12, D-10 and include two series wins at home and two abroad.
Of the 47 Tests Lara's teams played, they won only 10, losing 26 and drawing 11, with four of the five series wins coming at home. 
Lloyd and his selection committee, impressed by what they had seen, took but a year to relieve Ramdin of the Test mantle and pass it to Holder. But it was another four years before the Barbadian was deemed not up to the demands of short-format captaincy and was replaced in that role by Kieron Pollard. 
Which brings us back to the Lloyd/Dujon question—sort of.
Are we using clear, consistent criteria for selecting our captains or are the criteria left up to whoever happens to be the chief selector at any given time?
If the answer is the former, then there should be no problem providing an answer to the who we go put question. One would expect candidates to most likely come from the vice-captains or perhaps the regional or A team captains or even the Under-19 captains who graduate to the Test level.
It really should be easy to identify a handful of aspirants whom we have been eyeing—if not actively grooming—for the role.
But in West Indies cricket, that has never been the way we do things; tomorrow, we have always been confident, will take care of itself. Ask Ramnaresh Sarwan.
But with the election of the Ricky Skerritt/Kishore Shallow ticket, has come. good news First, as current WI coach Phil Simmons has only recently publicly pointed out, there is a welcome change in the relationship between the CWI and the players.
Does WIPA still exist? Who remembers that CWI contractees have all been on half-pay for many months now?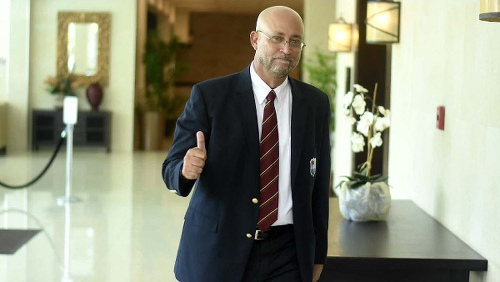 Secondly, the recent Don Wehby committee report into what ails West Indies cricket has been made public. Not a sufficient condition for improvement but a necessary one. Step 2, eagerly awaited is implementation.
Thirdly, like the rest of the cricketing world, President Skerritt awoke on Saturday to the news that Tim Paine's Australians had coasted to an 8-wicket, 8-session First Test win over India in Adelaide. 
The tourists were dismissed for 36, with not a single contributor—including extras—reaching double figures. The much ballyhooed Indian line-up included Virat Kohli, indisputably one of the world's best active batsmen. 
And captains.
So Skerritt knows that contexts matter. Knee-jerk reactions and short horizons will get WI no further around the corner than they have got us since the heady days when we were still riding the Kerry Packer momentum. 
He will do nothing to prevent Holder's replacement when the recommendation comes from the proper source. 
But he certainly won't make the mistake of thinking that we have thus solved our problem—as the short-format results in New Zealand have made crystal clear.