"[…] Notwithstanding the atrocious working conditions and other obstacles, our public healthcare workers have done yeoman's service in T&T's greatest time of medical need. They are not to be blamed for the badly broken public health system in which they work…
"[…] for T&T, [the Covid-19 vaccine] also gives the Rowley government the opportunity to finally focus on correcting the many shortfalls and inefficiencies of our seriously damaged public health sector…"
The following media statement was issued by former education minister Dr Tim Gopeesingh who says he contracted Covid-19 in August: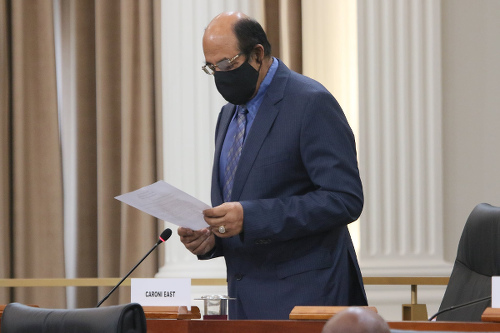 When I contracted Covid-19 in mid-August 2020, the irony was hardly lost on me. I was the first public official in Trinidad and Tobago to consistently warn that the deadly coronavirus would evolve into one of the world's (and T&T's) most destabilizing pandemic in a century.
By mid-December 2020, T&T had registered over 120 official Covid-19 deaths and thousands of infections. Perhaps such a harsh impact could have been prevented if the Rowley administration had simply heeded my very early calls for government to urgently address this serious threat.
At the parliamentary sitting of Friday, January 31, 2020, as then Caroni East MP, I raised it as a Matter of Urgent Public Importance. T&T was then in the throes of our beloved annual Carnival celebrations. I stated that the government had refused to properly secure our borders, even though the virus was already rapidly spreading globally, infecting thousands and causing hundreds of deaths in over 25 countries. The House speaker notoriously rejected my motion.
On Carnival Tuesday (February 25, 2020), I again issued a public statement titled "Covid-19 Alert—T&T Faces Deadly Health Sector Crisis Post-Carnival—Time For Urgent Action by PM Rowley". Later, during the national shutdown, I warned of the highly questionable, serious under-testing by the health ministry, which was masking T&T's true Covid-19 rate of infection. I noted that this would endanger our citizens' lives by lulling them into a false sense of security over the deadly virus' spread.
The Rowley government, however, instead chose to use this destructive pandemic as a convenient political means to an end, in a crucial election year. They won the political battle, but the citizens of T&T are now realizing that we remain the collateral damage and will continue to pay the serious economic, social and medical price for a very long time to come.
I had relentlessly raised these issues because of my lifelong commitment to public service and deep desire to see our public health sector transformed into one which truly serves all citizens in an effective and equitable manner. Indeed, in my nearly five decades as a medical practitioner, I know first-hand of the various ills and significant limitations that plague our national healthcare system.
I worked in the public health sector for over 30 years from 1974-2007. I also served as clinical dean and associate professor (senior lecturer) at the UWI School of Medicine. I have worked and trained at more than 18 hospitals in the United Kingdom, United States, Canada and the West Indies, and taught and trained over 3,000 medical students and many post-graduate doctors here and abroad.
I certainly understand the serious emotional and physical pain, and mental distress, that most citizens endure in our public healthcare institutions. Their current reputations for horrendous mismanagement and ill-treatment frankly inspire nothing but terror and despair. This remains true despite the professional treatment I personally received from the medical personnel, some of whom I previously trained, when I was hospitalized with Covid-19.
Notwithstanding the atrocious working conditions and other obstacles, our public healthcare workers have done yeoman's service in T&T's greatest time of medical need. They are not to be blamed for the badly broken public health system in which they work. This is the sole responsibility of the RHAs, Ministry of Health and this government, which continue to fail the population.
The Covid-19 vaccines are now thankfully giving the world a chance to combat this destructive, dangerous pandemic. But for T&T, it also gives the Rowley government the opportunity to finally focus on correcting the many shortfalls and inefficiencies of our seriously damaged public health sector.
According to PM Rowley, T&T will receive Covid-19 vaccines to cover 33 per cent of T&T's population—some 461,000 nationals— free of charge. I urge every single citizen to PLEASE TAKE THE VACCINE. The government, however, has worryingly failed to address the myriad of issues concerning the imminent, and future, administration of this vaccine, which includes:
the guarantee of proper, safe transport and storage of the vaccine
the swift, equitable and efficient delivery system to citizens
the necessary effective public education campaign and comprehensive programme to allay any ill-conceived fears about the vaccine's safety
the human resource implications for the workplace
This requires urgent public stakeholder consultations and a policy of multipartite cooperation and support. The government must, therefore, be prepared to finally shed its ongoing authoritarian, divisive, hectoring modus operandi, which has thus far seriously compromised our nation's economic, social and medical welfare.
If anything, coronavirus has taught us that illness has no political, ethnic, geographic or socioeconomic boundaries. It is the great equalizer of all human beings. The time has, therefore, come for our nation's elected leaders to serve the public in a manner that is fair, decent, efficient and especially devoid of political one-upmanship.
The Covid-19 vaccine should also be the impetus for the government to finally find the willpower and commitment to actively reform and fix the nation's long failing, disastrous public health sector. Let us hope, therefore, that this administration truly gives citizens a reason to look forward to the new year with much-needed optimism. It is, after all, our just due as a population.
Covid-19 update
The Ministry of Health reported 15 new confirmed cases of novel coronavirus infections. There were no new fatalities recorded for the week, which means the death toll remains at 123. The total number of infections recorded since March is 6,955.
There are 427 active cases of the virus. Twenty-four people are hospitalised with Covid-19, 26 are in step-down facilities and 303 are in state quarantine facilities. A further 325 are self-quarantined at home.
In the prison system, 37 inmates are being quarantined, a figure that dropped from 177 this week.