On 2 October 2020, the QPCC Football Academy despatched emails to parents from their under-10 age group and older, which invited them to send their children to training from Monday 12 October at the St Joseph's Convent grounds in St Clair.
At the time, Trinidad and Tobago was on a high Covid-19 alert and restrictions to thwart the spread of the novel coronavirus included: a limit on public gatherings to five persons, no in-house dining, no contact sport, no services inside churches or all places of worship, no gyms, no water parks, no casinos and members clubs, no cinemas, and no access to beaches and rivers.
The QPCC email was sent anonymously to Wired868 by the parent of a minor. It is uncertain whether that parent sent his or her son to training. The cost was TT$100 per session with parents asked to pay either TT$400 or TT$800 at a time.
"The academy will be (sic) continue to offer small group, non contact training for October month cycle for interested players in the U10 and older groups only," stated the email, which was sent through the Sportlyzer App. "We are not offering to players younger than our U10 group (2010/2011) as we think this is the best course of action at this time.
"We know some players or parents may not be able to attend for a variety of reasons and therefore this training is voluntary and all players will retain their spots in the academy for January when we hope we are back to large group contact training.

"These sessions are 1 hour sessions and all protocols included in the QPCC FA Covid policy document, which is attached within this email…"
Yesterday, QPCC official Colm De Freitas, who appears to have overall responsibility for the academy, denied that the young 'Parkites' were training—in breach of the Public Health [2019 Novel Coronavirus (2019-nCoV)] (No 32) Regulations.
"We are not training anymore, we are currently not training and we don't have any teams in training," De Freitas told Wired868. "We shut down some time ago. I can't remember the exact date; I think it was something around April."
Images subsequently showed that the QPCC Academy was training as recently as Wednesday 2 December. De Freitas did not respond to Wired868's request for comment on the letter sent by his academy to parents.
QPCC football chairman Matthew Leach confirmed the authenticity of the letter but said he could not comment since he was not responsible for the academy's operations.
"The academy is a separate operation from the eight-a-side, senior men, and senior women's teams—so I really don't have oversight and I really cannot comment," he said.
Leach confirmed that he received the email as the parent of two sons in the academy. He said his children are not attending the sessions but this was not due to a lack of faith in De Freitas and company.
"My two children are members of the academy [but] honestly I didn't take [on the letter] because I knew it was something I wasn't interested in," he said. "Let me make it clear though that I trust the judgment of everyone within football in Queen's Park and I don't think they would do anything to put players, coaching staff or anyone else at risk."
At yesterday's virtual press conference, Minister of Health Terrence Deyalsingh was unequivocal on the subject.
"So as far as sport is concerned, the regulations speak to teams involved in national service—like the national football team representing Trinidad and Tobago—[which] are allowed to start back training," said Deyalsingh, at today's virtual press conference. "So [athletes preparing for the] Olympics, Red Force, to represent Trinidad and Tobago in cricket, [national] football teams, they can train. What is not allowed is anything else.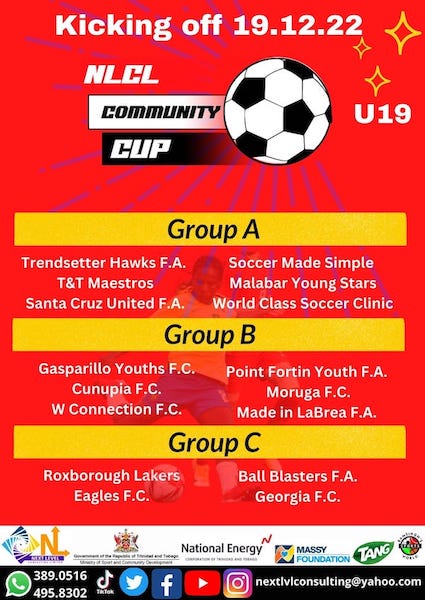 "I spoke with the commissioner of police on this last week. So we are urging all of those persons, you are not allowed under the regulations to be training, or congregating, unless you are representing a national team."
The respective public health ordinance, which was amended since QPCC restarted training to exempt national teams, states:
'During the period specified […] a person shall not, without reasonable justification […] participate in any group contact sports; or participate in any team sports, except with the approval of the minister.
'[The aforementioned sub-regulations] shall not apply to athletic teams approved by the minister who are in training or participating in contact or team sports, at the national or international level.'
Keon Trim, an assistant to Terry Fenwick on the Men's National Senior Team and a special reserve policeman, was also spotted training minors. Like De Freitas, he claimed the accusations were 'lies'—only to be photographed in action at the Nelson Mandela Park in St Clair, just a stone's throw from the Police Barracks in St James.
Yesterday evening, an eyewitness also fingered AC Port of Spain assistant coach Joshua Lamb for similarly breaching the Covid-19 regulations. Lamb admitted to the offence, although he said it was in no way related to his duties with the Pro League club.
"I have been keeping sessions but my sessions were always small sessions under the 10 people regulations and it has always been non-contact," he said. "So we would have done strictly technical work like shooting at an open goal and these things. When I came there [at the Mandela Park], I would have seen other groups active. I wouldn't call other names but I felt doing my small sessions would not have been a problem."
Lamb described himself as a scout who works with football agents in Europe and across the world to identify talented players in Trinidad and Tobago. He listed former Secondary Schools Football League (SSFL) stand-outs and past and present national youth players Jaheim McFee, Kathon St Hillaire, Mark Ramdeen, Isaiah Garcia, and Tyrese Bailey among his current stable of players.
The sessions at the Mandela Park, he said, were meant to work on the deficiencies of his current crop of players—in readiness for trials abroad.
Lamb said he was disappointed in Deyalsingh's view on sport.
"I cannot give my mouth liberty to comment on what the minister said because i know he is doing his best for the country," Lamb told Wired868. "But it is very disappointing and I hope they can revise it as soon as possible, because a lot of youths are frustrated by the lack of activities.
"Right now the national team is training with everybody then going home to their different families across the country. How is it different to a club training with the same protocols?
"If [our players] take the temperature test and observe all the protocols involved, how is it different to us training [as a club] and a national team?"
Yesterday, Commissioner of Police Gary Griffith told Wired868 that he saw no problem with sport teams doing physical exercise as a group. However, he said the regulations do not permit work with the ball.
"A football team can run up the [Lady] Chancellor or do exercise; any team can assemble but they must be less than 10," said Griffith. "That is no different to exercising in a gym… [But] doing drills with the ball?! Nah, I'm not buying that.
"Sure, you can get technical and say if we are just kicking the ball from one person to the next then it is not contact sport. But we cannot have police standing around watching to see if it turns into a scrimmage."