East Mucurapo Secondary football team manager Brinsley Hutson passed away yesterday at the Mt Hope Hospital, where he was warded since suffering a stroke last Friday.
Hutson, who worked in sales at Massy Technologies, was one of the first crop of students at the then Mucurapo Senior Comprehensive in the late 1970s and an active member of the school's past students association. He became the football team manager in 2006.
Wired868 spoke with East Mucurapo principal Derek Phillip, school coach Dale Saunders, former school mate Randy Glasgow, and Trinidad and Tobago Men's National Senior Team players Alvin Jones and captain Khaleem Hyland about Hutson's contribution to the school:
Phillip: His quiet, demanding demeanour got a lot of respect out of our young men and he was able to get the best out of them. And we are talking about boys like [Kevin] Molino, [Khaleem] Hyland, Joevin [Jones]… They used to call him 'Mr Brinsley' or 'Manage'.
In our school, we have six 'houses' for the students and while other schools usually name their houses after birds or famous people, we name ours after past pupils. Thankfully, we named a house after Brinsley for his sterling contributions when he was still alive.

We have a Clauzel house (outstanding former footballer Ian 'Dread Dribbler' Clauzel), a Glasgow house (top local promoter Randy Glasgow), a Henry house (1979 Netball World Championship winner Deidre Henry), a Layne house (former hockey stand-out Winston Layne), a Streete house (Christopher Streete was the first Mucurapo student to achieve five O'level passes), and a Hutson house.
[…] We are looking to do other things for him as well. He was a wonderful man and he will be sorely missed. The school is in mourning right now. He was our right hand.
I spoke to Brinsley yesterday morning […] and planned to see him yesterday evening, but that wasn't to be.
Hyland: Condolences to his family. It is a great man we lost. He did a lot for us when I was playing with Mucurapo Senior Comprehensive, and he's been doing that over the years for a lot of the students and footballers. He's been a big help for Mucurapo and I know he is a good man and may his soul rest in peace.
It is so sad to see that we are losing a lot of good people, so we just have to keep our loved ones as close to us as possible and enjoy them while they are here; instead of waiting until it is to late. We can never be sure when God, the Big Man, is ready for us.
I hope that his soul can rest in peace. Sad to see that we lost a good human being in this world.
Saunders: Those type of people are irreplaceable. He managed the team and helped develop a lot of youngsters from Kevin Molino and Joevin Jones up to David 'Fingers' Daniel, Malachi Celestine and Jamali Alexis and so on. He was really massive in terms of our football program. He was like a father figure and mentor to the youths, and as a coach he made my job a lot easier. If I asked him to do anything, he would get it done in quick fashion.
From the time he pulled up, you would see his car crowded with youngsters, and whatever was required he would try to make it his duty to help them. He was really a fantastic manager.
It has really hit home. Condolences to his family and close friends and the Mucurapo family.
Jones: I want to say condolences to the Hutson family. Mr Brinsley was a very good man to me.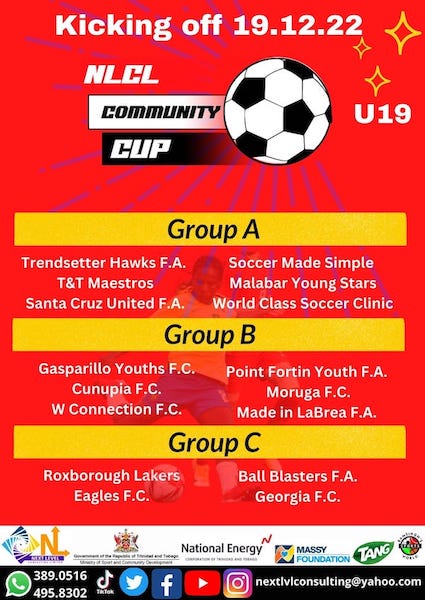 He was someone who will go out of his way to help you. He was someone who, if he could not help you, you could tell he would feel uncomfortable within his own self. He was a very good person.
Glasgow: All schoolmates—including myself—from Mucurapo Senior Comp, as we know it, were devastated to learn the news that our friend, Brinsley, passed. There are not enough words to sincerely express how much Brinsley meant to an entire generation of Compre students.
Without question, without doubt, Brinsley was a super remarkable person. His love for family, friends, coworkers, schoolmates, students and school was unconditional. Fondly remembered for when he approached us to help sponsor Compre football team. His desire to support his alma matter, our alma matter, left no doubt why we must lend our support.
We again want to express our sincere condolences to his entire family, former and present teachers of Compre, his coworkers, friends, and well wishers.
May he Rest In Peace. God bless.