Cunupia FC director and head coach Michael De Four was quoted in the Trinidad Guardian as saying that his TT$4.5 million lawsuit against Trinidad and Tobago Football Association (TTFA) president William Wallace and vice-presidents Clynt Taylor and Sam Phillip was 'really meant to say the club disagrees with what they were doing'.
De Four hastily withdrew his case after a terse response from TTFA attorney Matthew Gayle, and suggested, tongue-in-cheek, that he would rather face Wallace, Taylor, Phillip and United TTFA member Keith Look Loy in a fete match when Covid-19 restrictions were lifted instead.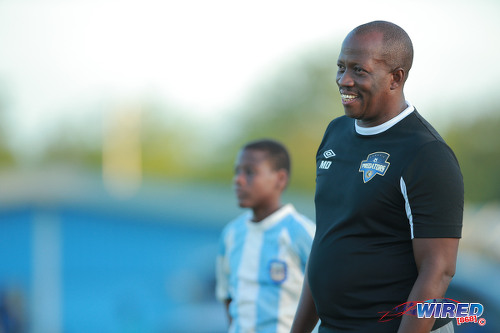 It is too late for that, though.
Gayle wrote a second letter to De Four today, which copied the latter's lawyer Peter Taylor, to stress that his withdrawal is not nearly enough. The TTFA's elected officials also expect 'an unqualified apology' and 'payment of their costs on the basis set out in my previous letter'—which could see the Pro League coach having to cough up as much as TT$200,000.
De Four was given nine days to do so.

"The bringing of this claim has caused my clients to suffer loss and damage, including damage to their reputation," stated Gayle. "Given the above, my clients demand the Cunupia Football Club Limited issue an unqualified apology on terms to be agreed. Furthermore, my clients demand the payment of their costs on the basis set out in my previous letter by the 23rd October 2020.
"Failure to issue the apology above and to agree to pay my clients' reasonable costs in respect of this letter will result in my client filing a claim against you, seeking an appropriate award in damages for your setting the law into motion against my clients without any proper and/or lawful reason."
Cunupia FC joined the Pro League for the first time in 2019 as participatory members, which meant they waived the right to share in government funding allocated to top flight teams. De Four's outfit finished bottom of the standings.
Regardless, De Four's financial claim suggested that the TTFA's legal action deprived his club of government funding while he included the first place prize for winning the Concacaf Champions League in their potential lost earnings.
Not only has Cunupia not come remotely close to being eligible for the Champions League, but no Trinidad team has gotten to the business end of the tournament in over three decades.
The TTFA's legal team failed to see the funny side of Cunupia's ambition.
"The claim was baseless, speculative and abusive in nature, and was served on my clients on the very day it had been widely reported in the public press that the trial [between the] TTFA  and Fifa was due to take place by virtual hearing before the Honourable Madame Justice Gobin," stated Gayle. "Furthermore [Cunupia's] claim was [itself] widely publicised in the public press. Put more succinctly, the timing of the filing and service of the claim was conveniently chosen to maximise the public interest in it.
"Furthermore, it was intended to and did seek to bring my clients into odium and contempt by alleging inter alia that: a) my clients had acted in contravention of a lawful vote of the TTFA, a fact you knew to be untrue; b) that my clients had acted ultra vires the TTFA constitution;
"[Cunupia's] claim also sought to mount a collateral attack on my client's decision to sue the Fifa in the local courts. From the above, it ought to be abundantly clear to you that [your] claim, in short, is the very definition of a vexatious and/or abusive claim."
Wired868 was unable to reach De Four for comment.