"[501 Not Out is] a romantic reminiscence of the closing of a golden era in West Indies cricket, a sparkling reminder of the power of the region's cricketers and the stunning individual achievement of [Brian] Lara at the wicket.
"It's also an odd little film, one that focuses almost determinedly on Lara's rise, treating the hiccups that might have derailed his career as little more than speedbumps on the way to an inevitable success…"
The following review of 501 Not Out, a film on iconic cricketer Brian Charles Lara by British documentary filmmaker Sam Lockyer, was submitted to Wired868 by Mark Lyndersay, who is the editor of technewstt.com:
The Trinidad and Tobago Film Festival (ttff) led off its online 15th anniversary edition with the film 501 Not Out, a documentary by Sam Lockyer.
Lockyer is a British documentary filmmaker and fan of cricketing icon Brian Charles Lara who remains gobsmacked by the twin highlights of Lara's career—his knock of 375 in Test cricket and 501 in first-class cricket.

In a statement before the airing of the film, Lockyer said: "I hope that 501 not out is a fitting tribute to the legacy of Brian Charles Lara."
That pretty much sets the tone of the film, a romantic reminiscence of the closing of a golden era in West Indies cricket, a sparkling reminder of the power of the region's cricketers and the stunning individual achievement of Lara at the wicket.
It's also an odd little film, one that focuses almost determinedly on Lara's rise, treating the hiccups that might have derailed his career as little more than speedbumps on the way to an inevitable success.
In Trinidad, the story is largely told by his cricketing elders. His coach at Fatima College, Harry Ramdass, who still marvels at Lara's prowess as a batsman, Deryck Murray, Bryan Davis, Nikki Borde of the raucous TriniPosse cheerleading squad and football coach Colin Murray.
There are touches of the humanity that must have been in play to support Lara in the wistful reminiscing of Michael Carew, son of Joey Carew who offered his home to the young cricketer to ensure that his training wasn't disrupted by exhausting travel back and forth.
To be sure, there is something of the supernatural to Lara's meteoric rise as a cricketer.
His school coach remembers him as barely being taller than the stumps when he began making his presence felt at the wicket.
"He started scoring hundreds at 14, that's where he started," recalled Colin Murray.
"His cricket was so much more advanced than others at his age," Deryck Murray said.
In this narrative, there is a powerful trajectory to Brian Lara's success as a cricketer, an arc to success that threads through all these narratives.
Lara's father, Bunty, was a constant presence at his practices, apparently, keeping  watchful eye on his son's development, but he never got to see his son play for the West Indies—passing away while his son was still listed as 12th man.
That seemed a heavy burden to cast aside, and there is no account of how the young Lara, a painfully slim, wide-eyed youth, found the steel to carry on.
Later in the film, the question of this staggering challenge is attributed to Olympic sprinter Ato Boldon, who wondered: "I don't know how Brian Lara does it."
Boldon acknowledged that if he had pursued his path to success on the track in Trinidad, he might not have made it to the olympiad.
Much of Lockyer's film is a compilation of records, not just the archive of news footage and visual reporting of Lara's newsmaking, but the hard numbers of the cricketer's success.
Much of cricket is like that, a kind of accountant's game of runs, innings, balls faced, fours and sixes that's impenetrable to the casual observer of the game.
But there are some staggering facts.
Brian Lara's first test match hundred came in January 1993, and he scored 277 runs. That isn't marking your territory; it's hosing it down. He had been called up to the West Indies team just three years before.
The Warwickshire County Cricket Club took note of this and other successes that the young Lara had notched and contracted him as a player. This prescient move both kicks the film into higher gear and also is the reason it exists, since the club kicked in funds to make the project happen.
Before showing up at Edgbaston to play a match, Brian Lara would draw the attention of the cricketing world to a riveting performance in Antigua against England—breaking the 36-year-old record held by Sir Garfield Sobers with 375 runs.
When Lara showed up to play for Warwickshire, he was a rock star of sport.
Warwickshire got a bargain, winning the cricket lottery and seven weeks of success as the Trinidadian cricketer slapped the ball around the grounds in the cold.
In a match against Durham for his new team two months later, he put Edgbaston firmly on the cricketing map with a knock of 501 not out, a first-class cricket record that hasn't been surpassed since.
When Matthew Hayden had the temerity to score 380 runs in a Test cricket match against Zimbabwe in 2003, Lara returned to Antigua in 2004 against England again and put down a new record, 400 runs, which remains unchallenged to date.
These are stellar, understandable records, feats that rise above the nuanced achievements that cricket fans laud to the confusion of anyone who muddles along with a surface comprehension of the game.
Brian Lara holds other significant achievements in cricket, and with great fame and incredible personal performance come an unprecedented level of personal scrutiny that veers inevitably into the unsavoury.
Lara has had a remarkable career and impressive life, but he is by no means perfect. The kind of character that emerges from the Santa Cruz countryside to dominate international cricket necessarily engages larger issues and complications than almost anyone will ever have to face.
Yet 501 Not Out considers none of these aspects of his life. In fact, Lara only exists frozen in time, captured in selected interviews and footage, a phantom from the past stalking his way through a film made more than a decade after his retirement from the game.
Lockyer does not explain why this is so. Did he choose to keep Lara in the amber of old film or did the notoriously private cricketer decline to be interviewed for the first major celebration of his life?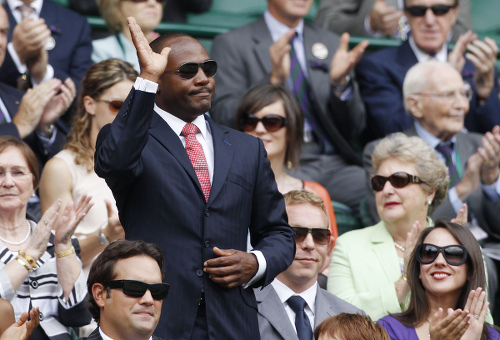 It's an odd choice for such a determinedly laudatory work.
Even the troubled Brian Lara Stadium, which at one point the cricketer suggested might be better renamed the Tarouba Stadium because the opprobrium surrounding its construction had grown so rank, is given a cheerful nod as a tribute to his glory.
The entire cohort of the West Indies cricket team that played with Brian Lara is represented only by Curtly Ambrose who could only offer by way of critique, that the young Lara had 'made some mistakes'.
There is no mention of the confusion surrounding Lara's troubled captaincy of the West Indies or his spotty performances in the latter years of his professional career.
There is some sense in the footage Lockyer licensed of the tremendous weariness that the cricketer must have felt after being the centre of the cricketing universe for so long at such a young age, the tremendous toll of going from excellent athlete to icon in such a massive jump.
In one clip, we see Lara walking across the tarmac at Piarco, and next to him is Sandra Welch-Farrell, the public relations professional who stepped in at this pinnacle of his career to coach him and offer guidance that would cement his stature. She is neither identified nor mentioned.
In some ways, the film is best summed up by its closing moments, as Lockyer attends a celebratory fete match honouring Lara's 50th birthday in Santa Cruz, capturing the cricketer only from a respectful distance through a long lens, as he bounces a ball on his bat.
Lockyer, in a hushed, sepulchral whisper speaks of being invited to the party at Lara's home afterward and being allowed to film cricketing artifacts in the house museum, which he does with fetishistic furtiveness.
It is here, and in the living room of an elderly British couple who followed Lara's performances with Warwickshire that the film finds its most empathetic heart, in the full admiration that these Brits express for the cricketer.
It's a full-on, heartfelt romance and admiration for his achievement, divorced from considerations of race and colonisation and it is through them we have some sense of the impact of Brian Charles Lara on the wider world of professional cricket.
Yet the subject of the film, the man behind the bat, remains largely a mystery, his story told by others and in the oddly stilted, carefully managed statements he gave to the press decades ago.
Lockyer has curated a remarkable collection of stills and footage given the cost of licensing for a film and his story is earnest, but it doesn't tell us anything at all about Brian Lara that you couldn't find out from Wisden or even Wikipedia.
In the finely crafted, enthusiastic machinery of 501 Not Out, the cricketer remains a ghost.