Champions know that the time to be in front is at the end; three-time CPL winners the Trinbago Knight Riders arguably know it better than most. And therefore today went on to become four-time title-holders.
The victory means that they did not lose a single one of their 12 games this season, an achievement matched only by Indian side Karnakata, who last year played 12 unbeaten T20 matches to win the Syed Mushtaq Ali Trophy.
Without consistent contributor Colin Munro, still out injured, in the unexplained absence of Sunil Narine and with, puzzlingly, no contribution with the ball from 500-plus-T20-wickets man Dwayne Bravo, Kieron Pollard's Trinbago Knight Riders still proved to be too much for the overachieving St Lucia Zouks.
Their 8-wkt victory was mere confirmation of the superiority they have demonstrated throughout CPL 2020—their unblemished 12-match record all the evidence anyone needs.
But if, ex-post facto, today's CPL 2020 T20 final at the Brian Lara Academy in Tarouba could be magically converted into a T10 encounter, the crown would be sitting comfortably on St Lucian rather than T&Tian heads.

Having been asked to bat by TKR skipper Kieron Pollard, Daren Sammy's men had powered their way to 79 for 2 at the halfway stage. In the subsequent TKR pursuit of 155, not out batsmen, opener and Man-of-the-Match Lendl Simmons and #4 Darren Bravo, were exactly 20 runs adrift of that figure at the halfway stage.
But do the math. To be all out for 154, the Zouks had to lose eight wickets for 75 runs in the second half of their innings. And to reach 157 for 2, TKR's unbeaten pair had to put on 98 runs after the water break. And they did it with almost two full overs to spare, getting the last 40-plus runs in a boundary-littered 13-ball blitzkrieg.
So the Zouks did contend. But, in sport, the race has never been for the team that is quickest out of the blocks but the one that endureth to be in front at the last.
It was a point that Pollard did not fail to make in his post-match interview.
Calling the tournament triumph and the day's triumph 'a total team effort', the skipper added: "We knew that each time we set up the game, we will finish well. We had the power in our line-up."
There was irrefutable evidence of that too: the top four of the tournament's top five team scores belonged to TKR. And of the tournament's top five six-hitters, the three at the top who cleared the boundary 20 times were all from TKR—Pollard requiring fewer balls and so edging out Bravo and Simmons.
Polly also emerged as Man-of-the-Tournament. To go along with the 207 runs he had scored before today at an ave of 51.75 and an impressive strike rate of 204.95, he captured four Zouks scalps for 30 runs today, bringing his tournament tally to eight.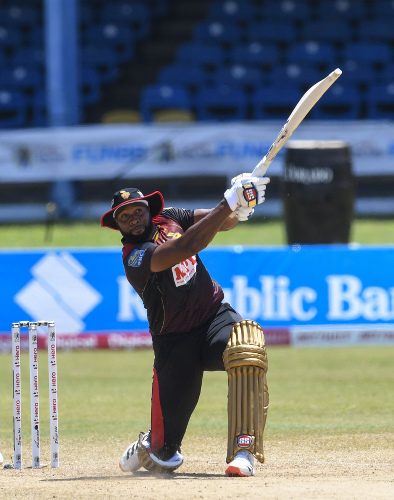 "I don't have pace, I don't have swing," he explained to Daren Ganga post-match, "[…] but I used the angles."
Put another way, I have a cricketing brain in my head. No evidence needed, no endorsement from TKR coach Brendon McCullum.
Last week, Zouks head coach Andy Flower called Sammy an 'inspirational figure'. Without quite saying so, Sammy seemed to hint at a disagreement between the two on tactics at a critical stage today. He regretted not insisting on following the dictates of his cricketing brain, he told today's interviewer.
"Maybe I should have been more sure," he said, "about the decision I wanted to take towards the end."
It was perhaps a reference to what, in hindsight, proved to be an ill-advised move to call up left-arm mystery spinner Zahir Khan for over number 17 when the equation read 41 needed off 24 balls.
In the run-up to Saturday's game, Sammy had praised the efforts of 22-year-old chinaman and googly bowler Javelle Glen, saying that: "every time he comes on to bowl, he brings this type of energy—positive energy—and it's infectious and the team goes with it… we trust him enough to do the job for us when required."
The well-set pair of Simmons and Bravo took 23 off Khan's six balls and the eventual outcome, though not really in doubt, was settled before the end.
Sammy added that his team had 'pushed TKR in all three games we played against them in the tournament' and congratulated Pollard on his team's victory, while praising Simmons and Bravo for 'absorb(ing) the pressure and put(ting) it back on us'.
And of course, he was high in praise of his own men because: "We've been resilient, we showed commitment and we played a brand of cricket that shows you don't need superstars."
Sammy's plans for CPL 2021 had come up in a pre-semi-final interview on Tuesday but none of the post-match interviewers thought to raise the issue today.
The Zouks captain said that he would ideally like to finish his career in front of his adoring home fans at the stadium that bears his name. Had his team managed to get past the opposition in today's final, he suggested, he would have given serious thought to calling it a day.
Unsurprisingly, the former West Indian captain, in the international arena consistently since his mid-2004 debut, will have another year to make his mind up.
Meanwhile, head coach McCullum, Pollard, Bravo and the rest of the victorious TKR squad will have a full year—or, another Covid-affected campaign being a possibility, more—to savour their well-deserved and historic achievement, an unprecedented pole-to-pole win in the CPL.
And contemplate the likelihood of a fifth successful CPL campaign while singing lustily along with thousands of their T&T fans, for yet another time: 'Champion, champion…'
Final score:
St Lucia Zouks: 154 (19.1 overs) A Fletcher 39, M Deyal 29, N Zadran 24, R Chase 22; K Pollard 4/30, F Ahmed 2/22, A Khan 2/25)
Trinbago Knight Riders: 157 for 2 (18.1 overs) (L Simmons 84*, D Bravo 58*; R Chase 4-0-13-1)
TKR won by 8 wkts.