Minister of National Security Stuart Young said today that the government is ready to roll out its 'liberalised exemption policy', to allow nationals 'stranded' abroad to return home.
Thus far, the government has offered travel exemptions for 3,563 persons, while there are still another 2,500-odd requests to return—with 1,702 applications from the United States alone.
Young said the government will prioritise persons who reside in Trinidad and Tobago but were stopped from returning while vacationing abroad. That apart, they will also consider whether the person seeking to return was in a 'medium to high risk' country or had been in one within 14 days of their pending arrival at Piarco.
For nationals seeking to return to the twin island republic from low risk countries and who had not been in a 'riskier' nation in the past 14 days, they must produce a negative PCR Covid-19 test within 72 hours of their flight and sign a form agreeing to home quarantine for 14 days upon arrival.
If the travelling party is coming from a medium to high risk nation, they must agree to go straight into state-run quarantine for seven days. Upon arrival, they will be swabbed within 24 hours; and the Ministry of Health will determine whether to hospitalise the person—if positive—or allow them to quarantine at home, after a second swab.
Positive persons who do not require significant medical attention can be allowed to home quarantine at the discretion of the chief medical officer.
At present, the state pays for quarantine at the UWI, Debe campus, Home of Football Wellness Centre and Cascadia Hotel while persons can foot their own bill for quarantine at the Chancellor Hotel or Regent Star.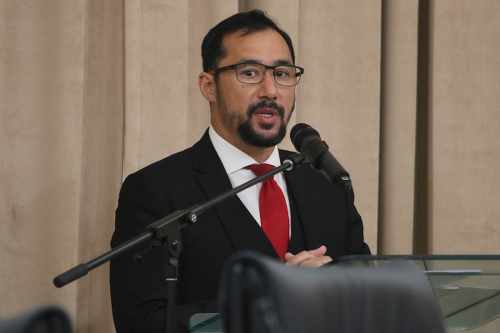 Young also advised that ticket books have been distributed to the Trinidad and Tobago Police Service (TTPS), so officers are now fully equipped to begin fining citizens for failure to wear masks in public or while in their vehicles. The ticket books, he stressed, were done by the government printery and not a private sector company.
Chief medical officer Dr Roshan Parasram said the Ministry of Health is in the process of setting up three additional labs, which should help clear up a backlog of tests within 'the coming weeks'.
Dr Parasram said the current process for completing Covid-19 tests usually takes between five to seven days—with samples being administered, relayed to the appropriate lab, tested, forwarded to the Ministry of Health, and then to the County Medical Officer Health (CMOH) offices, which are responsible for informing persons awaiting results.
The Ministry of Health hopes to be able to eventually complete that process within '24 to 48 hours'.
Dr Parasram said the government also approved the hiring of an additional 10 persons to operate its Covid-19 hotlines.
This morning, the Ministry of Health confirmed an additional 102 positive results, with 33 from that number already at a public health quarantine facility. There was also another death, which was the country's 32nd Covid-19 related fatality.
The deceased patient was described as an adult male with co-morbidities.
There are 1,393 active cases at present with 1,185 persons in home isolation. From the 100 hospitalised persons, there are 16 patients requiring special care at the Couva Hospital: five are warded in the Intensive Care Unit (ICU), and 11 in the High Dependency Unit (HDU).
Since the outbreak of the pandemic, 21,770 persons have swabbed for Covid-19 with 2,142 persons testing positive.
Wired868 asked Dr Parasram: why the Ministry of Health had stopped providing information such as whether new positives were primary contacts of patients, foreign nationals, etc; and whether persons asked to 'isolate' without being swabbed—because a member of their household tested positive—were added to the government's figures of persons in home isolation.
If 'Joe' tests positive and goes into home isolation, along with his wife and two children who were not swabbed—does the government's record say there is one more person in home isolation (since Joe was the only confirmed positive) or four?
Dr Parasram responded by reiterating the procedure used to determine which primary contacts are swabbed.
There was no opportunity for Wired868 to get clarity through follow up questions and an attempt to have the Ministry of Health's communication team contact the CMO on the questions, outside of the press conference went unanswered—again.
Dr Parasram did reveal that the number of persons being swabbed at the South West Regional Health Authority (SWRHA) dropped by about 50 per cent this week, which could be a sign that the infection rate is slowing.
In a response to employers' request for a 'fit for duty' letter for employees who tested positive and/or were in quarantine, Dr Parasram said the quarantine order—which states when the person is allowed to re-enter society—will have to suffice.
On Monday, it will be two weeks since Prime Minister Dr Keith Rowley reduced the permitted number of persons in public gatherings from 10 to 5 and outlawed in-house dining and drinking, contact sport, beaches and rivers, churches and all places of worship, gyms, water parks, casinos and members clubs, schools and education institutions, and cinemas, with public transport ordered to operate at 50 percent capacity.
The Ministry of Health would be expected to explain, next week, what the data suggests about the success of those measures.
Trinidad and Tobago vs Covid-19 (in numbers)
Local infections of Covid-19 in first wave (27 March to 26 April)
Local infections of Covid-19 in second wave (20 July to 10 August)
Local infections of Covid-19 since Election Day (11 August to 5 September)
The Ministry of Health reminds members of the public to adhere to the 'new normal' and:
Wear a mask over your nose and mouth when you go out in public;

Keep your distance from others (six feet);

Stay home if you are ill;

Clean then sanitise surfaces, such as tabletops, door knobs and cell phones;

Wash your hands often with soap and water or use an alcohol-based sanitiser;

Cough into a tissue or into the crook of your elbow;

Avoid touching your face.
Persons are urged to call Covid-19 hotline numbers: 877-WELL, 87-SWRHA or 877-3742 (Trinidad) and 800-HEAL (Tobago) if they feel unwell; or they can report a possible breach of Covid-19 regulations by calling 555, or sending messages—inclusive of photographs and videos—to the Police App or via Whats App to 482-GARY.