Not for nothing has television been dubbed the 'boob tube' or 'idiot box'. And this, long before anyone was able to watch the sports news on TV6!
Bad as it is, the CCN channel is not alone. Not just in vision but in the voice and print media as well, cricket reportage is nowhere near truly satisfactory levels.
Take, for instance, last weekend's CPL action at the Queen's Park Oval.
'BRUTAL POLLARD', the Sunday Guardian back page reports, made '72 runs of 28 balls with 9 sixes'. That of typo was reproduced in the caption. And in that same high-visibility space, Barbados Tridents captain Jason Holder was quoted as saying: "It was a really good knock. […] I don't think he missed hit any."
I have come to expect the basic spelling (Keiron Pollard, Raymond Reifer) and syntax errors, which punctuated the page 53 match report. Like the rest of the country, I no longer care. But I continue to be disturbed by what I believe is the failure to perceive, after seven full CPL seasons, that all cricket is played above the shoulders, a fortiori T20 cricket.

The Sunday Express chose POLLY POWER with 'TKR skipper plunders 72 off 28 balls to deny Tridents' as a drop, emphasising, like its competitor, hands and feet.
And brawn.
What real hope is there for the revival—and ultimate survival—of the sport in the region if the reporting is sub-standard? So lacking in penetration? How does the sport move forward if reportage consistently fails to acknowledge, indeed, to recognise that a cricket match is played in the heads of the opposing captains?
INSPIRED POLLY, the Guardian might have said. And the Express POLLY PUMPED. Both options, while retaining the snap of the original choices, might have suggested that the TKR skipper's innings was more than a physical power play and offered a hint about how he had plotted the morale-destroying onslaught.
The real tragedy, however, is that the reporters did not have to guess; Polly told us all in the post-match interview.
Do the reporters imagine for a moment that, sitting in the pavilion awaiting his turn to bat, Pollard was thinking about next year's Carnival? Or the 2021 T20 World Cup? Or the absence of the once ubiquitous scantily clad dancing girls?
Do the reporters imagine for a moment that, standing on the boundary as Rashid Khan struck Darren Bravo plumb in front to leave TKR on 27 for 3, Holder was thinking about next year's Kadooment? Or the Olympic Games which have been postponed to 2021? Or the death of Black Panther star Chadwick Boseman?
My guess is that both captains had pretty much the same question on their minds: how am I going to handle Hayden Walsh jr and Rashid?
It's almost as if no one heard Polly say that he had told Lendl Simmons he didn't need to worry about acceleration although TKR had managed only 36 for 4 off the first eight overs.
It's almost as if no one noticed that he had promoted Akeal Hosein above himself. Did they not ask themselves why? Certainly, no one asked him!
It's almost as if the reporters did not remember Holder's frenetic celebration in 2019 when he caught Pollard on the long-on boundary. The Tridents went on to win that game and eventually the title.
So why did all the reports fail to give the requisite heft to Pollard's dismissal, crucially—and spectacularly!—run out by Holder?
Reminded by that 'spectacularly,' I open parentheses here for a word on Samuel Badree, T&T's latest addition to the CPL TV broadcast crew, The former wrist-spinner seems more than able to hold his own with Tom Moody and Ian Bishop in discussions on tactics and strategy; however, he has much better control of language.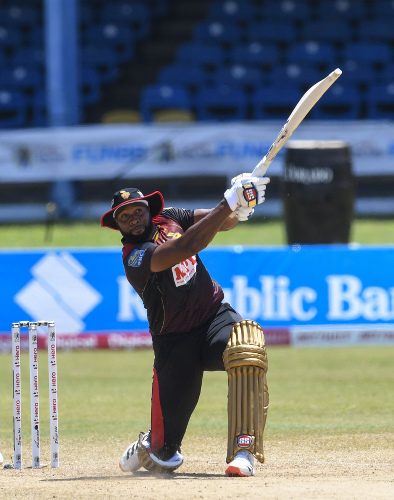 In comparison, the presence of the hugely popular clown Danny Morrison seems of dubious value in the absence of the party aspect. Last week, he treated us to, inter alia, 'Bravo's change of paces'.
But Badree needs to watch his predilection for hyperbole. Inter alia, 'magnificent,' 'brilliant,' 'wonderful' 'stunning' and 'outstanding' roll freely off his tongue. He would do well to remember the example of Tony Harford, who had so devalued superlatives in his early years that subsequently he ritually regaled us with 'very excellent'.
Back to the Pollard vs Holder showdown, which, make no mistake, is what it was. There is needle there, perhaps over Pollard's removal as Tridents captain, perhaps over his replacement of the Bajan as WI white ball captain, perhaps a little of both.
This time, the Test captain was not nearly as demonstrative. But did no reporter wonder what he said to his bowler when Polly perished with four balls left and eight runs needed? Wonder what advice, as he departed, the TKR skipper had for Khary Pierre and young Jayden Seales?
Are our reporters even aware that captains have minds? Perhaps not on the weekend. But could they have failed to notice on Tuesday how much of a cricket brain lies between Pollard's ears?
In how many T20 games have we seen a short-leg used? In how many T20 games have we seen seven and eight fieldsmen on one side of the pitch? Has anybody thought about what the experience of bowling at the death under the circumstances of that Tallawahs match has done for the not-quite-19-year-old Seales? Is there any doubt that because of it he is likely to be a better bowler tomorrow?
As Badree told Ian Bishop last week, TKR—read Pollard and Dwayne Bravo and Pollard—think they have a divine right to the CPL title. It's a safe bet that, not content with topping the table, the pair have been discussing what they can do to ensure that TKR have the best possible semi-final match-up. And are ruing the fact that their remaining games will have no impact on the battle for fourth.
If they have their druthers, it'll be Tallawahs in fifth spot—and out!—and Tridents in fourth.
But that's still inside the pair's heads. Does anyone expect our reporters to see it?