It's an ill wind, we have long heard, that blows nobody good. Ditto, I think, Anil Roberts. Which may be why Kamla Persad-Bissessar has seen it fit to return him to the national parliament as a senator.
If every current UNC Member of Parliament were somehow able to make a substantial deposit to Roberts' credibility account, I submit, it would still be in the red.
In fact, if every Member of Parliament were somehow able to make a substantial deposit to Mr Roberts' credibility account, it would probably still be in the red.
So appointing Roberts as a senator is a clear indication of KPB's complete contempt for the national community. We did not have long to wait to see that, notwithstanding the Opposition Leader's mealy-mouthed reassurances about wanting to work with the government in the 12th Parliament, obstructionism is still the name of her game.
In yesterday's very first sitting of the Senate, president Christine Kangaloo felt the need to remind the newly minted senator that he had been appointed to the Republic's Upper House, not called to the neighbourhood bar.
"Senator Roberts," she interrupted in her most mellifluous voice, "I would ask you please to please come to the Bill and I would also ask you please to lower your voice a little bit."
His response that he was 'born with a loud mouth', leading her to suggest that he 'heed the advice he was getting from the presiding officer'.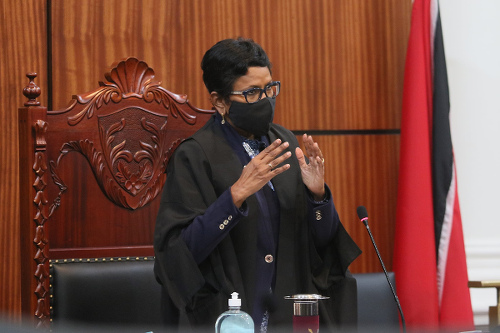 "There is," she noted, "no conversation going on between you and me."
Surprised? You would not have been if you had read Noble Philip's recent contribution here on Wired868. In keeping with Eleanor Roosevelt's observation that great minds discuss events, (…) small minds discuss people, he never once deigned to identify the former sports minister by name.
But who do you think he was referring to when he ended with: 'May The Almighty mercifully remove these plagues from our dwelling'?
Which brings us directly to Devant Maharaj, who clearly has no time for Mrs Roosevelt.
Calling Jearlean John, Jayanti Lutchmedial, Damian Lyder, Wade Mark, David Nakhid and Anil Roberts 'bland and insipid Senatorial appointments', the former UNC minister and current would-be journalist says that the six 'only highlight the UNC's incapacity to transform itself into a party to attract new voters' and 'appear to be a continuation by the Leader to attempt to shore up the disenchanted base'.
He identifies as his problem with Roberts' selection, it is worth noting, that his baggage 'will only drag down the image of the UNC'.
"He should," Maharaj adds in his recent social media post, "have waited until the conclusion of his legal matters before resuming frontline politics."
Ah! Understood.
I mean, Fifa assured us almost a decade ago, that then UNC minister Jack Warner would enjoy the presumption of innocence. As I remember it, they did not specify 'within Trinidad and Tobago' but how long has it been since the old Voice of One has dared to use his passport for anything other than as ID?
If the presumption of innocence is good enough for his soon-to-be-former political leader, it is not good enough for Maharaj. He seems to have unvoiced questions which I would like to suggest are these: if Roberts' hands were, as he claims, 'never dirty', why did it take him nearly so long after his July 2014 resignation amid LifeSport allegations to get back on the political radar?
Why is he only now resurfacing, loudly—he knows, Madam President, no other way—protesting that 'there has not been one allegation against Anil'? What were we supposed to presume during the years he was in political hiding?
"My bank account had not one cent in it," he adds, presumably responding to the allegation that was not made against him, "other than what was due to me as my salary."
Is Roberts aware that an FOIA request for Judas' financial records showed no deposit of 30 pieces of silver on his account? But Judas was a traitor so that may not be relevant here.
Fortunately, there is a clear line between treachery and disloyalty. Former UNC MP Dr Suruj Rambachan, who last Tuesday said he felt Larry Lalla should become a UNC Senator, has so far contrived to remain on the right side of that line.
Likewise, I think, Lalla himself, Dr Fuad Khan, Vasant Bharath, Vashist Maharaj, Kelvin Ramkissoon, who have recently called on KPB to, in the immortal words of one of the party's deputy leaders, 'wine to the side'.
According to Gail Alexander in Saturday's Trinidad Guardian, they all 'say the time has come for Mrs Kamla Persad-Bissessar SC to (…) step away from leadership of the United National Congress'.
And one Lester Orie is quoted at some length making the case about KPB's lack of judgement—on more than one level!
Alexander reports him as saying he hopes, 'the abbreviated skirt lengths of Kamla and Anita (Haynes) at (Friday's) swearing-in were not sartorial statements made to impress the fashionistas that they were hip and chic but that they were symbolic of the longevity of their stay as faces and voices of the UNC'.
As regards her choice of personnel, he has this to say: "The most important question to be asked of a prospective candidate is how have you distinguished yourself in the context of Trinidad or if not nationally, how so in your region, in your field of endeavour—as a scholar or benefactor?
"To pick a candidate because one is a party hack, a sycophant, a friend or family, or because of some such reason of nepotism or favouritism isn't acceptable and is a recipe for defeat."
Orie's concern is how KPB's choice of candidates for the Lower House has affected the party. Philip, however, puts the focus where it should properly be, that is, on the effect the choice of candidates for Parliament has on the country.
Laventille West chose Fitzgerald Hinds and must now live with their choice. But subject to no intervention by the electorate, Kamla could have made Gerald Ramdeen and Devant Maharaj two of her six.
Along with Wade Mark, MBA, and Two-pull Anil.