Naila Ramsaran: 'Let us the hardworking UNC supporters continue to pay taxes and mind the loafers that support the PNM… I hope [Prime Minister Dr Keith] Rowley starts putting contraceptives in their water supply yes because these cockroaches keep populating and the only thing they know to do is vote…'
The following is an apology from Naila Ramsaran, a relative—allegedly daughter—of the owners of Ramsaran Dairy Products, for the above remarks made in the wake of the People National Movement's (PNM) 22-19 General Election victory over the United National Congress (UNC) on Monday 10 August 2020, as well as subsequent responses from Garth St Clair and Dennis Taye-Allen:
(Statement from Naila Ramsaran)
To everyone who has seen the comments circulating on social media that were made by me, I sincerely apologise for hurting you in anyway. I would also like to apologise to my family and the customers of Ramsaran's Dairy products as I pride myself of always being fair and giving the best customer service.
To clarify the context of the screenshots, they were posted out of anger and in response to years of racial discrimination and criminal acts against myself and my family in the last few years.
I understand that this does not justify my reaction but I do hope that you accept my apology and respect my family and their business' privacy by not defaming them or the business.
I appreciate everyone who reached out to me and engaged in a discussion as to why this comment was hurtful/racist. I am truly apologetic and have learnt the impact my words have had. It is never my intention now and in the future to engage or promote and form of racism.
I accept total responsibility and hope that we can all move forward respectfully and peacefully.
Thank you.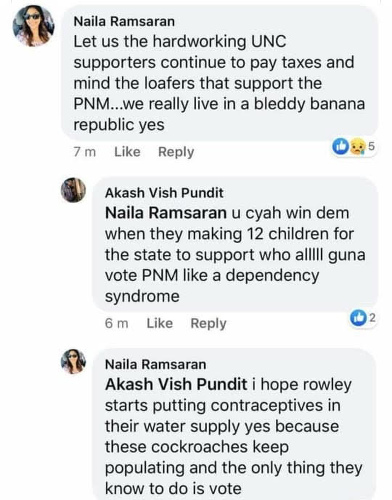 (Statement from Dennis Tayé-Allen, which was emailed to Ramsaran's Dairy Products)
Good day,
I came across a post online from someone who was identified as a principal of Ramsaran's Dairy Products.
It is troubling that in these times when we as a nation have to band together to survive, someone who has benefitted so much from the grassroots communities would now turn on us with such scorn and blatant disregard.
Naila Ramsaran's comments—and her subsequent 'apology'—resonate a particular brand of racism that affects a specific band of T&T's business and social elites. It is classified by a short memory.
I remember as a youth that the Ramsaran juice box symbolised that my family had enough spare cash to splurge on a premium product. Fresh milk. Fresh orange juice. Better than the foreign imports and franchises that operated in the market. Local to the core.
Now, with the trend towards heavily diluted concentrates, artificial flavours and fillers permeating the product spectrum, a company like yours would have been poised to take advantage of the opportunity to point your brand towards a client looking for wholesome goodness.
And now this disingenuous 'apology' to cover up a truth too nasty to hide behind.
I fully expect that there will be no response to this email, but I cannot carry on like this is not feeling like a personal betrayal of me and my support for your brand over the last five decades.
Very disappointed.
(Statement from Garth St Clair to Naila Ramsaran)
Good morning Miss Naila Ramsaran,
I read your simple-minded apology and I do not accept.
What you really meant to say was: "I am sorry for speaking out loud what I, my circle of friends and family really think about the African community. It's just that I was emotional because the party I support lost the election again and my thoughts came through my big mouth.
"You all (the African community) really were not supposed to know how we felt about you, but I am sorry that you all found out. I said what I said, please don't hurt me or our family business because we still need 'Your Cockroach money' to live our best life. So let's move on."
To you, Miss Ramsaran, Nadine Maharaj, Harry Singh, Nesar Hosein, Kavita Dawarika, Ingrid Ramjattan, Takhoor Raamsobag, Cintra Soodeen and so many others who have jumped out your whole self, to let us know what we knew all along.
This election, we voted against racism especially. This blessed country is way too small to start a race war. Blame your leaders and supporters for your loss, not us.
Strange, when the People's National Movement lost the elections back in 2010, I cannot recall seeing all the nasty comments and behaviour we are witnessing now. As a matter of fact, we blamed ourselves.
You all are free to leave when our borders are open because we don't want to see you all eat the same 'grass' that we will be eating soon.
Do enjoy the rest of your day.
Proud African man and Citizen of Trinidad and Tobago.
Respect.
Garth St Clair
Editor's Note: Massy Stores pulled its Ramsaran's Dairy Products from off its shelves, in response to calls for a boycott while the Ramsaran's company sacked Naila Ramsaran and distanced itself from her comments. Click HERE to read more.