Prime Minister Dr Keith Rowley became only the fourth political leader to win successive elections last night; and, barring the internal catastrophes that faced Basdeo Panday and Patrick Manning in their short-lived second terms, will be the first since Dr Eric Williams to see out successive five year spells on the job—if he steers the People's National Movement (PNM) safely to 2025.
The PNM went to the polls with 23 of 41 constituencies in hand from the 2015 election and, after an unofficial tally of votes, they appeared to remain with 22.
The United National Congress (UNC), led by Opposition Leader Kamla Persad-Bissessar, moved from 17 to 19 seats—as they pinched Moruga/Tableland from PNM and took St Augustine from the Congress of the People (COP).
"This result confirms my faith in the people of Trinidad and Tobago," said Rowley, who declared a PNM triumph before Persad-Bissessar conceded. "The people of Trinidad and Tobago can be trusted to do the right thing."
As it turned out, Persad-Bissessar did not concede when she addressed UNC supporters soon after. She promised to press for recounts from the Elections and Boundaries Commission (EBC) in 'at least three marginals'.
"Tonight I am not giving any concessionary speech, I am not conceding," said Persad-Bissessar. "Our candidates in several seats are filing for recounts… Thank you very much and go brave."
Persad-Bissessar did not name the seats in which the UNC want recounts. However, the PNM appeared to win the La Horquetta/Talparo and St Joseph seats by less than 1,000 votes, with Foster Cummings and Terrence Deyalsingh edging out Jearlean John and Aloy Hunt respectively.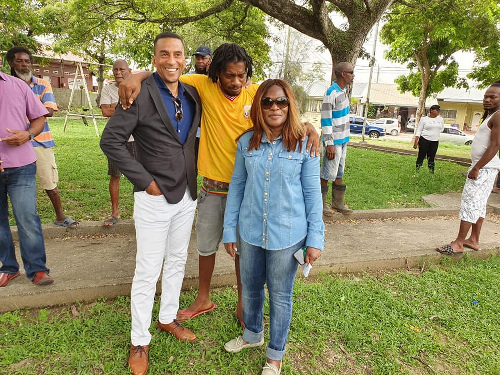 PNM enjoyed a lead of just over 2,000 votes in Tunapuna where Esmond Forde dealt with a challenge from David Nakhid while Faris Al-Rawi managed roughly 1,000 endorsements more than Sean Sobers in San Fernando West. And, in Toco/Sangre Grande, a battle that looked razor-thin at one point eventually morphed into a comfortable triumph by roughly 3,000 votes for Roger Monroe over Nabila Greene.
Outside of the traditional parties, Progressive Democratic Party (PDP) leader Watson Duke came within 1,000 votes of Tobago East incumbent Ayanna Webster-Roy but could not snatch a seat.
Independent Labour Party (ILP) leader Jack Warner, the disgraced former Fifa vice-president who is facing extradition to the United States, tallied just under 4,000 votes in the unofficial count to finish ahead of the UNC candidate for the district, but well behind PNM candidate Marvin Gonzales' 9,608 votes in Lopinot/Bon Air West.
Otherwise, Movement for Social Justice (MSJ) leader David Abdulah, Progressive Empowerment Party (PEP) leader Phillip Alexander, National Organisation of We the People (NOW) leader Kirk Waithe (Laventille West) and independent Errol Fabien (St Joseph) all tallied under 500 votes in their respective constituencies.
"I am somewhat surprised [at the results] but the fight is not over until the recount is done," said Persad-Bissessar. "I think our party did very well; we could have done better… We fought a good fight, a clean fight. It is not over till its over."
It is worth noting that the UNC could still potentially lose another seat as well, as the PNM is querying the candidacy of Princes Town candidate Barry Padarath.
Rowley, in his speech earlier, did suggest that there were gloomy days ahead for Trinidad and Tobago—although he was almost certainly referring to the economy, still struggling to cope with the impact of Covid-19.
"The future of Trinidad and Tobago is bright," said Rowley. "We have dark clouds ahead […] but beyond that is bright sunshine and warmth […] and good weather to be enjoyed.
"[…] The next two years will be very difficult but during that time we are required to do certain things to put us in a better position."
Rowley referred to the 2020 election as the 'pandemic election' and urged persons not to take the elderly and vulnerable to the polls. Both parties urged people to stay away from their headquarters, so as to avoid aiding the spread of the novel coronavirus.
The prime minister suggested that it might be his last general election as political leader and vowed to help his party transition over the next five years to a new leader.
"This, ladies and gentlemen, can easily be my last term in politics in Trinidad and Tobago," said Rowley. "[…] I have a duty and responsibility to fashion the PNM's future by ensuring that the […] country will not be denied of the leadership it deserves."
Rowley promised youthful energy in Parliament and set goals in the fields of digital services and agriculture.
"Let us put aside personal slights and wants and look at the national needs," said Rowley, who offered a 'clean slate' to members of the media. "I go to put a Cabinet together and soon after that we begin to put a budget in place—that is our first assignment.
"[…] Tough times don't last, but tough people do."
Trinidad and Tobago's first prime minister, Dr Eric Williams, led the PNM to four straight electoral victories before he passed away months before the country went to the polls in 1981. Williams was 50 when he was first elected prime minister and died at 69.
Rowley is 70 years old and hopes to depart office on his own terms. He would have the chance to do so—barring a surprise by the Elections and Boundaries Commission (EBC), spurred on by Persad-Bissessar who is staring a second successive general election defeat in the face.
2020 General Election winners (so far)
PNM (22):
Arima (Pennelope Beckles),
Arouca/Maloney (Camille Robinson-Regis),
D'Abadie/O'Meara (Lisa Morris-Julian),
Diego Martin Central (Symon De Nobrega),
Diego Martin North/East (Colm Imbert),
Diego Martin West (Dr Keith Rowley),
La Brea (Stephen McClatchie),
La Horquetta/Talparo (Foster Cummings),
Laventille East/Morvant (Adrian Leonce),
Laventille West (Fitzgerald Hinds),
Lopinot/Bon Air West (Marvin Gonzales),
Point Fortin (Kennedy Richards Jr),
Port of Spain North/St Ann West (Stuart Young),
Port of Spain South (Keith Scotland),
San Fernando East (Brian Manning),
San Fernando West (Faris Al-Rawi),
St Ann's East (Nyan Gadsby-Dolly),
St Joseph (Terrance Deyalsingh),
Tobago East (Ayanna Webster-Roy),
Tobago West (Shamfa Cudjoe),
Toco/Sangre Grande (Roger Monroe),
Tunapuna (Esmond Forde).
UNC (19)
Barataria/San Juan (Saddam Hosein),
Caroni Central (Arnold Ram),
Caroni East (Dr Rishad V Seecharan),
Chaguanas East (Vandana Mohit),
Chaguanas West (Dinesh Rambally),
Couva North (Ravi Ratiram),
Couva South (Rudranath Indarsingh),
Cumuto/Manzanilla (Dr Rai Ragbir),
Fyzabad (Dr Lackram Bodoe),
Mayaro (Rushton Paray),
Moruga/Tableland (Michelle Benjamin),
Naparima (Rodney Charles),
Oropouche East (Dr Roodal Moonilal),
Oropouche West (Davendranath Tancoo),
Pointe-a-Pierre (David Lee),
Princes Town (Barry Padarath),
Siparia (Kamla Persad-Bissessar),
St Augustine (Khadijah Ameen),
Tabaquite (Anita Haynes).
Editor's Note: The information above is based on an unofficial tallies of votes and before the release of final information by the EBC.