The following is the second part of Owen Thompson's recall of that unforgettable summer in 1976 that ushered in the West Indies cricket team's glory years:
While the events of that 1975-76 tour of Australia unfolded (between October 1975 and February 1976), a certain Robert Nesta Marley was getting ready to lock himself away in the Island-Tuff Gong studios in Kingston, Jamaica, for the recording of his latest album, Rastaman Vibration.
Encyclopaedic sources point to 30th April 1976, as the official release date of the Rastaman Vibration album. Those sources also inform that Marley had worked on the lyrics of the ten tracks throughout the spring/summer of 1975, before deciding he was ready to start studio recording work in October/November.
As 1975 rolled into 1976, he became increasingly certain about the meticulous arrangements he wanted for his latest work. That first phase of pre-production encompassed January/February 1976, at the same time Viv Richards was taking his fire to Thomson and Lillee. March/April saw Robert Nesta fine-tune every line of lyrics, every piece of musical arrangement, every sinew of his singular voice, to give definitive birth to Positive Vibration, Roots Rock Reggae, Johnny Was, Cry to Me, Want More, Crazy Baldhead, Who the Cap Fit, Night Shift, War and Rat Race.
The disaster in the Antipodes over, Clive Lloyd's team landed back in the Caribbean in early February 1976 for a series that was going to require batting skill of an altogether different nature. They would be up against Bishan Singh Bedi, Bhagwat Chandrasekhar, Srinivas Venkataraghavan and Erapalli Prasanna—the best exponents of the art of spin on the planet.

On duty again at number 3, Viv produced masterclass after masterclass versus spin of the highest quality. From Bridgetown to Kingston, via Port-of-Spain, he consistently showed how to open the on-side and drive Chandrasekhar and Bedi, especially, (that is, against the spin!) between mid-wicket and mid-on.
Unerringly. Masterfully. Along the ground. Boundary after boundary. Not a man move.
I saw both those hundreds in Trinidad (the second more majestic than the first!), a schoolboy 14 going on 15, from the privileged vantage point of the Queen's Park Oval scoreboard. I marvelled at the way IVAR combatted the guile of those spin masters, left-arm and right-arm, unfailingly countering all the different angles, heights and finger and wrist variations the formidable foursome used.
On wickets that were lower and slower than those on which he had recently done battle with Lillee and Thomson but which offered enough turn and bounce to cause the West Indies batsmen—barring IVA Richards—not inconsiderable bother. Scores of 142 (Barbados) 130 and 20 run-out, (Trinidad), 177 and 23 (again Trinidad) and 64 (Jamaica) speak for themselves. Never had any batsman from any country or planet averaged 92.66 in a full Test series against that quartet of Indian spin wizards.
Then came May. And the beginning of the tour of England. Literally a week after the launch of Rastaman Vibration. With the beginning of the tour also came Tony Grieg's infamous 'grovel' remark. Ill-advised bravado trumpeted loud and hard on BBC TV.
Viv is on record as saying that when the West Indies team saw Grieg on television that evening, sparks flew from Andy Roberts' nostrils and Mikey Holding's eyes spat blood. Seeing such a reaction from his premium quicks, Clive Lloyd looked around the room. There was resounding silence. Not a single word was said; no need. The bat and the ball would do all their talking.
For the record, Tony Grieg's nine batting efforts during that series reveal the following:
In his eight completed innings he was dismissed on every single occasion by a West Indies fast bowler: three times by Michael Holding, twice by Andy Roberts, twice by Vanburn Holder and once by Wayne Daniel. On five of those eight occasions, he was clean bowled for single digit scores: three times by Holding, once by Roberts, once by Daniel.
For his other single digit effort, he fell caught in the arc off Roberts. Five of those eight completed innings lasted fewer than 12 balls. It doesn't seem excessive to conclude that that summer the West Indies quicks really got stuck into Anthony William Grieg.
As Rastaman Vibration rocked the world in the ensuing months, from London to Leeds, from Kingston to Port-of-Spain, from Sydney to New York, IVA 'batted like a prince'—as John Arlott famously said (232 & 63 at Trent Bridge, 4 and 135 at Old Trafford, 66 & 38 at Headingley, 291 at the Oval, London)—while Mikey and Andy bowled with speed and venom not seen in England for decades.
There was also a Blue Diamond in the West Indies bowling pack. The 20-year-old Wayne Wendell Daniel, no less rapid, albeit somewhat less accurate, was hardly an insignificant side-kick in the Andy-Mikey pace extravaganza.
At the same time, Hasely Crawford and Donald Quarry were sprinting to 100- and 200-metre gold at the Montreal Olympics that July, while their Caribbean sibling, Cuban Alberto Juantorena, was striding to similar glory in the 400 and 800 metres.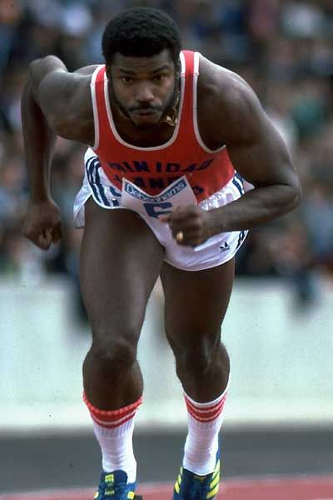 That edition of the Olympiad went from 17 July to 1 August—smack bang in the middle of the Viv-Andy-Mikey English demolition exhibition. Crawfie sprinted to victory on 24 July 24, the Saturday of the Headingley Test, (the fourth of the series), as WI began their second innings, building the lead that would take them two-up, with just Kennington to go.
On the Saturday of the Old Trafford Test, (the third of the series), a week before the Olympics began, Viv fashioned a masterful 135 in the West Indies second innings on a difficult pitch (20 wickets had fallen before the end of the pre-lunch session of Day Two), Brian Close and John Edrich, at 45 and 39 years of age respectively, had endured a brutal, 80-minute bumper barrage from Andy, Mikey and Blue Diamond.
Those 'ugly' 80 minutes are still much talked about today. Did the West Indies fast bowlers really want to get Close and Edrich out? Or just frighten the living daylight out of those two brave old warriors, and, in the process, out of anyone English daring to walk to the wicket with a bat in his hand for the rest of that summer?
YouTube's coffers have hardly suffered on account of those 'ugly' 80 minutes.
Quarry sprinted to his 200-metre triumph on Monday 26 July, the same day Andy, Mikey and Blue Diamond set about dismantling England's top order in their fourth Test second innings effort, paving the way for a relatively comfortable victory early on the final morning, Tuesday 27 July 1976.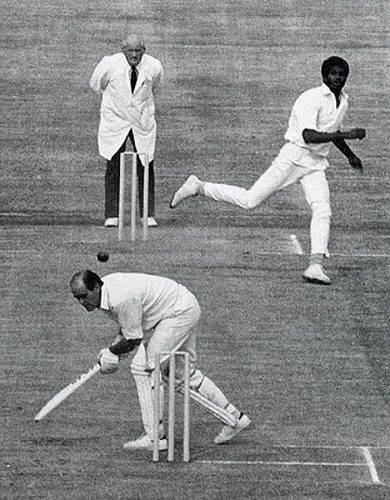 On either side of that Headingley romp, El Caballo, as Juantorena was aptly nicknamed in Athletics circles, recorded his 800-metre win (on Sunday 25 July, the rest day of the Headingley Test), before cantering to 400-metre gold (on 29 July) two days after the Headingley victory.
Throughout those goings-on, we schoolboys were on the long vacation, not missing a ball of radio commentary from England, keenly following the Olympics and no less unconditionally glued to Projection 3 of the RBE, aired weekdays on Radio Trinidad from 1 pm to 4 pm.
Rennie Bishop, already a radio institution in Trinidad and Tobago back then, revelled in gifting airtime to virtually every track of the new album of 'The Master Rasta', as the ace radio broadcaster/DJ/journalist liked to call Marley.
Rennie B's own favourites appeared to be Who the Cap Fit, War, Johnny Was and Roots Rock Reggae. Teenagers in Trinidad at that time religiously tuned in to Projection 3 of the RBE, The Rennie Bishop Experience.
Yours truly was one of the thousands of secondary school students in T&T who sat their O-levels that June. Listening to the exploits of Viv, Andy, Mikey, Crawfie, Quarry and El Caballo was a blissful way to while the holiday months away as we awaited results.
When the end of August came, and with it those Cambridge GCE grades, the return to school meant promotion to the Sixth Form. Above and beyond the implications of our new academic status, our attention turned to the 13 September General Elections in the two-island republic.
What a summer of awakening that proved to be!
Editor's Note: Click HERE to read part one on Viv: vivacious and vocal.