Embattled Trinidad and Tobago Football Association (TTFA) president William Wallace appears to have conceded his portfolio as Secondary Schools Football League (SSFL) president, in the first major fall-out from recent revelations regarding his tenure in charge of the TTFA.
Wallace, a retired Carapichaima East Secondary vice-principal, allegedly submitted his resignation today in a SSFL executive committee meeting in Carapichaima. First vice-president Phillip Fraser will now act as interim president of the schools body.
Wired868 was unable to reach Wallace for confirmation while executive members were unwilling to speak on the record. However, off the record, members said Wallace appeared to be feeling the emotional toll of recent scandals and his colleagues were sympathetic.
Still, his offer to leave was accepted. His position was felt to have become untenable.
At present, Wallace and TTFA vice-presidents Clynt Taylor, Susan Joseph-Warrick and Sam Philip are resisting Fifa's attempt to install a normalisation committee in Trinidad and Tobago. But even that colossal contest has been overshadowed by incidents involving Wallace more directly—as he shouldered much of the blame for TTFA contracts handed to Men's National Senior Team head coach Terry Fenwick, general secretary Ramesh Ramdhan and marketing director Peter Miller, as well as a kit deal with Avec Sport.

In all four cases, the TTFA Board was kept in the dark about the terms of the agreement, or whether a deal existed at all, until after the fact. It was not SSFL business; but the schools league, which is run by the respective principals, did not appreciate being associated with such controversial behaviour.
Wallace was elected unopposed as SSFL president on 1 April 2017, replacing Anthony Creed, and was re-elected unopposed last year. He was voted in as TTFA president on 24 November 2019 and suggested that he would resign from the schools job at the subsequent AGM.
Wallace had a change of heart when Fifa moved in on 17 March 2020 and announced that it had overthrown the TTFA's elected officials, who were to be replaced with a normalisation committee. Since then, he said he would hold on to his SSFL position until the Fifa matter was cleared up.
In the end, the best that Wallace could hope for was to leave on his own terms, which he did today.
The 2020 SSFL season remains in doubt as administrators grapple with issues related to Covid-19. Wired868 understands that school administrators are awaiting directives from the Ministry of Health, which will be key in deciding whether to hold its 2020 competitions.
There is also a financial element, as principals must discuss their respective budgets for sport while Digicel/Sportsmax remain indebted to the SSFL to the tune of TT$1 million for the 2019 season.
Wired868 understands that Digicel/Sportsmax has given a commitment to meeting its arrears although no specific timeline was agreed. Incidentally, Sportsmax's Sport Zone show has been very critical of Wallace's behaviour as TTFA president.
Executive committee members were advised today that other sponsors warned of their unwillingness to be associated with any competition which carries adverse health risks to young men and women. It leaves the SSFL at the mercy of clearance from Ministry of Health Chief Medical Officer Dr Roshan Parasram.
Wallace will play no role in addressing the current issues, though.
Wired868 understands that executive members thanked Wallace for his credible stewardship of the schools' game, over the past three years. But, apparently, they all agreed that it was time to say goodbye.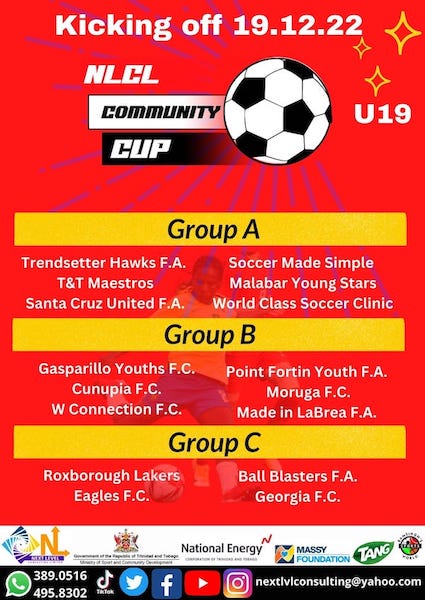 Ironically, Fifa's disbandment of the TTFA Board has made it difficult for Wallace to face administrators from the local governing football body, while interim Pro League chairman Brent Sancho and Veteran Footballers Foundation president Selby Browne urged stakeholders to boycott the United TTFA slate's attempt to hold an unofficial general meeting.
It has left Wallace without an opportunity to face TTFA members and present his case to them, or take their feedback.
Up to the time of publication, there was no suggestion that Wallace would similarly relinquish his role as TTFA president.