"A single spark can start a prairie fire," Mao Zedong, 1930.
This observation came back to my mind in the witnessing of the events of the last seven days. Mao had meant then that the revolution would start small but was possible in China—not too different from all the recent global social uprisings.
Their almost innocuous beginnings go unnoticed until it is too late.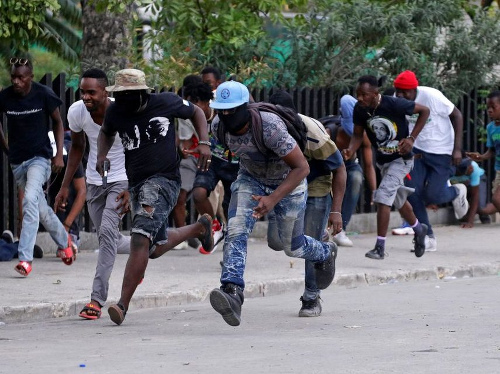 The underlying theme, in the events of last week, was the use of weapons to resolve our social problems. In June 2014, Parmanand 'Pancho' Yarna, a restauranteur, was shot standing on a pavement outside his Queen Street business, this week the AG's office is shot at. We still have no idea why either event happened.
Criminal elements are certainly active among us, but we are not assured that police 'intelligence' has progressed to match them, even though brute force has multiplied.
For those who wonder why the crime-ridden communities do not protest illegal activities, the October 2014 case of Marlene Grant—great aunt of Tecia Henry, chased and shot by two masked gunmen—shows the stark cost of 'the audacity to stand up to gangsters'.
She lived walking distance from the Besson Street police station. Three months before, her home was firebombed. Lest we forget, the ongoing saga of the Clifton Towers where unauthorised persons take possession of housing units demonstrate that the response to the cries of citizens is inadequate.
Why protest when the big 'sawatees' on both sides of the law talk to each other and you are a mere peewat? You are in effect a walking dead once you protest or buck the system.
In 2009, 10-year-old Tecia's body had been found after community protests at police inaction. Then Acting Police Commissioner James Philbert said that Tecia's death 'gave rise to questions about the safety of children in the area'. He was dubbed 'The Commissioner of the People' after listening to the residents in the face of their anger.
Yet by 2014, the police and the regiment relentlessly pursued Dillon 'Bandy' Skeete, at the offices of a media house (to smoke him out, they called in a bomb threat!) and the hunt culminated in the deaths of three men in Desperlie Crescent, by unidentified men—for his alleged, unproven role in the killing of an army Lance Corporal, Mr Kayode Thomas.
In direct response, the Besson Street police station came under fire the very night in September 2014, in what was described as 'scenes from a war'. There has been no official closure of these incidents.
When policing is different depending on the community, it is not justice. Many young poor men are jailed for drug possession, but we turn a blind yet sympathetic eye to young doctors and businessmen using drugs.
It is not justice when the lack of safety, felt by residents, in these communities which we call 'hotspots' is ignored in the advocating for an increasingly militarised police.
We have seen the 2014 policy materialise into a 2020 'us versus them' posture complete with guns, tear gas and battle dress uniforms accompanied by a lack of training and restraint. Lack of restraint caused the 2014 unwarranted killing of Joel Apparicio in San Juan in broad daylight and now in 2020, we saw it in Second Caledonia.
Did those policemen in Second Caledonia appear to be operating in a skilled, organised fashion that inspired confidence? Or were they akin to Keystone Cops with their great uncertainty as to procedural steps after the men had been killed? And that was a simple case where they were dominating the situation.
The justified use of weapons have moved from 'self-defence' to 'feel threatened'. Dominance over the public is of higher priority than public safety. This leads to a fundamental belief that the public does not know what law enforcement involves and therefore have no right commenting on or questioning police tactics.
Excessive force is no longer problematic but becomes accepted because 'intimidation is needed to confront criminals'. It is possible to agree with the use of force against criminals, but we should recognise that it gives latitude to rogue officers to do whatever they deem necessary to whoever they deem as fair targets.
But this behaviour exacts a cost from the very police officers, expressed in lower quality of life issues. There is no free ride.
This week's many videos showed us that our police not only is possessed of technology but also of an ethos that sees the public as an enemy to be suppressed. Fully armed crews were posted at virtually every intersection on Ariapita Avenue where late night patrons were exiting bars at 10:30pm on Friday 26 June.
That level of alert was greater than what typically obtains in the Times Square area in New York City. Were we expecting a riot?
Such shows of force anger those who are innocent and yet are traumatised. They blur the line between individual 'rogue' police officers and 'the police' with detrimental results for both citizens and the police.
Residents in Laventille recite the acts by corrupt officers that have the same effect on their daily lives as those by the gangsters.
A Nelson Street video showed police allegedly bringing a John John resident into the area and releasing him to the 'mercy' of people there. The youths refused to beat him up in an act of political maturation, calling on the police to remove the person.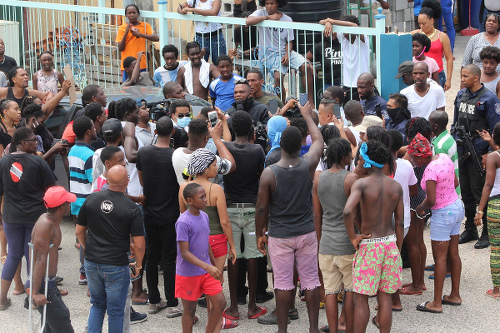 This is the frightening plot: young people, with nothing to lose, realising that they have been used before as fodder and deciding to unite. Looking at the videos, the young are a new 'batch', all look under 30 years. The established 'dons' were out of sight.
The actions last week could well have been convened by smartphones. How do you fight a formless, headless rebellion whose organisation and principles are transacted on social media? Is this why the police is taking pictures of protests and tying up people like crabs to confess their ways? Will that really put an end, or will there be deeper resentment?
The $64 million questions: Why do we have so many young people unemployed, with time to protest? What will the UWI 2020 graduates do when they do not find jobs?
We are facing a social crisis that combines 1970 (ideology and unemployed bright young people) with 1990 (criminality that destroys life and property) infused with a lack of a social contract with the young due to our wanton disrespect.
Which spark do we wish to ignite? L Anthony Watkins-led or pitched battles in the street?