Haitian Football Federation (FHF) president Yves Jean-Bart was provisionally suspended by Fifa today for 90 days, due to allegations of sexual abuse against minors at Haiti's national training centre—which was first unearthed last month by the UK Guardian newspaper.
The 72-year-old Jean-Bart, who is nicknamed 'Dadou', was one of several Haiti football officials accused of coercing young female players into having sex with them while they lived at the Centre Technique National in Croix-des-Bouquets, Port-au-Prince.
The Centre Technique National, which the French-speaking island's version of the Home of Football, is funded by Fifa and houses the island's most gifted children.
At present, the allegations against Jean-Bart are being investigated by La Brigade de Protection des Mineurs, which is a specialist arm of the Haitian police force that is funded by the United Nations and Unicef.
The UK Guardian initially broke news of Jean-Bart's alleged crimes on 30 April. Today, the Fifa ethics committee finally acted.

"In accordance with articles 84 and 85 of the FIFA Code of Ethics, the investigatory chamber of the independent Ethics Committee has provisionally banned Mr Yves Jean-Bart," stated a Fifa release, "president of the Haitian Football Federation (FHF), from all football-related activities at both national and international level, for a period of 90 days.
"This sanction has been imposed in connection with ongoing investigations concerning Mr Jean-Bart. Mr Jean-Bart was notified of the decision today. The provisional sanction comes into force immediately."
Jean-Bart has headed the FHF since 2000 and was re-elected for his fourth term in 2012. During his tenure, Haiti became a consistent force at youth level as they qualified for two Men's Under-17 World Cups in 2007 and 2019 as well as one Women's Under-20 World Cup in 2018.
Haiti's girls have dominated the Caribbean youth competitions in recent years and their Under-20 and Under-17 teams have made it to the Concacaf semifinal round of every tournament since 2016. Midfielder Melchie Dumornay led all scorers at the 2018 Concacaf Under-20 competition and is considered to be a rising star in the game.
However, UK Guardian investigations, led by journalists Ed Aarons, Romain Molina and Alex Cizmic, claimed to uncover a seedy underside to Haiti's youth success.
"There is a lady who works there who puts pressure on the girls to have sex with Dadou," one alleged victim told the UK Guardian. "He will see a nice girl who is attractive and he sends the lady to tell her that she is going to be thrown out of the centre. She starts crying and then the lady says: 'The only way to resolve this is to speak to Dadou.'
"At that moment, the young girl has no choice but to put up with the sexual abuse."
A former player also told the UK Guardian of a friend who allegedly had an abortion for the football president.
"Another of our best young players lost her virginity to Dadou when she was 17 in 2018 and also had to abort," she said. "These girls who live at the Fifa centre… It's such a shame because they want to play for the country but if they speak about this situation they will be fired. They are hostages."
There was also an allegation of attempted rape by an unidentified 'friend of Jean-Bart' at the centre. The girls and their parents said it was dangerous to speak to authorities.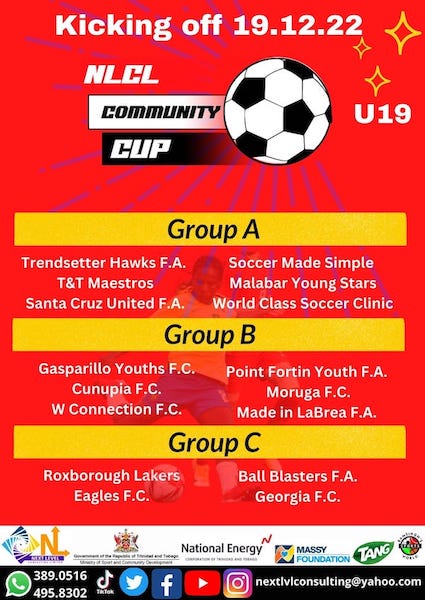 "I'm so afraid—Dadou Jean-Bart is a very dangerous person," said an alleged victim. "There are a lot of people who want to talk but they're so afraid, especially for the parents who are still in Haiti."
Jean-Bart denied accusations of sexual abuse although, in a recent interview with Haitian radio station Magik9, he refused to say whether he had fathered children with former players at the centre.
"I have the right not to answer," he said.
Fifa has still not made a declaration on its own imbroglio with the Trinidad and Tobago Football Association (TTFA), despite being asked to respond to a case filed in the High Court by president William Wallace.
Wallace and TTFA vice-presidents Clynt Taylor, Susan Warrick and Sam Phillip are resisting an order by the Fifa Bureau of the Council, headed by president Gianni Infantino, that they make way for normalisation committee chairman Robert Hadad.