Commissioner of Police Gary Griffith confirmed closure of 'a certain clothing store on Queen Street, Port-of-Spain' today due to breach of public health ordinance regulations.
Griffith, in the TTPS release, did not specify the name of the business place. However, he referenced a Trinidad Newsday story that referred to the Jimmy Aboud store, which is managed by Downtown Owners Merchant Association (DOMA) president Gregory Aboud.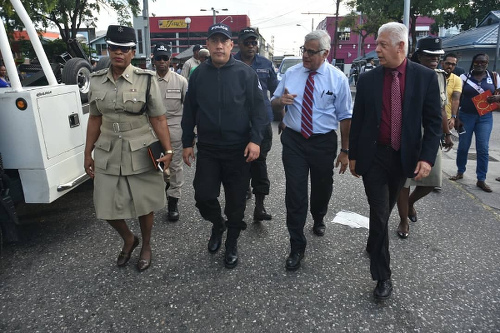 Violation of the Public Health (2019 Novel Coronavirus 2019-Cov) Regulations carries the penalty, on conviction, of a fine of TT$5,000 and six months imprisonment. But the TTPS has generally taken a moderate approach on the matter and arrests have been infrequent.
Griffith confirmed that no arrests were made over the Aboud breach.
"It is not a case of every time we see something open, we arrest people," Griffith told Wired868. "If that was the case, there would be several thousand people who are arrested right now. For the arrests that have been made, it was a matter of the persons receiving warnings and then continuing to operate their business once policemen had left.
"[…] If we threw everyone in jail, it would defeat the purpose of what [Attorney General Faris Al-Rawi is trying to do by arranging temporary release for persons charged with minor offences] and could create a fresh risk.
"Arrests are made only if people are deliberately and in a very mischievous manner not adhering to the regulations, after being warned."
Griffith confirmed he is patrolling the Charlotte Street area in downtown Port of Spain this afternoon to ensure that businesses comply with the law. He reiterated a request for persons who believe they know of anyone violating the Covid-19 regulations to contact 555 'or send messages, photographs or videos to 482-GARY, or the TTPS App' for further investigation.
"The TTPS in no way would allow any form of bias towards enforcing the law and closure of any specific business, and allowing another similar business to remain open," stated Griffith. "But the relevant authorities of the TTPS cannot be everywhere, hence the request to inform the TTPS if there is the belief that anyone is breaching the Regulations, so the TTPS can act on it."
Griffith noted that, although the government has advised persons to wear cloth masks, there is no legal allowance for cloth stores to be open at present. Similarly, even will-wishers attempting to perform charitable acts can be charged if, in doing so, they flout the public health ordinance.
"As much as it is worthy of some who are arranging to assist those in need during this period, the law cannot be broken when this effort is being achieved," stated the commissioner of police. "This includes persons congregating in large numbers, in close proximity of each other, even whilst participating in a worthy cause.
"Crying and complaining about actions made by the Police would not deter the TTPS from adhering to their role and function, which is aimed at preserving life, and failure to abide by such instructions would cause the Police to take the necessary action."
Wired868 asked Aboud why he opened his clothing store and his view on the response by the TTPS. He had not answered by the time of publication.