If the Trinidad and Tobago Football Association (TTFA) hoped for regional support as they try to stave off Fifa intervention in the form of a normalisation committee, such dreams have apparently dissipated.
"We have private support [from the Caribbean member associations]," one official told Wired868 today. "They agree that we are being victimised but everyone is avoiding open support for our position."
TTFA general secretary Ramesh Ramdhan said as much in more colourful terms, during a chat with i95.5FM tonight.
"They ent lifting a finger," said Ramdhan, "because massa day ent done yet."
Trinidad and Tobago has been accustomed to larger than life football leaders who dominated the football body. For better or worse, nobody could accuse estranged TTFA president William Wallace of following that pattern.

The most vocal members of the current administration have been technical committee chairman Keith Look Loy and, now, spunky general secretary, Ramdhan.
A former World Cup referee, Ramdhan treated a financial enquiry by Fifa director Veron Mosengo-Omba as though he were a cheeky schoolboy questioning a free kick. And he did not hold back much tonight, as he lashed out at 'long-winded, obstructionist board members', the 'suspicious' movements of Fifa officials—not least, Mosengo-Omba—and his cowardly neighbours in the Caribbean Football Union (CFU).
"Colleagues, if fair play and justice have to remain the foundation upon which we all stand, then we cannot allow autocratic power which bears all the characteristics of authoritarianism to remain unchallenged," said Ramdhan, in a letter to CFU officials on Thursday. "We are prepared to take the lead, but we need you to fight this fight with us. This situation has presented an opportunity for the CFU Nations to regain the respect that somehow was unfortunately squandered to our detriment.
"We are confined to being recipients of handouts and ignoring the significant contribution we can make in global football. Let's regain our self-respect by lending your collective voices to this effort."
Ramdhan was being honest and certainly did not waste any time on flattery.
By then, CFU president Randy Harris had already made it clear that he would be of no assistance to Trinidad and Tobago.
"It is a decision that Fifa can make because we are playing under their statutes and they are the only people who will decide when there is normalisation," Harris told i95.5FM, earlier in the week. "[…] The Trinidad and Tobago FA has found itself in a sad situation, which all of us in the Caribbean can be in tomorrow.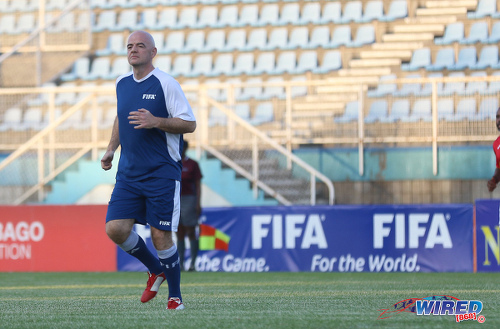 "[…] If in Fifa's opinion the member association has severe enough problems that it doesn't look as if things would be sorted out in the short term, they have the authority to come in. And every Caribbean country knows that."
Article 8.2, which Fifa invoked, states: 'Executive bodies of member associations may under exceptional circumstances be removed from office by the Council in consultation with the relevant confederation and replaced by a normalisation committee for a specific period of time'.
Concacaf has 41 member associations and 31 of them are in the CFU. Yet, Harris, who is also a Concacaf vice-president, said he was not even notified before Fifa moved in on Trinidad and Tobago—a decision that was supposedly based on a report co-authored by Concacaf, while the confederation's president, Victor Montagliani, sits on the Bureau of the Fifa Council that made the call.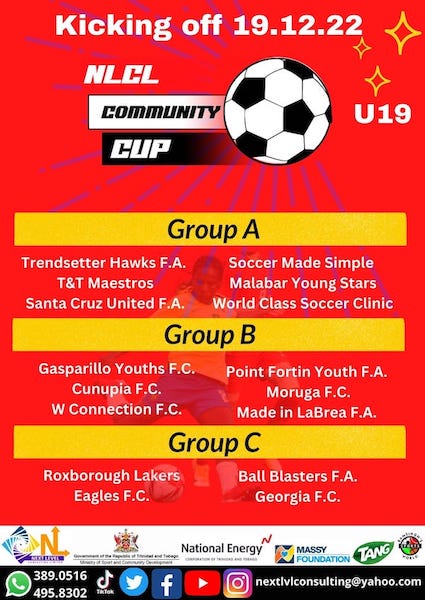 "They don't have to notify the Caribbean Football Union," said the Barbadian administrator, who hired Camara David as CFU general secretary after he resigned from the TTFA in the wake of David John-Williams' electoral defeat. "[…] The Union has no power, not even as a collective. The situation is we are Fifa members and while some may not agree with the action taken at the time it has been taken, I don't see that there is anything we can do as a Union."
Harris reacted angrily when the radio host used a colonial analogy to suggest the relationship between Fifa's Zurich headquarters and the Caribbean.
"The same white man [people say is wielding the big stick] is the same person who is funding football in Trinidad and the Caribbean," said Harris. "You can't have it both ways. We have to develop our football in such a way that we become self-sufficient.
"The funds that Fifa is allowing to us is not a right, it is a privilege. Fifa can get a president next week who can [change that]."
Did Harris have any advice for Wallace during these dark days?
"I think it is a bit late to give advice," said Harris, who hinted that an appeal to the Court of Arbitration of Sport (CAS) was probably an expensive waste of time. "[…] In my view, based on my experience, it will be very very difficult to win a case such as this because Fifa has a right to decide when they will introduce normalisation.
"If you read the statutes, basically we all agree to play under the statutes of Fifa."
Was it unfair?
"Unfair is relative," answered Harris.
At one point, the CFU president accused the i95.5FM host of trying to put words in his mouth. Ramdhan had not forgotten the exchange.
"You should have put something else in his mouth," said the TTFA general secretary.
Ramdhan said he kept files related to the controversial Home of Football project in a safe location.
"I'm not stupid," he said.
If Wallace and his crew are crowbarred out of office, they clearly will not go quietly.