"I didn't have a rich family... So sometimes I had to borrow a boots [or] borrow a gloves to go and practice. Sometimes I had to get money from my brother to go to train or play with Defence Force. Well, almost every day…"
A former National Intercol champion with East Mucurapo Secondary, goalkeeper Aaron 'Demon' Enill is chasing his first Pro League title this season with Defence Force FC. The talented penalty stopping specialist took time to talk one on one with Wired868:
What is your date of birth?
4th June 1995.
What is your hometown?

Morvant.
What school did you attend?
East Mucurapo Secondary.
What is something most people do not know about you?
I was featured in a magazine article as a goalie for my primary school, Hockett Baptist Primary School, in 2006.
What do you enjoy doing in your spare time?
Video games, mainly FIFA. Also, spending time with my nieces and fiancée.
Who is your favourite footballer?
My favourite footballer is Zlatan Ibrahimović, as he believes in himself. Though he is a cocky player, he follows through with whatever he says he will do. He always brings 100 % and this is the type of player I admire. That's why he's my favourite player.
What is your favourite team?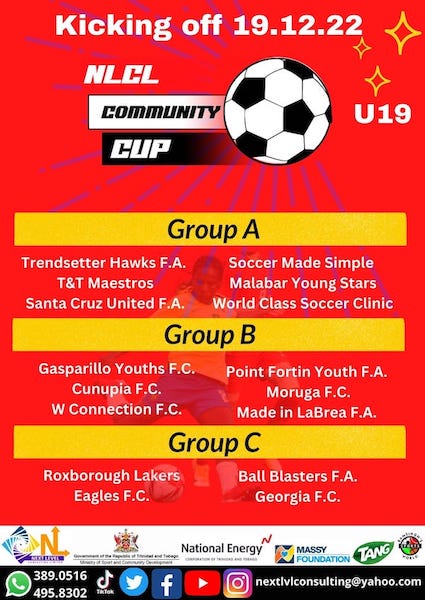 German team Dortmund FC is my favourite team as they don't believe in buying their players. Where other clubs will buy star footballers, Dortmund believes in building their players. I also believe in this as development is an important aspect for me.
How did you start playing football?
I've always been a goalkeeper and I started playing football at Hockett Baptist Primary School. I went to the [Queen's Park] Savannah during an August vacation to see my brother play with Trendsetter Hawks, and my cousin, Azizi James, was the goalkeeper at the time. That day he made some good saves and from then I fell in love with goalkeeping.
When I went back to school and the team was playing, I went to the post… I didn't want to be part of the outside field again, plus I was good at it. I fell in love with it [goalkeeping] at first sight and it became part of me. I fell into the position, as though it was waiting for me.
If you weren't a footballer, what would you be doing?
I would have still been in sport no matter what, probably javelin. I used to throw javelin for the national side as well. In 2013, I represented Trinidad & Tobago in the Men's U20 Carifta Games in Martinique. I placed fourth and this was my first professional competition outside of Trinidad.
I chose football over javelin as I was better at football and more in love with the sport than javelin.
Who was your most important coach/coaches and why?
All my coaches were good coaches and I've learnt a lot form each of them. To choose just one would be unfair, as all of them had a part to play in the person who I am today.
However, if I were to choose one, it would be [the late] 'Chala' Dore. There was a time I thought of quitting. He came to my home and sat in his car for hours, even though I had refused to go out to meet with him. I chose him not just for what he could teach me on the field, but for his interest shown to me off the field when I wanted to give up… I have to give kudos to him. May his soul rest in peace.
Who had the most influence on your career?
My family… My family is very supportive. They come to my big games when they can.
Where do you see or hope to see yourself as a player?
I hope to reach further than even Shaka Hislop.
During the off season, do you do anything to enhance your skill?
Yes. I do some extra work with coaches, in order to get a different feel [for my position]
What is your target for the season?
I want us to win the Pro League, as a team. But they're not only my team, they're my family. So, I want us to win the Pro League as a family. I'm also aiming for Best Goalkeeper of the season.
What is the best thing about the Pro League?
It's a stage for young players to showcase their talent. There are a lot of players out there, who are very good, however they do not get the opportunity to show their skills. The Pro League also helps youths to stay off the streets.
What do you think can be done to better promote the Pro League and gain more support from the communities/citizens?
If we take it back to the communities, they will come out and support. I believe that we should take football back to the communities and not just have matches in stadiums. In the stadiums, spectators are in the stands, far from the field.
For example, at Eddie Hart, if you got to watch a minor league match, around the field is full. People come to see football and they are closer to the game, more personal. They aren't in the stands where they can barely make out the players.
What challenges were faced to get to your current level in the League and to progress further?
I faced a lot of challenges. A lot, a lot of challenges. I didn't have a rich family—we're still not rich but much better than before. So sometimes I had to borrow a boots [or] borrow a gloves to go and practice. Sometimes I had to get money from my brother to go to train or play with Defence Force. Well, almost every day.
Sometimes he would get vex because everyday I'm coming to him. Everyday! He's only human. So that for me was a very, very big challenge. But at the end of the day you have to sacrifice. Anything you want, you have to sacrifice.
Where do you see yourself once your football career has ended?
Probably coaching. I want to mould someone into something better than me.