Trinidad and Tobago Women's National Under-20 Team head coach Richard Hood has urged football fans to appreciate the improvement and effort shown by his outfit and avoid saddling the players with unfair expectations.
The young Women Soca Warriors edged Puerto Rico 5-4 on kicks from the penalty spot on Sunday afternoon to advance to the Concacaf Under-20 Championship quarterfinal round. On Wednesday, they will face 2018 Concacaf Under-20 champions, Mexico, from 6pm at the Estadio Olympic Félix Sánchez in Santo Domingo.
It is easy to forget that seven members of the current squad—including team captain Afiyah Cornwall—were part of the Trinidad and Tobago Under-15 team which was humiliated 22-0 by USA and 15-0 by Mexico, four years ago, and failed to even get to the final round of Caribbean qualifying at Under-17 level in 2018.
Hood urged supporters to consider the strides made by the girls since then and not just their flaws.
"We have done very well with very little," said Hood, who inherited this squad in mid-December. "Many of these girls have not done anything since they participated at under-17 level. This is their first time together since 2018 while, for nations like Haiti, continuous development is going on.
"Our girls came in with low levels of fitness and tactical know-how [and] I think we are fighting well above our weight class now and doing well.

"For the critics, somehow people always expect to see Brazil when a Trinidad and Tobago team goes out on the field. But they have to understand all the work that is needed with our players [at a developmental level]; and these girl have a lot of tactical and technical work ahead of them.
"We do not have the ball handlers that we need—outside of possibly Sarah De Gannes—to play like the fans would like us to. So we have to find a playing style to suit what we have, which I think we have done."
The Warriors have not advanced this far into a Concacaf tournament since Hood steered the Women's Senior National Team to the semifinals of the 2016 Concacaf Olympic qualifying campaign or Stephen Hart took the Men's National Senior Team to the 2015 Concacaf Gold Cup quarterfinals.
Both men were replaced by former Trinidad and Tobago Football Association (TTFA) president David John-Williams—although, to be fair, it was John-Williams who hired Hood in the first place.
A quarterfinal finish was described as the 'minimum target' for the team by current TTFA technical committee chairman Keith Look Loy. The girls have delivered; but Hood said they want more for themselves.
"To be honest, the quarterfinal round was the target set by the committee," he said. "But I told the girls from even before the tournament that my target is the semifinal round; and we haven't gotten there yet. We still have that to achieve."
In their way is a Mexico team that led United States 2-1 at one stage in the 2018 Concacaf Women's Under-17 Championship before being edged 3-2. Mexico won the last Women's Under-20 Championship too while five of their current players were members of their Fifa 2018 Under-20 World Cup squad.
Hood singled out mobile forward Alison González, tricky attacker Mariel Román, winger Joseline Montaya and deep-lying midfield organiser Silvana Flores as their most dangerous players.
González has scored in every game that she played in at this competition, as has Trinidad and Tobago attackers Cornwall and flanker Maria-Frances Serrant.
"[Mexico] are strong all over and their players have fantastic technical ability and good movement," said Hood. "When you watch them play, you see a team that knows exactly how it wants to attack and how it wants to defend… I'd say they are very good at getting early crosses in and attacking balls played into the box and we are not very good at defending those, so that is a [potential] problem.
"Can we cut out their wing play?"
Trinidad and Tobago's job is made more difficult by Concacaf's bizarre grouping which saw the top Caribbean qualifiers inserted into the tournament's group stage while the four regional runners-up received byes straight into the Round of 16.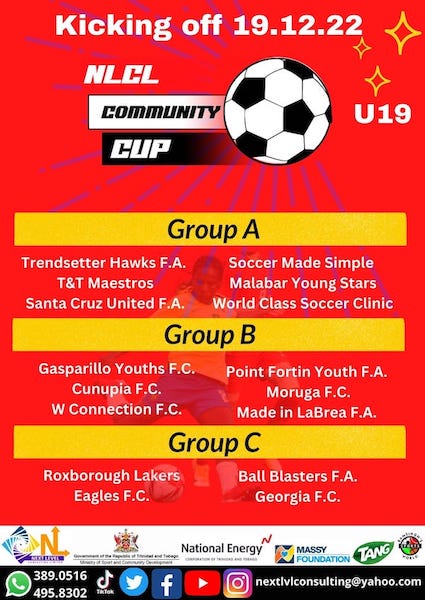 It meant that the Under-20s four group stage champions had their easiest match in the first knock out round. And, while Trinidad and Tobago were fighting tooth and nail to put away Puerto Rico on penalties, Mexico were sauntering to a 12-1 win over Grenada.
The Mexicans, then, would be fresher on Wednesday—which is ironic, since Trinidad and Tobago took great pains to ensure their players had more energy than Puerto Rico on the weekend.
Hood admitted that the Warriors were exhausted today and, apart from the reserves, he gave them a day off as they focus on recuperation.
"First and foremost, we have to take care of the girls in terms of their recovery," he said. "So they did ice baths after the game and today was a rest day. We hope to train in the morning tomorrow rather than the afternoon, so they will have enough time to rest and recover before the game on Wednesday.
"We are going to approach the game very carefully. We will try to organise our defence a lot better and try to frustrate Mexico; and hope to nick something on the counter."
Hood only had his full 20-member squad for less than two weeks before Trinidad and Tobago's opening game. As a result, players are still learning about their coach's preferred style of play, despite being in mid-tournament.
He remains concerned about his players' ability to spot triggers during the heat of battle, so as to understand when to drop off because of a lack of pressure on the ball and how to deal with runners.
At the offensive end, Hood is challenging Cornwall to add more variety to her game and make better use of teammates, while he is also urging players to join the talented striker and even go past her for the ball.
"Sometimes the girls have a tendency to just give the ball to Afiyah and watch her play," said Hood, with a chuckle.
At present, Cornwall is the joint fourth highest scorer in the competition with seven goals, which are three less than Haitian dynamo Melchie Dumornay. And her speed, strength, dribbling skill and clinical finishing has made her the focal point of Trinidad and Tobago's attack, alongside the hard-running Serrant.
Mexico would be well aware of the danger presented by the Carapichaima East Secondary schoolgirl. So there is some relief that lively winger Aaliyah Prince and Pleasantville Secondary playmaker Alexcia Ali, the Secondary School Football League's 2019 MVP, are starting to come alive as well.
Prince made her first start of the tournament against Puerto Rico and assisted on Cornwall's opener while she was within a metre of her captain when she scored her second.
"Prince should be a starter on this team in terms of her experience and quality but her fitness levels wasn't what was required at the time," said Hood. "So we wanted to use her off the bench and, at the right time, start her. I thought she did alright [against Puerto Rico].
"She isn't naturally inclined to defend, so we had to urge her to keep going to help out her teammates. But offensively she gave us something we weren't getting before, which was the ability to go at opponents […] to help unbalance the opposition's defence."
While the likes of Prince, Cornwall and Serrant made their international debuts four years ago, Ali is new to this level and needed some time to settle. On Sunday, she showed some of the trickery that has impressed local SSFL fans over the years, including a clever rabona pass to release Tori Paul down the left flank.
"[Ali] admitted that she was scared in the first game she started—which was against the Cayman Islands—so she was tentative and not her normal self," said Hood. "I thought she was our stand-out player against Haiti because she did a lot of hard work in defence and, of our players, showed the most composure on the ball.
"She gained a lot of confidence from that game and I said she deserved to start against Puerto Rico; but I like to have at least one offensive threat from off the bench.
"She is one of the better link-up players we have and she has a fantastic first touch. It is just to get her to [combine] better with the other attackers."
It goes without saying that Trinidad and Tobago lacks the player pool and resources that lie within the Mexico dressing room. There is no chance that the twin island republic can match the North American nation, a country of 129.2 million, when it comes to technical wizardry and slick ball movement.
But Hood hopes Soca Warriors supporters appreciate the girls' attempt to beat the odds while trying to get maximum effect from their own weapons.
"I am happy with what they have accomplished so far and their resilience and fighting sprit in these matches," he said. "For these girls to play 120 minutes of football and finish it off with the composure to get the job done and win on penalty kicks—I wasn't sure they had it in them and I am so proud of them.
"[…] We have a monumental task ahead of us against Mexico but anything is possible. We will go out there and give it our all."
(Trinidad and Tobago team)
Goalkeepers: 1.K'lil Keshwar (St Francis College—USA), 18.Chelsea Ramnauth (Fyzabad Secondary);
Defenders: 11.Chrissy Mitchell, 4.Latifha Pascall, 5.Tsai-Anne Fernandez (all Pleasantville Secondary), 15.Arnelle Douglas (Brock University—USA), 3.Nathifa Hackshaw (Rangers FC), 2.Roshun Williams (Waterloo Institute);
Midfielders: 7.Sarah De Gannes (Internazionale—Canada), 13.Megan Rampersad (Wellington Wave—USA), 14.Moenesa Mejias (El Dorado East Secondary), 6.Aaliyah Pascall (Pleasantville Secondary);
Attacking midfielders: 19.Aaliyah Prince (Northeast Texas Community College—USA), 8.Maria-Frances Serrant (Diego Martin Central), 12.Cayla McFarlane (Polytechnic School—USA), 10.Alexcia Ali (Pleasantville Secondary), 20.Tori Paul (Charlotte Independence—USA), 16.Sydni Greaves (Cedar Stars Monmouth Longwood University—USA);
Forwards: 9.Afiyah Cornwall (Carapichaima East), 17.Cecile Loraine (Signal Hill Secondary).
Concacaf U-20 Quarterfinal Round
(Wednesday 4 March)
Jamaica vs Dominican Republic, 1pm, San Cristóbal;
Haiti vs Guyana, 4pm, San Cristóbal;
United States vs Canada, 3pm, Santo Domingo;
Mexico vs Trinidad and Tobago, 6pm, Santo Domingo.
Top Scorers
10—Melchie Dumornay [2 pen] (Haiti),
8—Jody Brown [1 pen] (Jamaica), Mia Fishel (USA),
7—Valentina Ornis (Haiti), Afiyah Cornwall (T&T),
5—Alison Gonzales [1 pen] (Mexico), Brianna Pinto (USA),
4—Tanya Boychuk (Canada), Dayana Pierre, Florsie Joseph (Haiti), Marlee Fray (Jamaica), Summer Yates, Trinity Rodman (USA),
3—Alissa Oviedo, Mía Asenjo (Dominican Republic), Aubrey Narine (Guyana), Lacey Murray (Jamaica), Maria-Frances Serrant (T&T).