Nineteen year old Trinidad and Tobago goalkeeper K'lil Keshwar, a St Francis College student in the United States, made the save of her blossoming career so far, as the young Women Soca Warriors edged Puerto Rico 5-4 in penalties in Concacaf Under-20 Championship action in the Dominican Republic.
Keshwar's low save from Puerto Rico winger Paola Morales at the Estadio Panamericano in San Cristóbal decided their Round of 16 contest and ensured that Trinidad and Tobago progress to the Quarterfinal Round of the competition.
Trinidad and Tobago face defending champions, Mexico, next from 6pm on Wednesday 4 March at the Estadio Olympic Félix Sánchez in Santo Domingo.
The twin island republic only got this far once in the last five years and current National Under-20 Team coach Richard Hood was on the bench then too.
Hood steered the Women's Senior National Team to the semifinal round in the 2016 Concacaf Olympic qualifying campaign, only to then lose his job to Italian Carolina Morace. The policeman would hope for a more fitting reward on this occasion, although today's triumph belonged to the players who gave a gutsy showing in an exciting, hard-fought contest.

There were four goals between the two teams after full-time, two more in extra times and more than a few heart-stopping moments as the game flowed back and forth.
Puerto Rico should have been tired. In their three previous matches, the Spanish-speaking islanders used 13 different players in their starting line-up while the Warriors, who rested most of their first choice players in a 7-0 loss to Haiti, used 19.
[sports-match template="logos" match="61029″]
Did Hood get a significant advantage from his squad rotation, as explained by TTFA technical committee chairman Keith Look Loy?
As the two teams squared off for penalties, it was impossible to be certain. But it could not have hurt and, at least, there was no sign that Hood's players suddenly forgot what was working for them. And that plan was get the ball to captain Afiyah Cornwall, first and foremost, but, as a back-up, utilise dynamic flankers Maria-Frances Serrant and, on this occasion, Aaliyah Prince.
The game was just 136 seconds old when Cornwall collected a pass from Prince and turned away from opposing defender Alondra Nieves to drive T&T into the lead.
Cornwall scored a hattrick in a 3-0 win when these teams met during a pre-tournament friendly. But if the Warriors hoped to repeat that comfortable win, they had another thing coming.
Puerto Rico levelled in the 18th minute as forward Malina Pardo hit home first time, as winger Cristina Torres dribbled around T&T defender Latifha Pascall to tee up her striker.
And, six minutes later, the 'Blue Hurricane' (El Huracán Azul) were ahead after an almost identical attack down the other flank, as Morales outfoxed Tsai-Anne Fernandez and pulled the ball back for captain Idelys Vázquez to hammer past Keshwar.
Cornwall wasn't done yet though. Two minutes before the interval, after Puerto Rico again failed to clear a T&T set piece, full back Chrissy Mitchell crossed into the box for her captain to score her seventh goal of the tournament.
In the process, the Carapichaima East Secondary student became the seventh player of the 2020 competition to score at least once in every game they featured in.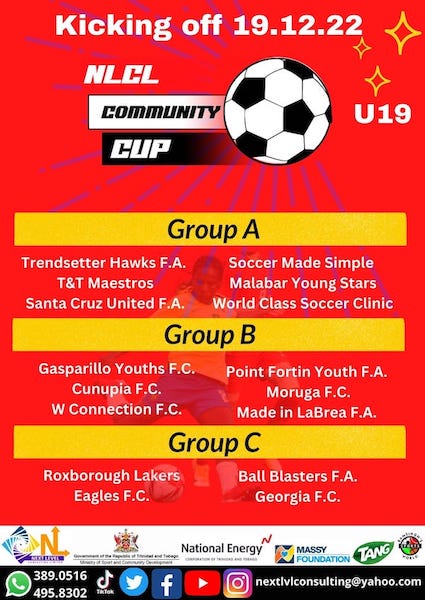 Cornwall should have had her second hattrick of the tournament in the 55th minute, as she ran to a superb long pass by Pascall behind the opposing defence. But, with only opposing goalkeeper Cristina Roque to beat, she lost her bearings for once and hit disappointingly wide.
Pascall orchestrated another dangerous counter-attack with a precise long ball in the 86th minute but, this time, Serrant was denied by Roque's outstretched boot as the game went into extra time.
The statistics showed that Puerto Rico enjoyed 58 per cent ball possession but Trinidad and Tobago were slightly more dangerous with 12 shots to eight.
The north Caribbean team came out blazing in extra time and might have scored within 14 seconds, as Torres broke clear down the left flank and squared invitingly, only for substitute María Colón to crack overbar.
Then, in the 104th minute, Trinidad and Tobago substitute Megan Rampersad played an intelligent diagonal pass to Serrant whose effort was again matched by a fine Roque save.
The Warriors finally beat Roque again in the 16th minute of extra time, after a long free kick from Pascall was inadvertently flicked on by another substitute, Alexcia Ali, and Serrant responded promptly to drive home.
Like Cornwall and six other attackers, Serrant has scored in every match she played in.
The relief on the faces of the Trinidad and Tobago players told its own story. But their opponents just would not be shaken off. If they made this game into a movie, Javier Bardem—in full 'Anton Chigurh' mode—would play the Puerto Rico ladies.
And so, in the 111th minute of the contest, Torres rose to head a Vasquez free kick down and past Keshwar for the third equalising goal of the game.
On to penalties then.
Once more, both outfits held their nerves. The tale of the goalkeepers was an interesting one, though. Keshwar, a former Bishop Anstey High School (POS) stand-out, went the wrong way for Puerto Rico's first four kicks while Roque seemed to be getting closer every time.
For Trinidad and Tobago's fifth attempt, Roque finally got her hands on the ball; but it was not enough to keep out Cornwall's powerful blast. Advantage T&T.
Then Keshwar, a competent custodian but totally befuddled so far from the spot, dropped low to her right to stop Morales' kick.
And, just like that, the teenaged Trinidad and Tobago ladies were quarterfinalists.
A bizarre quirk in Concacaf's scheduling—far from the only one, truth be told—saw all four group winners given walkaway Round of 16 matches against teams that failed to qualify for the competition directly.
So while the Women Warriors were fighting tooth and nail to squeeze past Puerto Rico, Mexico were sauntering to a 12-1 win over Grenada.
Mexico, who also rotated players for their final group match against Guyana, would undoubtedly be the fresher outfit on Wednesday. But Puerto Rico showed that legs alone will not decide games.
Hopefully, Cornwall and company have enough passion and belief left to kiss the flags on their shirts a few more times in mid-week.
(Teams)
Trinidad and Tobago (4-2-3-1): 1.K'lil Keshwar (GK); 15.Arnelle Douglas, 5.Tsai-Anne Fernandez, 4.Latifha Pascall, 11.Chrissy Mitchell; 6.Aaliyah Pascall (13.Megan Rampersad 97), 7.Sarah De Gannes; 19.Aaliyah Prince (20.Tori Paul 105), 12.Cayla McFarlane (10.Alexcia Ali 61), 8.Maria-Frances Serrant; 9.Afiyah Cornwall (captain).
Unused substitutes: 18.Chelsea Ramnauth (GK), 2.Roshun Williams, 3.Nathifa Hackshaw, 14.Moenesa Mejias, 16.Sydni Greaves, 17.Cecile Loraine.
Coach: Richard Hood
Puerto Rico (4-3-3): 1.Cristina Roque (GK); 3.Leilany Rivera, 2.Alondra Nieves, 15.Belerica Oquendo, 6.Julia Rodríguez; 9.Ana María Díaz (8.María Colón 64), 5.Gabrielle Cimino (19.Caileen Almeida 95), 4.Idelys Vázquez (captain); 16.Paola Morales, 7.Malina Pardo, 11.Cristina Torres.
Unused substitutes: 18.Cristina Nazario (GK), 10.Mariana Varela, 12.Andrea Santiago, 13.Mikaela Jennings, 14.Sofía Goytia, 17.Zoemi Cobián, 20.Valeria Pomales.
Coach: Elias Llabres
Wired868 Player of the Match: Afiyah Cornwall (Trinidad and Tobago)
Concacaf Under-20 Championship result
(Sun 1 March)
Trinidad and Tobago 3 (Afiyah Cornwall 3, 43, Maria-Frances Serrant 106 ET), Puerto Rico 3 (Malina Pardo 18, Idelys Vázquez 24, Cristina Torres 111)
*—Trinidad and Tobago win 5-4 via kicks from the penalty spot
Mexico 12 (Mariel Román 11, Alison Gonzáles 12, 26, Reyna Reyes 21, Treasher Valcin OG 36, 56, Karla Zempoalteca 58, Gabriela Juárez 72, Nicole Pérez 73, 83, Maricarmen Reyes 78, Nayeli Díaz 89), Grenada 1 (Sheranda Charles 49)
Haiti 12 (Estericove Joseph 2, Valentina Ornis 16, 38, 67, Dayana Pierre 20, Melchie Dumornay 24, 25, 33 pen, 52 pen, Ruthny Mathurin 48, Mirlene Dorce 82, Flero Supris 88), Barbados 0
(Sat 29 February)
Jamaica 9 (Lacey Murray 12, Jody Brown 13, 61, 76 pen, 90+1, Nevillegail Able 41, Chantelle Parker 53, Sydoney Clarke 83, 88), Bermuda 1 (Nia Christopher 27)
United States 6 (Mia Fishel 8, 76, Renala Francis OG 14, Sierra Enge 24, Brianna Pinto 35, 90), St Lucia 0
Canada 6 (Tanya Boychuk 7, 56 pen, Maya Ladhani 36, Jazmine Wilkinson 82, 83, Léonie Portelance 90), Cuba 0
Dominican Republic 4 (Jazlyn Oviedo 37, Mía Asenjo 52, 78, Alissa Oviedo 65), El Salvador 1 (Yoselyn López 22).