Tomorrow morning, just 10 days before Trinidad and Tobago's opening 2020 Concacaf Women's Under-20 Championship match against St Kitts and Nevis on 22 February, head coach Richard Hood will meet nine players from his 20-member squad for the first time.
Hood has less than two weeks to get the balance right in a pre-tournament camp at the Dominican Republic, where he must create a team capable of getting into the knockout stages of the Concacaf tournament.
Although the Trinidad and Tobago Football Association (TTFA) only appointed him on 19 December 2019, technical committee chairman Keith Look Loy warned that the performances of Hood's teams—he is also Women's National Under-17 head coach—will determine his immediate future on the international stage.
Trinidad and Tobago are grouped with St Kitts and Nevis, the Cayman Islands and the new Caribbean bigwigs Haiti. Haiti qualified for the Fifa Women's Under-20 World Cup in 2018 and, remarkably, retain eight players who were at the tournament: goalkeeper Madelina Fleuriot and outfield players Ruthny Mathurin, Dougenie Joseph, Rachelle Caremus, midfielders Milan Pierre-Jerome, Angeline Gustave, Melchie Dumornay and Danielle Étienne.
A ninth player, midfielder Betina Petit-Frere, represented Haiti in their 2018 World Cup qualifying tournament. Pay particular attention to Dumony, an intelligent midfielder with a booming right foot shot. She was one of Haiti's stars at the Under-20 tournament, despite being just 14 years of age.

Not surprisingly, Haiti shone at the 2017 Concacaf Championship too where they finished fourth after losing by a solitary goal to the United States (3-2) and Canada (2-1) in the semifinal round and third place play off respectively.
The French-speaking islanders have a team that would give reason to pause to even the mighty USA.
In contrast, Hood inherited a squad that, under Marlon Charles, lost by a record 22-0 to USA and 11-0 to Mexico at Concacaf Under-15 level in 2013; and, during Jamaal Shabazz's tenure, failed to even get to the final Caribbean Under-17 qualifying stage in 2017—when they finished bottom of a group that included Jamaica and Bermuda.
There was little trace of concern when Hood, the Police FC men's head coach and a former Women's National Senior Team head coach, spoke to Wired868, though.
"This is the first time I am going into a tournament feeling that the entire group is in the physical condition to play the way we want them to—other than 2010," said Hood. "It is unusual [not to see your pool before you pick your final team] yes. The ideal is I would have seen them and spent some time with them and gotten to know their strengths and weaknesses but we are basically relying on info from scouts.
"I was able to view some video information on some of the players but the scouts did the background work. To be honest, I was happy to [have the option of overseas players] based on what we have locally. Our talent pool was just too small locally."
Hood's training sessions in Trinidad generally included 12 players with 10 considered sufficiently ready for battle at Concacaf level. The other 10 players were sourced through the TTFA's new North American scouting network: Talent and Identification Player Pool (TIPP) programme.
"We are thankful of the role provided by the TIPP persons and the foresight of the technical committee in using them," said Hood. "They have already identified a couple [North America-based] players for the Under-17 program."
From the 10 North American-based players recommended by TIPP, only three—defenders Shalisha King and Arnelle Douglas and midfielder Sydni Greaves—are uncapped. Douglas and Greaves were born in the United States and, if used at the Concacaf competition, will be making their first appearances in red, white and black strip.
Otherwise attacker Aaliyah Prince and midfielder Sarah DeGannes played with this group at Under-17 level in 2017, goalkeeper K'lil Keshwar and midfielder Megan Rampersad were National Under-20 players in 2018, and forwards Cayla McFarlane and Tori Paul and utility player Sydney Boisselle are capped at National Senior Team level.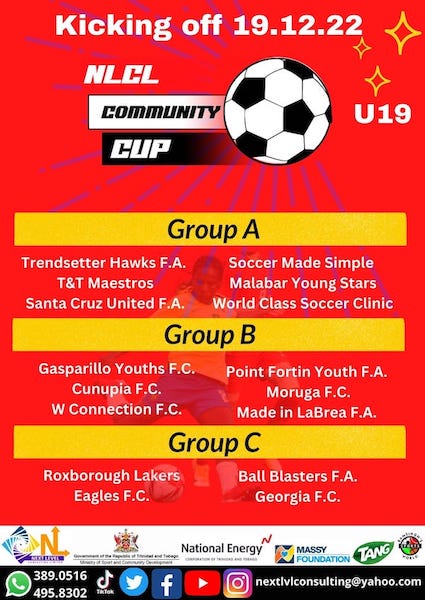 The benefit of TIPP is not just unearthing players, then, but monitoring them. Justin Reid, the head scout for the TIPP women's programme, credited former National Senior Team head coach Stephan De Four and his assistant Darrel Marcelle for contributing to the cause.
"They did a screening before and were able to identify some players and kept their contact information," said Reid. "[…] There was no bad blood from them. For Darrell, he simply said he will do what he can for his country."
Sean Powder, who heads the TIPP men's programme, gave additional details about their work.
"We identified players through our network of scouts and by contacting coaches and schools who might have eligible players," said Powder. "We cast a wide net, identify players we feel are national team level, then supply [the names] to the technical committee where they would do the sifting. Ultimately, the technical committee decides [what to do with them]."
At present, TIPP consists of nearly two dozen scouts who operate on a pro bono basis. Beyond identifying players, Reid and Powder also assist in attaining Trinidad and Tobago passports and getting medical clearance for them when necessary.
"On a weekly basis, we probably put in between 20 to 40 hours with the rush to get things done, particularly with the Women's Under-20 Team," said Powder. "It is one thing to identify the player but some have passports that were expired or didn't have passports. We are working with consulates and foreign affairs to try to build relationships there, as well as with their schools and athletic directors to have them released.
"[…] I am responsible for the boys and Justin [Reid] for the girls; but since the timeframe was so short and the workload so intense, it was all hands on deck for the Under-20 women."
Hood credited the TTFA, now headed by president William Wallace, for affording the Under-20 Team a 10 day pre-tournament camp.
"This is a first for me going into a tournament—getting in three games prior to the competition," said the Under-20 coach. "Our preparation will be very much boosted by that."
Pre-tournament camps were standard fare in the men's programme until the financial chaos that enveloped the TTFA after former special advisor Jack Warner's controversial exit in 2010. The women's programme, however, has rarely—if ever—been so blessed.
But can we expect from a team that fluffed three lines in three previous competitions? Trounced at Concacaf U-15 level, they only squeezed past Grenada on goal difference in the Caribbean Under-17 competition—despite home advantage—before missing out on a top four finish at the regional stage, after failing to win against Bermuda or Jamaica.
Hood claimed to be optimistic.
"I am very excited to see what this group can do," said Hood, who sees his squad as the pilot for the new TTFA administration. "I am particularly looking forward to working with Paul, McFarlane and DeGannes, who look like quality attacking players. Of course, I expect Cornwall and Prince and Serrant to play an integral part too because they have a lot of quality too.
"I am a bit worried about our defence and we have to work on our combinations, particularly in central defence. But we have what I think is a formidable offensive unit."
He will need that offensive spark. Look Loy is demanding that the former Caribbean also-rans become Concacaf quarterfinalists.
"I wouldn't put the burden on them to say we expect to qualify [for the Fifa Under-20 World Cup] because only two teams qualify and you have USA, Canada, Mexico, Haiti and Jamaica, who are serious opponents," said Look Loy. "But we hope to at least get to the quarterfinal stage, which would be a major step forward for us in this age group—given the recent history.
"I am expecting us to get out of the group [into the Round of 16] but I really feel this team has the capacity to get to the quarterfinals."
It is a challenge that Look Loy said will be extended to all national coaches. (Hood's outfit at least won't face Costa Rica or Panama, who automatically qualified for the 2020 Women's Under-20 World Cup as co-hosts.)
"I have made the point to the Women's staff and team that our mission is to return the flag to World Cup stadia," said Look Loy. "Our flag is to fly again. Their job is to put a smile on people's faces [and] re-establish respect for Trinidad and Tobago in the Caribbean and Concacaf.
"[…] In this long campaign, [the Women's Under-20 Team] are our first battalion into the field and they have to fly the flag. I have made this point to the men's teams too and they have to understand that.
"[…] This is not just football; this is about a bigger thing—Trinidad and Tobago. The women are first into the field and they have to fly that battle flag."
Haiti's obvious threat apart, it is worth remembering that St Kitts and Nevis eliminated Trinidad and Tobago from the Tokyo 2020 Olympic qualifying series last year at the Ato Boldon Stadium in Couva.
Should the Women Warriors advance from their group, either Puerto Rico, Nicaragua or Guyana are likely to stand in the way of a berth in the quarterfinals.
Hood's bar has been set.
Trinidad and Tobago Squad:
Goalkeepers: K'lil Keshwar (St Francis College—USA), Chelsea Ramnauth (Fyzabad Secondary);
Defenders: Shalisha King (Alcorn State—USA), Tsian Fernandez, Lathifa Pascall (both Pleasantville Secondary), Arnelle Douglas (Brock University—USA), Sydney Boisselle (York University—Canada), Nathifa Hackshaw (Rangers FC), Roshun Williams (Waterloo Institute);
Midfielders: Sarah De Gannes (Internazionale—Canada), Megan Rampersad (Wellington Wave—USA), Aaliyah Pascall, Chrissy Mitchell (both Pleasantville Secondary), Maria-Frances Serrant (Diego Martin Central), Sydni Greaves (Cedar Stars Monmouth Longwood University—USA);
Forwards: Cayla McFarlane (Polytechnic School—USA), Tori Paul (Charlotte Independence—USA), Aaliyah Prince (North Texas Community College—USA), Afiyah Cornwall (Waterloo Institute), Alexcia Ali (Pleasantville Secondary).
Concacaf U-20 Schedule
(Group F)
Trinidad and Tobago v St Kitts and Nevis, 22 February, San Cristóbal;
Trinidad and Tobago v Cayman Islands, 25 February, San Cristóbal;
Trinidad and Tobago v Haiti, 27 February, San Cristóbal.