Terminix La Horquetta Rangers showed that they have guts to match their quality on Tuesday night, as the star-studded outfit edged Police FC 2-1 at the Hasely Crawford Stadium in a match that saw both clubs reduced to 10 players.
Playmaker Keron 'Ballpest' Cummings conjured up Rangers' winning goal with a precise through-pass that was well finished by attacker Samuel Delice, and coach Dave 'Hoghead' Quamina gushed at the rejuvenated former 'Soca Warriors' ace.
"Right now, I think Ballpest is the most in-form player in Trinidad," said Quamina.
The result pushed Rangers up one place to third in the 11-team standings. Crucially, they capitalised on a topsy-turvy round of matches in which the top three teams all failed to win.
At the Ato Boldon Stadium, Morvant Caledonia United fell 2-1 to Central FC, who surged four places to fifth in the standings—thanks to a Sean Bonval double. The 'Eastern Stallions' are now fourth with goal difference separating them from third-placed Rangers, although the latter team has a game in hand.

It was not the only upset in Couva, as Point Fortin Civic whipped Tiger Tanks Club Sando 3-0 at the same venue for their first win of the season. Giant striker Kerville Jeremiah paced Civic with a second-half double that helped coach Dexter Cyrus' outfit to seventh place, while Sando slumped to ninth.
No such luck for debutantes Cunupia FC, though, who are still waiting for their first win as a Pro League club. This time, their victors were AC Port of Spain, who edged Cunupia 1-0 at the Diego Martin Sporting Complex.
An early Rashad Hyacinth penalty—the fourth goal of the season for the AC forward—separated the two teams.
Leaders Defence Force also dropped their first points of the season, as they were held 1-1 by a fresh-faced San Juan Jabloteh team in Port of Spain.
Eleven of the 13 players used by Jabloteh on Tuesday night are 23 years old and younger, while six are teenagers, including 17-year-old national youth team forward Justin Araujo-Wilson, who gave the 'San Juan Kings' an early lead.
Eighteen-year-old substitute Nickell Orr might have helped Jabloteh get all three points at the death too.
Jabloteh right back Keshawn Hutchinson, 19, won possession from opposing flanker Jelani Felix deep inside opposition territory in the 88th minute and played to Orr before bursting in the box for the return pass. But Orr ignored his better-placed teammate and skied his shot to the dismay of the Jabloteh bench.
Assistant coach Joshua Lamb said the youthful composition of Jabloteh's squad is no coincidence.
"We've looked at the modules of football clubs around the world, and we've accepted that to be successful, we need to work on developing the youth of Trinidad and Tobago," he said. "It may take a bit of time to get them to where they need to be. But with hard work and discipline, they will get there."
Araujo-Wilson's first-half item was only Jabloteh's second goal from six matches, which is the lowest offensive return for any Pro League team in this season. And, at present, they are second from bottom—although only goal difference separates them from eighth-placed W Connection and ninth-placed Club Sando.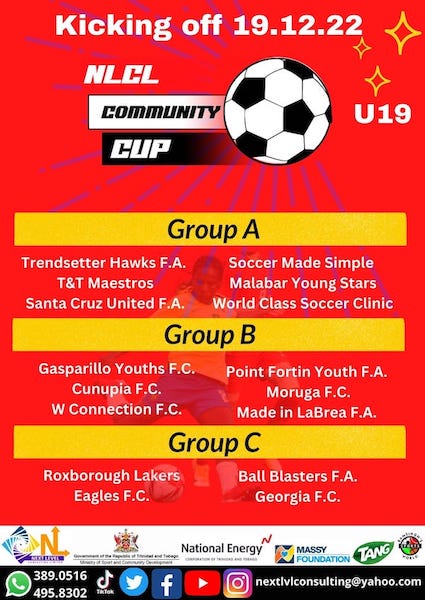 Jabloteh's eyes might be on the future, but coach Keith Jeffrey would be anxious for something to encourage their supporters in the present too.
Rangers, on the other hand, have always been a team in a hurry to leave their mark—as evidenced partly by their Phase Two, La Horquetta headquarters that went from a wasteland to the envy of the division in less than six months.
On Tuesday, Rangers were ultimately too much for a Police FC team that had an extra player for close to an hour. The philosophy of the La Horquetta entertainers is simultaneously straightforward and unorthodox.
"In this era of football, attacking players and defensive players don't really exist," Quamina told Wired868. "Attacking players are asked to track back and defensive players are asked to go forward; everybody has a job to do. There is no: 'this one is a right back' or 'that one is a left wing' …"
[sports-match template="logos" match="59612″]
To underscore Quamina's point, Rangers' starting team featured national youth winger Kishon Hackshaw in central midfield alongside former UTT forward Jamal Creighton, while sometimes defender, Delice, played up front and on the flank with winger Anselm 'Worm' Jackson at right back.
By the end of the night, Hackshaw had played in three different positions, as the former Trinity College East student moved from central midfield to left back to left wing. The Rangers coach said the teenager was initially given the job to disrupt the Police midfield on Tuesday.
"According to the opponent, we put [Hackshaw] in the midfield to win the ball," said Quamina. "He can play anywhere and he understands positioning … As a young player that could only work for him."
In truth, Hackshaw only stood out during the 30 minutes that he was restored to his 'natural' role as an attacking flanker. But, as Quamina pointed out, their tactical tweaks have largely been successful; and, on Tuesday, it took them past the Pro League's second-best team.
Rangers' gung-ho attacking style saw them take the lead after just eight minutes on Tuesday as captain Creighton volleyed home from inside the area off an Aikim Andrews cross.
There are not many teams who would encourage their holding midfielder to charge the penalty area from open play, although Creighton fancies himself as a striker, and former UTT coach and Strike Squad captain Clayton 'JB' Morris would endorse that sentiment. It was his third goal from five games, which is one less than the tally of their leading scorer, Cummings.
Quamina was tetchy on the topic of whether Creighton's current role was restricting the attacking prowess of a player that Morris once hailed as a future Trinidad and Tobago international centre forward.
"I coached Creighton from six years old, and he is naturally a midfielder," said the Rangers coach. "Most players want to play positions that are not their best position … Who wouldn't want to strike?"
Within three minutes of their opening goal came a setback. New recruit and central defender Yohannes Richardson, who played central midfield for San Fernando Giants in the 2019 Ascension Invitational Tournament, but is a natural utility player, overplayed at the back and lost the ball on top of his own penalty box.
His defensive partner Caleb Sturge tried to help out but made things worse with a lunging tackle that produced a red card and penalty kick, which Police forward Keion Wilson promptly dispatched to draw the 'Lawmen' level.
Quamina responded by shuffling his pack, as Jesus Perez moved from left back to central defence, while Hackshaw moved to the full back spot. Further afield, Cummings and Delice seemed to alternate between the midfield and forward lines.
Tyrone Charles, who started the game on the right flank, was replaced after just 38 minutes rather than given the opportunity at centre forward where he could feasibly threaten a high Police backline.
"Like with any team, if you think a player isn't doing the job, you need to make changes," said Quamina, explaining the early Charles substitution. "[…] He wasn't tracking back enough."
Police, in the meantime, were creating a stream of chances to no avail.
Midfielder Jabari Mitchell skied one attempt in the 22nd minute; Wilson over-pushed the ball after being played clear through in the 28th minute; attacker Kareem Freitas appealed in vain for non-existent goal line technology after Rangers goalkeeper Jabari St Hillaire clawed one effort away in the 39th minute; and forward Joshua Leach headed wide off a Kaydion Gabriel cross in the 41st minute.
Somehow, the two teams were still level at the interval.
Quamina said he was never worried.
"We just needed a little extra effort," he said. "We knew the goal would come because we had so many attacking players on the field. So we just had to manage the game."
Rangers' goal did indeed come in the 63rd minute after Police committed a turnover midway in their half of the field. Ballpest pounced and slid a crisp, measured pass through to Delice, who finished with a low, arrowed shot into the far corner.
More than a dozen players with international caps at youth or senior level graced the Hasely Crawford Stadium on Tuesday; but only one, Cummings, had the vision and technique to pick out teammates at will over any distance.
Pro League affairs have been competitive but scrappy affairs this season. But Cummings' slow return to boil should excite local football fans who can recall his double strike in a thrilling 4-4 draw with Mexico at the 2015 Concacaf Gold Cup.
"[Cummings] had a fitness issue early in the season, and I think he has overcome that now," said Quamina of the player who has alternated between central midfield and forward in a team that plays in straight lines across the field. "He runs box to box, he has a very good passing range and he is a leader. Naturally, he is a 'number 10' [type player] but we don't use a 10, so he had to change his game to suit the team.
"[…] He has improved a lot since he came to the team. We are getting him to track back and tackle; he can already pass the ball and score. He is well equipped to do a lot of things."
Police coach Richard Hood tried to add some punch to his own outfit as Jameel Perry and former World Youth Cup forward Juma Clarence and midfielder Micah Lewis came off the bench.
Clarence missed their best chance of an equaliser as he sent his stooping header wide off Lewis' cross in second-half stoppage time. By then, Police were also down to 10 men, after midfielder J'deem Parris got a second yellow card for a cynical tug on lively Rangers substitute Isaiah Lee.
Police denied Quamina his first trophy at this level last month when the Lawmen stunned Rangers 4-1 in the First Citizens Cup final. But the La Horquetta coach insisted that Tuesday was not a revenge mission.
"It is a different league and a different competition," said Quamina. "It was just three points, and we have a good understanding and relationship with Police and Richard Hood."
So why didn't Rangers come out to collect their silver medals at the First Citizens final?
"It was a misunderstanding with [Pro League] management and our team," he said. "Somebody brought the medals in the [dressing] room. I don't think the players were invited to come out [and get them]."
And what about reports that some silver medals were found in the dustbin?
"What I heard is someone brought the medals in the rooms and some of the players were outside at the time," said Quamina. "I don't understand what went on. I don't think our players would take medals and throw [them] in the dustbin …
"We still have to investigate it."
Quamina's answers were not wholly convincing. On the field, Rangers can be a beautiful mess too, as they flitter between dominant and disorganised.
But the buccaneering La Horquetta outfit are third now—four points shy of Defence Force—and, with Cummings in this sort of form and blessed with a quality supporting cast, their opponents have a job ahead of them.
(Teams)
Terminix La Horquetta Rangers (4-4-2): 20.Jabari St Hillaire (GK); 99.Anselm Jackson, 32.Yohannes Richardson, 12.Caleb Sturge, 26.Jesus Perez; 10.Tyrone Charles (9.Kishun Seecharan 38 [17.Ross Russell 53]), 8.Jamal Creighton (captain), 24.Kishon Hackshaw, 7.Aikim Andrews (27.Isaiah Lee 46); 77.Samuel Delice, 15.Keron Cummings.
Unused substitutes: 29.Emmanuel John (GK), 5.Leslie Russell, 25.Michael Yaw Darko, 28.Johnny Noriega-Brito.
Coach: Dave Quamina
Police FC (4-3-3): 18.Adrian Foncette (GK) (captain); 27.Kaydion Gabriel, 24.Xavier Wheeler, 20.Elijah Belgrave, 19.Christon Thomas; 6.J'deem Parris, 13.Dillon Kirton (35.Juma Clarence 67), 7.Jabari Mitchell; 32.Keion Wilson (11.Micah Lewis 81), 31.Kareem Freitas, 30.Joshua Leach (9.Jameel Perry 65).
Unused substitutes: 1.Terrence Lewis (GK), 5.Kenaz Williams, 16.Stephan Campbell, 17.Dexter Alleyne.
Coach: Richard Hood
Referee: Rodphin Harris
Wired868 Man of the Match: Keron Cummings (Terminix La Horquetta Rangers)
Pro League Match Day Six
(Tuesday 14 January)
Defence Force 1 (Shaquille Bertrand 31), San Juan Jabloteh 1 (Justin Araujo Wilson 25) at Hasely Crawford Stadium;
Police FC 1 (Keion Wilson 13 pen), TLH Rangers 2 (Jamal Creighton 8, Samuel Delice 62) at Hasely Crawford Stadium;
Club Sando 0, Pt Fortin Civic 3 (Kern Edwards 28, Kerville Jeremiah 61, 72) at Ato Boldon Stadium;
Central FC 2 (Sean Bonval 27, 59), M'vt Caledonia Utd 1 (Aaron Richard 84) at Ato Boldon Stadium;
AC Port of Spain 1 (Rashad Hyacenth 10 pen), Cunupia FC 0 at Diego Martin Sporting Complex.