Trinidad and Tobago Men's Senior National Team head coach Terry Fenwick promised a breath of fresh air to the Soca Warriors set-up, as he addressed the media for the first time in his new capacity at the National Cycling Velodrome, Couva this afternoon.
"In time, I want to be bringing some new faces out there," said Fenwick at a press briefing. "Give them a chance, give them a run … I will select the best players for the team. And if the best players come from outside, they will be on the team. If they are from here [and] they work hard, [they] will get in the side."
The seasoned Englishman, who led San Juan Jabloteh and Central FC to local and regional success, thrust numerous talented players such as Khaleem Hyland, Sheldon Bateau and Ataulla Guerra into the professional fray as teenagers and is keen to continue to that philosophy at national level.
"We got some terrific young talent out there—that talent has got to be uncovered, we've got to bring it to the forefront," said Fenwick. "The people at the top have got to look at the game differently. Football is forever evolving. We've got to move with the times. We cannot be [aspiring to] playing 1970 Brazilian football in 2020. Give the kids a chance!
"With Fenwick, if you are good at what you do, you get a chance. If you're not, thanks very much for helping out, thank you; but move on."

The 1986 World Cup veteran, who also celebrated 20 years living on Trinidad and Tobago soil on 4 January 2020, insisted that there would be no immediate overhaul of his squad. Instead, he favours a slow but sure transition away from the older guard.
"Teams around the world have got a core of senior, good example players—not necessarily [because of] what they do on the field, although they are all good players," he said, "it's how they help these youngsters off the field.
"Absolutely I will need a core of players of that sort of caliber and [with a] feeling for this country. And over time we will introduce youngsters, we will push them through, we will get them into programs that work and make our different levels successful."
Fenwick said he is eager to wash away the negativity that enveloped the national team over the last few years. Trinidad and Tobago's only win in 2019 came against Fifa's lowest ranked nation, Anguilla. The Englishman aims to make the Soca Warriors the dominant force in the Caribbean again.
"I've got to get the National Team winning again [and] I've got to get a bit of pride back into national football," he said. "I think it's very important that I get the message across that this is a team initiative. This is about parents, families, communities, coming together to help…
"This is not something that is going to be cured as quickly as we'd like; but if we work together—and this is everybody—Trinidad and Tobago absolutely all pulling together. We are not winning on any level. We're losing, we've lost our dignity within the Caribbean region…
"I've got to concentrate on the flagship to get us back to winning ways to establish ourselves within the Caribbean region first. Then beyond that, we build as we go.
"We need to put a structured plan and organisation together, so we're giving these kids the best possible opportunity to come to the forefront, to make a name for themselves and get Trinidad and Tobago back where it belongs."
In an earlier interview, TTFA Technical Committee chairman Keith Look Loy said Fenwick's knowledge and experience of Trinidad and Tobago football and its players—including his time as a television analyst—made him the ideal choice to chart a new course for the Men's National Team.
The exuberant Fenwick suggested that his search for talent would not be restricted to these shores.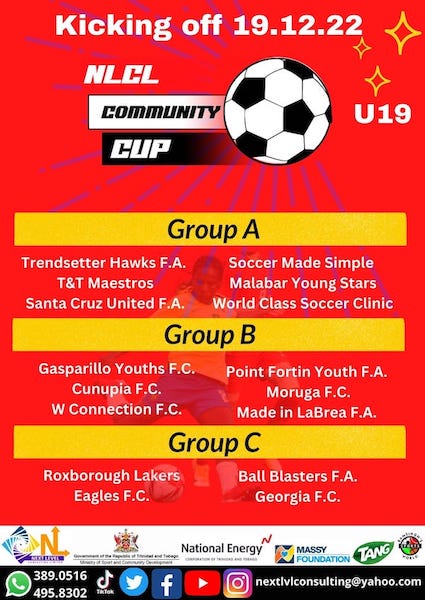 "I'm looking at international players who have got Trinidad and Tobago parentage that are playing in decent levels around the world," he said. "I think we need to bring some new blood in to give the guys that we have got that quality shot in the arm.
"[…] I will always be scouting for new kids, wherever they are in the world if they have got Trinidad and Tobago parentage. And I'll be working on the ground here with the guys in the Pro League, Super League and whereever they are, because there are a lot of good footballers out there who have not [gotten a chance]."
Former Warriors coach Dennis Lawrence was not shy about giving new players a chance either—but failed to find the right combination. Fenwick suggested that his predecessor's biggest problem was the philosophy of the team.
"I think the past administration was playing a style of football that clearly doesn't work and sticks out like a sore thumb, based on the results that we've seen," he said. "I've got to change that. We've got to start playing a style of football that suits the players that we've got. And we've got some terrific players; we need now to play to their strengths.
"We are blessed with some fantastic footballers, but unless you put them footballers together in a system of play that suits them, you lose games and that's what we've had.
"Some teams get beat by playing the wrong style of football. Play to what your strengths are and then that will pull you through."
Fenwick hinted at his own overarching philosophy.
"I'm good at putting pictures in the player's minds, structuring a team so they know where to fall back if they are not playing as well," he said. "So they have a game plan—not just when we are defending but in terms of how we keep the ball and how we hurt the opposition."
Trinidad and Tobago's next competitive assignment will be against either Guyana or Barbados in a two-legged 2021 Concacaf Gold Cup Play fixture in June. However, Fenwick hopes to get his feet wet with a few international friendlies in the March 2020 Fifa match window.
The TTFA promised to confirm details for March and potential new foreign-born additions within the next few weeks.