Interim Pro League chairman Brent Sancho said he was 'thoroughly disappointed' that local top flight clubs will miss out on Concacaf competition for the second year running, after the David John-Williams-led Trinidad and Tobago Football Association (TTFA) failed to fix 'a simple error'.
Worse, the information was relayed by Concacaf to its member associations on 22 November—two days before the TTFA AGM and elections. However, John-Williams and general secretary Camara David never informed clubs of the sanction.
Instead, Sancho said he was unofficially told by a Concacaf source on election day. The cause of the Pro League's ineligibility, according to the Concacaf website, was the TTFA's failure to 'properly execute its club licensing programme'.
"I am thoroughly disappointed," Sancho told Wired868. "When it happened the last time we were assured it wouldn't happen again; and that, according to them, it was a simple error. And what makes it even worse is I didn't find out from the TTFA, I found out from somebody from Concacaf on the day of the [TTFA] election."
It is likely that even as Fifa president Gianni Infantino and Concacaf president Victor Montagliani praised John-Williams' leadership during the opening of the TTFA's Home of Football on 18 November, they already knew that Trinidad and Tobago football was being further marginalised within the region under the latter's watch.

At present, the Soca Warriors are ranked 104th in the world by Fifa—two spots off its worst ever placing—and have been demoted from Concacaf's top tier division of 12 countries in its Nations League.
Trinidad and Tobago have already failed to advance to the Concacaf Hex for the Qatar 2022 World Cup qualifying series and face a playoff to qualify for the 2021 Concacaf Gold Cup while the likes of Jamaica, Grenada, Curaçao and Suriname are already through.
Sancho suggested that the current poor form of the Soca Warriors made it doubly important for Trinidad and Tobago clubs to be competing at Concacaf level and widening the talent pool available to head coach Dennis Lawrence, as well as flying the flag for local football.
"It is very disappointing on many levels," he said. "It is important for us to be able to compete on that level firstly because of issues with our national team. And secondly because we are an important nation within Caribbean football and have an excellent record in regional tournaments. It is a travesty."
The situation is a double blow for Sancho as managing director of Central FC, who qualified for the Caribbean tournament by finishing second in the 2018 Pro League season. Ironically, they would have followed W Connection into the regional competition.
Connection is owned by John-Williams and was run by his daughter Renee John-Williams during his time at the helm of the TTFA.
In 2018, North East Stars and W Connection missed out on the Caribbean Club Championship through ineligibility, caused by the governing body's incompetence.
TTFA general secretary Camara David, who controls the football body's secretariat and raised eyebrows by signing documents as 'TTFA CEO', will not be around to explain. David handed in his resignation within two days of John-Williams' electoral defeat—on the proviso that he be paid off for the remainder of his contract.
Earlier this year, Concacaf held a club licensing seminar in Trinidad and David promised to share all the relevant documentation with clubs by the following week. Six months later, clubs claim they are yet to receive anything from the former general secretary.
David did not respond when asked for comment on the TTFA's failure to execute its club licensing programme.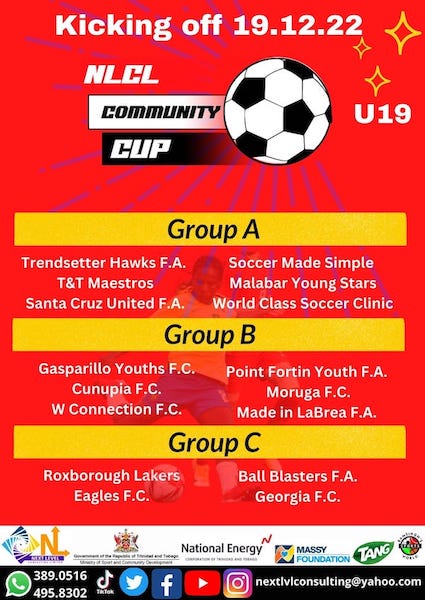 "A lot of the clubs were surprised [to hear we are not compliant] and we are still trying to assess what went wrong," said Sancho. "That is our next step—to find out why has this continued. At the end of the day, the clubs in the Pro League are compliant with the TTFA, so it is a matter of the compliancy on their end. We have done our job so it is out of our hands.
"[…] I know from Central FC's perspective, our club would have put things in place to prepare for competing in the CFU next year because we were looking forward to it. And I'd expect that it is the same for W Connection. We have to really and truly make sure this doesn't happen again."
In the modern era of the Caribbean Club Championship, which started in 1997, Trinidad and Tobago clubs won 11 titles and finished as runners-up on as many occasions. Second best are Jamaican clubs with four titles and five runners-up finishes.
The TTFA's administrative errors means Pro League clubs have been unable to participate in the regional competition since 2017—when Central finished fourth—and will not get a chance to challenge for the Caribbean title again until 2021.