Presentation College (San Fernando) and San Juan North Secondary will fight for the 2019 Coca Cola National Intercol title next Wednesday, after the two outfits secured handsome semifinal victories over St Anthony's College and Carapichaima East respectively at the Ato Boldon Stadium in Couva today.
Next Wednesday's marquee affair is a rematch of the 2016 National Intercol final in which San Juan North edged the 'Pres Lions' 1-0 in Marabella.
The Lions, who have never won the National Intercol title in the Premier Division era, got to the second final with a dominant display today as they downed the toothless 'Westmoorings Tigers' 3-1, while San Juan held off the Central Zone champions 2-0.
"I don't think they were expecting us to come at them, so I think they were a bit shocked," said Pres head coach Shawn Cooper. "They were expecting a Presentation team who would have a good defence and who sit back and absorb. After the first and second goal, they were wondering what is happening here!"
The southern champions flew out of the blocks from the first whistle, and Tigers' central defender Ian Cowie had to produce a last-ditch sliding tackle to deny Jaiye Sheppard from close range in the early exchanges.

From then on it was the rise of the 'Hulk' as beefy midfielder Ackeel Jacob commanded middle earth with a powerful showing.
In the 18th minute, Jacob displayed nifty control before threading a ball to left flanker Naeem Bisnath, whose squared cross was finished by forward Jaiye Sheppard in one fluid movement.
[sports-match template="logos" match="58137″]
"We have been working some patterns of play and the first goal we scored was straight off the training field," coach Cooper said. "We have a lot of patterns of play, and it's just to execute them on the game day. And I think today what we practised, we perfected in the game."
Pres continued to press the shell-shocked Tigers like a house on fire.
Six minutes later, Hulk unboxed another trick on opponent Quinn Frederick before hammering a shot beyond Tigers custodian Josiah Perez from outside the box. It was a shot worthy of his Avenger label and had southern supporters already preparing for what they would wear to next Wednesday's final.
Their northern counterparts, however, were not ready to go quietly into the night. In the 26th minute, they began a chorus of chants as set piece specialist Kaihim Thomas stood over a free kick that offered a chance for them get them back into the contest.
"Let's go Blinky, Let's go!"
Thomas placed the ball from 23 yards away. Brilliant shot! Even better save!
The attacking midfielder would have liked to get more power behind the ball, but he did get his trademark dip, forcing Presentation keeper Isaiah Williams into an excellent save to tip the ball over the bar.
Finally, a little life from what had been a tame opening from St Anthony's.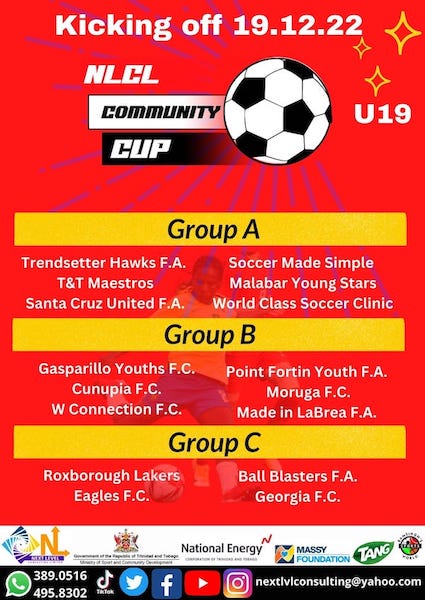 And just before the half, a deflected cross from Pres captain Aleem Barclay was knocked over the goal line by Sheppard from two yards to make it 3-0.
A sucker punch that St Anthony's coach Roland Daniel put down to hunger.
"[Pres} wanted it more than us," said Daniel. "I think overconfidence of the boys [is why we lost]. I think they came out with that attitude and Pres looked better of the teams."
St Anthony's found a lifeline late in the second half as forward Zion Williams was tripped in the box and substitute Kiron Manswell scored from the penalty spot. But it was not enough to save the North Zone conquerors.
In the earlier game of the Couva double-header, a howler by Carapichaima keeper Terell Leacock allowed Renaldo Boyce to open the scoring with the simplest of finishes.
Forced to make a save after dropping the ball into a crowd of opposing players off a corner a few minutes earlier, Leacock appeared distracted as he moved towards a high ball played in his direction.
He wandered to the edge of the penalty area and spectators held their collective breath at the fear that he would catch the ball outside the zone. Instead, they looked puzzled at what happened.
The slippery sphere hit his chest and fell to the lurking Boyce, who finished with a square pass into the empty net.
Definitely not something you see every day.
If the opener was scrappy, the second was anything but.
[sports-match template="logos" match="58128″]
Christon Mitchell advanced out of the San Juan midfield, put 'Caps' defender Jaedon Miller on his backside as he dragged the ball from his right to his left, and then finished coolly past Leacock.
The contest was far from settled, however, and had Carapichaima displayed better finishing, it might have been their name etched into the finals.
Elisha John, at the heart of the San Juan defence, was proving to be a man mountain, flying into block after block. And when he was not around, his goalkeeper and namesake Emmanuel John was up to the task.
'Caps' silky playmaker Josiah King cut inside onto his favoured left foot and curled a shot that (Emmanuel) John acrobatically palmed away.
Forward Resean Britto then spurned an even better opportunity as he volleyed a gilt-edged chance high over the bar—midway through the second half—which would have halved the deficit and put Carapichaima right back into the match.
Instead, San Juan North advanced to their fourth straight Intercol final. They were runners-up to Shiva Boys Hindu College and Naparima College in 2017 and 2018 respectively.
Cooper, though, knows the task ahead is not an easy one.
"I looked at San Juan game and they had a very, very solid game," he said. "I was very impressed with their performance and it was nothing like the first time we played them. They actually look like a top-three team in the league, so kudos to their coach. Let the chips fall on Wednesday."
Either San Juan coach Jerry Moe or Presentation coach Shawn Cooper will end their recent National Intercol misfortune on Wednesday.
(Teams)
San Juan North (4-3-3): Emmanuel John (GK); 19.Adrian Duncan, 4.Eisha John, 18.Malik Farrier 17.Kareem John; 6.Jordan Britto, 8.Keanu John, 13.Christon Mitchell (23.Daniel Best); 10.Jerry Morris (7.Tyrique Sutherland), 9.Ronaldo Boyce (C), 11.Isaiah Chase (20.Kedell Jones).
Coach: Jerry Moe
Carapichaima East (4-2-3-1): 22.Terell Leacock (GK); 12.Emmanuel Corriea, 3.Jaron Pascal, 13.Jaedon Miller, 20.Daniel King (4.Brandon St Clair); 8.Keilon Burnett, 7.Malik Robinson; 19.Dexter Neils, 10.Josiah King, 18.Josiah Henry (17.Ivan Dos Santos); 9.Resean Britto.
Coach: Nicholas Gopaul
St Anthony's College (4-2-3-1): 1.Josiah Perez (GK); 14.Randy Antoine (11.Kiron Manswell), 16.Jordan Barclay (C), 4.Ian Cowie, 3.Malachai Daniel;13.Quinn Frederick (20.Real Gill), 6.Shurland Augustine (5.Trent Weekes);  9.Zion Williams, 8.Jean-Heim McFee, 7.Kaihim Thomas; 19 Kai Phillip.
Coach: Roland Daniel
Presentation College (San F'do) (4-2-3-1): 1.Isaiah Williams (GK); 2.Nigel Caraby, 5.Justin Cornwall, 3.Luke Charles, 6.Zion Allen; 13.Dantaye Gilbert (16.Jardel Sinclair), 15.Aleem Barclay (C), 11.Adica Ash, 10.Ackeel Jacob, 20.Naeem Bisnath (17.Nkosi Charles); 9.Jaiye Sheppard.
Coach: Shawn Cooper
National Intercol semifinal results
(Friday 29 November)
Carapichaima East 0, San Juan North 2 (Renaldo Boyce 29, Christon Mitchell 42) at Ato Boldon Stadium;
St Anthony's College 1 (Kiron Manswell 74 pen), Presentation (San F'do) 3 (Jayie Sheppard 18, 40, Ackeel Jacob 24) at Ato Boldon Stadium.