Newly elected Trinidad and Tobago Football Association (TTFA) president William Wallace has dismissed links between himself and disgraced former Fifa vice-president Jack Warner as a work of fantasy.
This afternoon, Wallace, whose 'United TTFA' slate won a clean sweep at the TTFA elections on Sunday 24 November, wrote Fifa general secretary Fatma Samoura to distance himself from claims that Warner had again become a man of influence within the local football body.
"It is with the greatest concern as the newly elected President of the TTFA, I write to communicate to Fifa our rejection of claims being made within Trinidad and Tobago and as well in the International press," stated Wallace, "that the new TTFA administration has come into office with the support of former Fifa vice president Austin Jack Warner.
"This narrative was spread by parties unknown prior to the TTFA elections of Sunday 24 November 2019, and has grown in intensity since that date. This rumour has gained traction in major part due to the unsolicited support and comments of the former Fifa vice president in the Trinidad and Tobago media
"On behalf of the officers of the TTFA and myself I assure you, the president and members of Fifa, that there has been, is not, and never will be a connection between the former Fifa vice president going forward from Sunday 24 November 2019."

Wallace has repeatedly been linked to Warner by Europe-based website, Inside World Football (IWF), ever since his slate declared its intention to remove David John-Williams as president.
However, Warner added fuel to the fire on Tuesday 26 November when, during an interview with I95.5FM talkshow host Andre Baptiste, he claimed to have offered advice to the new football president during his campaign.
"Wallace came to see me several times and as late as a month ago about his vision for football," Warner told I95.5FM, "and I told him—he came to me with Peter Granville from Tobago—and we spoke at length. He was a good listener.
"I want to see now how we would put into practice what he has been told."
Warner's claim brought vehement denials from Wallace and Granville.
"There has never been a meeting between Jack Warner, William Wallace and myself," Granville, a Tobago House of Assembly (THA) employee and former national youth team coach, told Wired868. "That never happened; no time no how. No meeting has ever taken place between the three of us nor have we ever ran into each other, whether it was in a rum shop, grocery, barber shop or anywhere else."
Wallace also denied Warner's claim.
"I don't know if that happened in a dream or not but that did not happen in real life," said Wallace, who laughed when Warner's statement was read to him. "I have not met him since I started my campaign. I don't know what to make of it. At this point in time I am speechless but of course I deny it."
Wallace said the attempt to make Warner appear to be an unofficial 'United TTFA' member began during the election campaign and suggested that it is part of an orchestrated campaign.
"I think it is time to [respect] the electoral process and allow the person with the mandate to settle down and get on to the business at hand," said Wallace. "I heard these rumours during the election but they seem to have only increased after the campaign, so I am associating them with the campaign; and the election is over."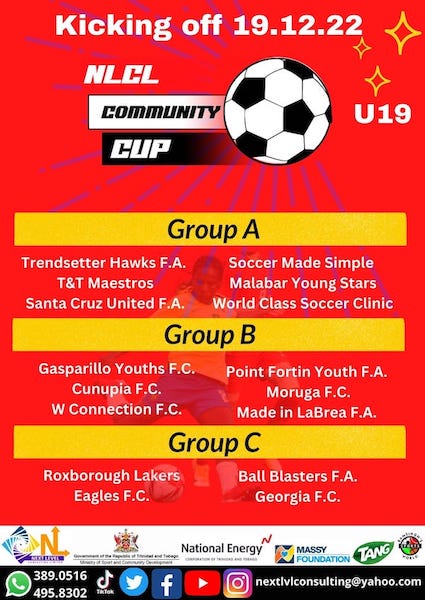 If Warner's interview with I95.5FM is the most recent and damaging link for the slate, the line of attack was particularly persistent from Inside World Football (IWF).
IWF reporter Paul Nicholson wrote about the 2019 TTFA election on 2 August and 24 September before going into overdrive with articles on 23, 25, 26 and 27 November. Each piece carried a similar theme.
Nicholson's article on 2 August 2019 headlined: 'Warner acolytes battle for return to control of Trinidad and Tobago FA' erroneously claimed that Wallace and second vice-president nominee Susan Joseph-Warrick were 'tied to the Warner administration'.
The only quote in the piece came from John-Williams' first vice-president nominee, Selby Browne, who told IWF: "Unfortunately all Jack's men standing in line under the banner United TT […] as they plot and plot to return to the controls of the TTFA."
Nicholson's next article on the TTFA election was on 24 September and headlined: 'Trinidad FA canvases stakeholders with aim of restructuring national game'. Again, the reporter only quoted Browne and referred to the United TTFA as 'the loose formation of an opposition group'.
And on the eve of the election, on 23 November, Nicholson returned to his initial theme with an article headlined: 'Is Jack back? Former Warner acolytes take control of Trinidad and Tobago FA'.
Nicholson stated that: 'many of the supporters behind the United TTFA campaign, were key supporters of Warner in his years of power as president of Concacaf and were working within the previous administration that saddled the federation with crippling debt of reportedly up to TT$40 million'.
And he ended by saying: 'tomorrow TTFA stakeholder will vote whether it will be John-Williams who will be given a mandate to continue and build that future. The alternative looks dangerously like a return to the old ways with—whether they are or not—a group form (sic) the outside looks to be mored in the old ways of Warner'.
Nicholson gave no evidence of Warner's involvement beyond Browne's unsupported claim. And the reporter did not point out that members of John-Williams' inner circle such as former vice-president Ewing Davis and paid 'advisor' and coach Jamaal Shabazz also worked closely with Warner during his local reign.
After Wallace's election, Nicholson published articles for three successive days with the headlines reading: 'Is Jack back? Former Warner acolytes take control of Trinidad and Tobago FA', 'Exclusive: Banned Warner lobbied for new TTFA chief Wallace and now seeks payment' and 'New TTFA bosses face insolvency issues as they rush to pay out Warner'.
In each, the only person that the IWF reporter spoke to was defeated candidate, Browne.
"Warner was a supporter of Wallace's campaign (under the TTFA  United banner) who reportedly lobbied voters behind the scenes despite his life ban from football," claimed Nicholson. "[…] Browne suggested that the new leadership are inadvertently fast tracking the organisation towards Fifa intervention and a normalisation committee."
Neither Wired868 nor any other media house covering the election has heard from any voting delegate who claimed to have been petitioned by Warner. But the mention of the term 'normalisation committee' suggested a hope that Fifa might annul Wallace's victory on the grounds that he was operating in tandem with the banned administrator.
Wallace responded today by declaring his innocence to the Fifa general secretary.
Nicholson told Wired868 his series of articles about Wallace and the United TTFA were not paid for by any interested party. However he did admit that he petitioned organised bodies to sponsor articles in the past.
A proposal from Nicholson to the Qatar 2022 organising committee was infamously leaked in which the reporter promised to produce 'important messages at the right time' which could be picked up globally since IWF is 'a trusted source of information that can be referred to by the world's football business, politics and media community (like it or not, we know our 'peers' in the press globally very often take our content and 'tone of voice' into their own media)'.
The Qatar organisers were asked to pay 12,500 pounds per month for the articles.
Renowned international journalist Andrew Jennings released Nicholson's Qatar proposal as evidence that he was a dishonest journalist, who was available for the right price. However, Nicholas insisted there was nothing untoward about his offer to the Qataris.
"[This] goes back to a pitch in 2013 to Qatar 2022 for sponsorship of a special section on the IWF website that would follow the build up for 2022 at a time when the only stories were about vote buying and human rights issues (which we also reported at great length)," Nicholson told Wired868. "They were spending a lot of money on infrastructure; we felt there was a good business story for our football business readers around that build and that it would be a good sponsored section—a pretty common pitch to big organisations by b2b media with strong industry readerships.
"Unfortunately the Qataris didn't buy and went other media routes for their promotional spend."
Nicholson also denied the claim, by Football Federation Australia (FFA) bid whistleblower Bonita Mersiades that his website was ever financed by former Fifa lobbyist Peter Hargitay who, ironically, acted as Warner's 'bagman'—according to leaked emails related to the 2018 and 2022 World Cup bids—and pressed bid teams like the FFA to release funding to the disgraced official.
"Where are we with Centre of Excellence funding?" Hargitay asked the FFA, in one email. "I just received a pretty dismal email from [Jack Warner] who says that the project is about to collapse as a result of funds.
"Can we assist with a second tranche? If so, when? We cannot afford to lose out. Not now. Please advise."
Nicholson insisted that his relationship with Hargitay was purely professional and in keeping with best journalistic practice.
"The Hargitay link is nonsense—every journalist worth his or her salt knew Hargitay when he was operational," said Nicholson. "I just got some better tip-offs than some others at the time and managed to follow up to get some bigger stories than others—a lot of them."
Wallace felt it fitting to approach Fifa directly on the persistent links to Warner. Time will tell if Browne, Baptiste and Nicholson have any further 'ammunition'.
Curiously, Warner appeared to deny that he played a direct role in United TTFA's electoral campaign at the end of his I95.5FM interview.
"That is not the case," said Warner, "but if it was, so what?"